Fired FBI Director James Comey is expected to testify in public before the Senate Intelligence Committee next week after having been "cleared for takeoff" by Special Counsel Robert Mueller, a source close to Comey told NBC News.
The source, a former law enforcement official, declined to say whether Mueller had specifically authorized Comey to discuss his interactions with President Trump, but said it was reasonable to expect that subject to come up.
Mueller was named earlier this month by Deputy Attorney General Rod Rosenstein to be special counsel overseeing the sprawling FBI investigation into Russian election interference.
People close to Comey have said he is eager to testify in public in the wake of his abrupt dismissal, which Comey allies believe was an attempt to thwart the FBI's investigation into whether the Trump campaign coordinated with Russia's election interference.
But there had been some question as to whether Mueller would seek to block Comey's testimony, for fear it could impede his investigation.
When White House Press Secretary Sean Spicer was asked Wednesday about Comey's upcoming testimony, he declined to answer and said he was referring all media questions on the matter to President Donald Trump's outside counsel, Marc Kasowitz.
Related: My Dinner With Comey: Clapper, Others Dispute Trump Account of Meeting With FBI Director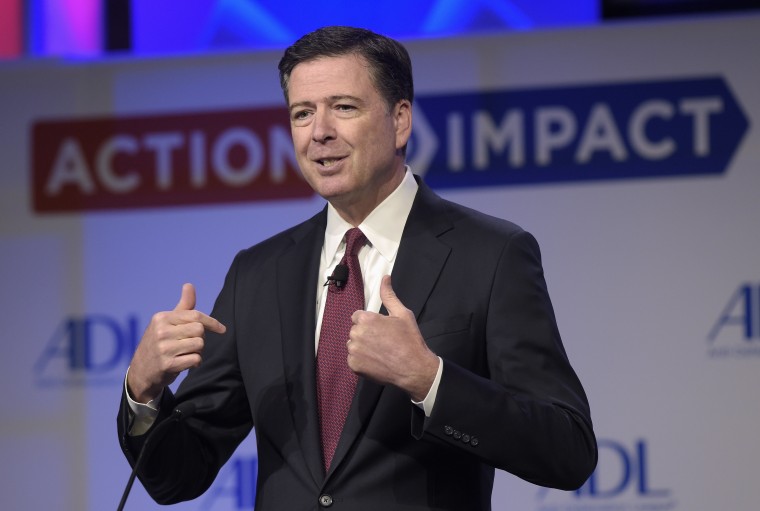 Comey wrote a memo about nearly every phone call and meeting he held with Trump, sources close to him have told NBC News, and he was concerned that Trump did not appear to respect the decades-long tradition that the FBI director should be independent from the White House.
Some critics have suggested that the president's behavior with Comey — coupled with his requests to senior intelligence officials that they state publicly they had seen no evidence of Trump campaign collusion with Russia — could amount to obstruction of justice.
Related: Comey Wrote Memo Saying Trump Urged Him To Drop Flynn Investigation
If Mueller decided to investigate that question, he may not want Comey to discuss his conversations with the president, legal experts have said.
The House Oversight Committee requested the Comey memos, but the FBI initially turned down the request. The Justice Department has a long tradition of resisting turning over internal documents that may be relevant to a criminal investigation.