Fired FBI Director James Comey wrote an internal memo saying President Donald Trump asked him to shut down an investigation into former National Security Adviser Michael Flynn, multiple sources with firsthand knowledge of the memo told NBC News on Tuesday.
The memo was part of a paper trail Comey built documenting what he believed to be Trump's campaign to derail the FBI's investigation of alleged Russian ties to his presidential campaign, according to a source close to Comey and a former federal law enforcement official.
The source close to Comey said the memo included a line in which Comey quoted Trump as having said, "I hope you can see your way clear to letting this go, to letting Flynn go."
The unclassified memo, which raises questions about obstruction of justice, was first reported by The New York Times.
"It certainly appears to meet the definition in the [obstruction] statute," Sen. Angus King, I-Maine, said Tuesday on MSNBC's "Hardball With Chris Matthews."
Neither NBC News nor The Times has seen the memo. But The Times said an associate of Comey's read parts of it to a reporter.
Comey — who is widely known for keeping meticulous records — wrote the memo on Feb. 14, the day after Flynn resigned following reports that he misled Vice President Mike Pence about his conversations with Russia's ambassador to the United States, the sources told NBC News.
Comey was in the Oval Office for a counterterrorism briefing along with Attorney General Jeff Sessions, principal adviser Jared Kushner, chief strategist Stephen Bannon, Chief of Staff Reince Priebus and Deputy CIA Director Gina Haspel, sources told NBC News.
Related: Congress Rattled by Reports Trump Tried to End Flynn Probe
As the meeting was breaking up, Trump asked Comey to stay behind, the sources said. It was then that Trump made his remarks about Flynn, the source close to Comey told NBC News.
The White House denied that version of events in a statement, calling it "not a truthful or accurate portrayal of the conversation between the president and Mr. Comey."
"While the president has repeatedly expressed his view that General Flynn is a decent man who served and protected our country, the president has never asked Mr. Comey or anyone else to end any investigation, including any investigation involving General Flynn."
A former law enforcement official close to Comey told NBC News that the director was disturbed by Trump's suggestion and documented it immediately but that he didn't feel compelled to resign at the time.
Comey thought he could manage the situation and maintain his independence, the source said, and he made sure that rank-and-file FBI agents weren't made aware of Trump's request so they wouldn't feel "chilled."
Comey has made no public comments since he was fired last week. But acting FBI Director Andy McCabe, who was appointed to replace him, testified before Congress last week that "there has been no effort to impede our investigation to date."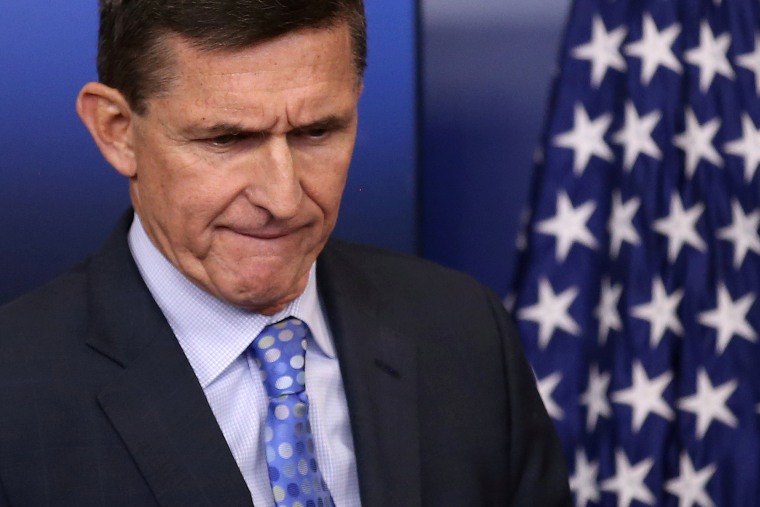 "Quite simply put, sir, you cannot stop the men and women of FBI from doing the right thing, protecting the American people and upholding the Constitution," McCabe said in response to a question from Sen. Marco Rubio, R-Florida.
In response to another question, McCabe said that the FBI was responsible for securing Comey's files and electronic devices and that he was confident that congressional overseers would have access to them.
Rep. Jason Chaffetz, R-Utah, chairman of the Committee on Oversight and Government Reform, said he would quickly seek to get his hands on the memo.
"We are drafting the necessary paperwork to get the memo, so we will find out in a hurry if it's out there," Chaffetz told NBC News, adding that if the memo exists and accurately recorded the conversation, "that seems like an extraordinary use of influence to try to shut down an investigation being done by the FBI."
Chaffetz tweeted later: "I have my subpoena pen ready."
All of the Democratic members of Chaffetz's committee and the House Judiciary Committee sent a letter to the committees' chairmen demanding an investigation into whether Trump and other top officials "are engaged in an ongoing conspiracy to obstruct" FBI, Justice Department and congressional investigations.
AshLee Strong, a spokeswoman for House Speaker Paul Ryan, R-Wisconsin, said: "We need to have all the facts, and it is appropriate for the House Oversight Committee to request this memo."
Senate Democratic leader Chuck Schumer of New York said in a floor speech that the disclosure further calls into question "the independence of our nation's highest law enforcement agencies."
"In a week full of revelation after revelation, on a day when we thought things couldn't get any worse, they have," Schumer said. "Our nation is being tested in unprecedented ways. I say to all my colleagues in the Senate: History is watching."
House Democratic leader Nancy Pelosi of California said Democrats plan to demand a vote on Wednesday to appoint an independent commission to investigate Trump's alleged ties to Russia. She said Democrats also plan to introduce legislation to appoint an independent counsel "to get the facts free of President Trump's meddling."
"With each passing day, the President's actions give greater and greater urgency to the need for a full and independent investigation of the Trump-Russia connection," Pelosi said in a statement.
Pence and other senior U.S. officials have said the firing of Comey on May 9 was unrelated to the FBI's investigation of alleged ties between Russia and Trump's presidential campaign. Trump told NBC News' Lester Holt last week that he never tried to pressure Comey into dropping the FBI probe and that he always intended to fire Comey "regardless" of the conclusions in a Justice Department memo recommending the director's removal.
Trump later tweeted that because he is so active, "it is not possible for my surrogates to stand at [a] podium with perfect accuracy" and represent the White House's line of thinking, appearing to discredit his press office and administration officials.