HOBOKEN, N.J. — A speeding commuter train plowed into a platform inside NJ Transit's Hoboken Terminal during the Thursday morning rush hour, killing a woman and injuring 108 other people, officials said.
The train was traveling "at much too high rate of speed," crashing through a series of barriers and taking down an interior wall of the station just before 9 a.m. ET, New Jersey Gov. Chris Christie said at a news conference after assessing the damage.
Related: New Jersey Transit Train Didn't Have Positive Train Control
Witnesses reported seeing bruised and bloodied passengers, including a woman pinned underneath concrete. Riders had to break through train windows and climb to safety, helping one another amid rubble and twisted steel.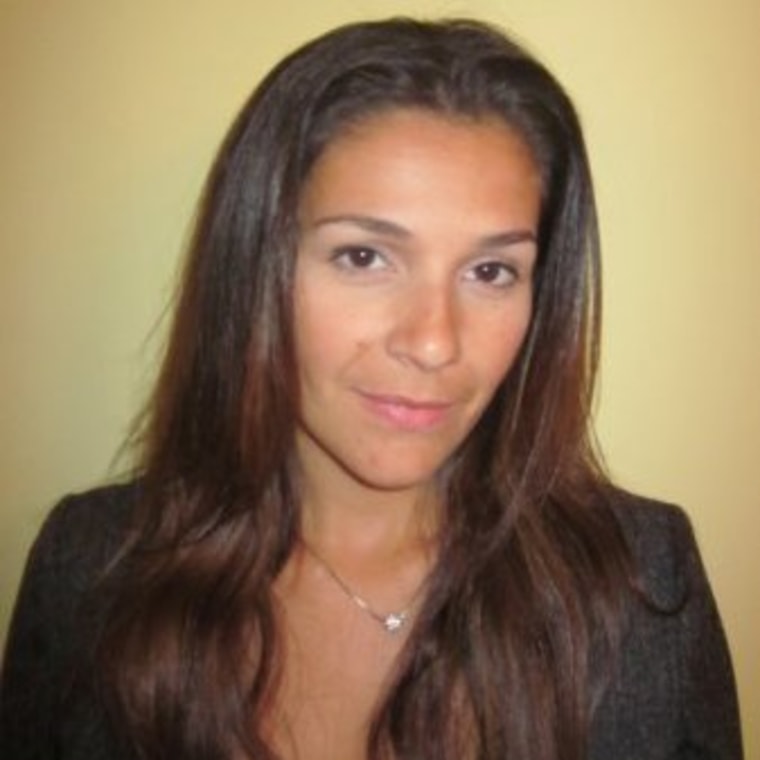 The state medical examiner office identified the woman who was killed as Fabiola Bittar de Kroon, 34, of Hoboken. SAP, an international business software company, confirmed that Bittar de Kroon had worked for its legal department in Brazil before she left the company earlier this year.
Christie said she was struck by debris as she was standing on the platform when the train pulled in. Others inside the station — teeming at rush hour — were ushered to safety, he added. Initial reports provided to NBC News placed the number of deaths at three.
"There's no evidence at this time ... that it was anything other than an accident," Christie said on MSNBC.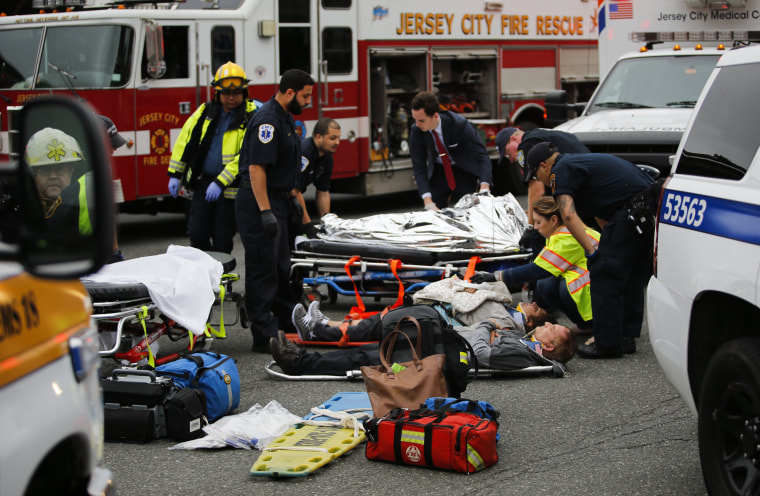 NBC New York reported that two officials and a family member identified the operator as Tommy Gallagher. No past infractions or medical or criminal history associated with Gallagher have been uncovered at NJ Transit, said an official, who stressed that the investigation is still in its very early stages.
Christie said Gallagher had been released from the hospital and was cooperating with investigators.
New York Gov. Andrew Cuomo added: "We know what happened. We don't know why it happened."
A triage area was set up outside the station to help the injured.
Jersey City Medical Center treated 66 patients, 53 of whom had been released, said Mark Rabson, a spokesman for the hospital. The 13 remaining patients were listed in guarded condition, a characterization roughly equivalent to poor but not critical.
Hoboken University Medical Center said it treated 23 patients, 16 of whom had been released. At least one of the seven remaining patients was in critical condition, said Jarrod Bernstein, a spokesman for the hospital, but all were reported stable.
Hoboken Terminal, across the river from Lower Manhattan, is one of the busiest in the greater New York City area, with an estimated 50,000 commuters passing through daily. The trains don't have seat belts.
Related: Hoboken Train Crashed Without Warning: Survivors
Photos taken from the scene and posted on social media showed major damage to the more-than-century-old station, with part of its metal roof collapsed and mangled steel and shattered glass on the ground. Water gushed from burst pipes. A waiting area and a ticketing booth were demolished.
The train originated from Spring Valley, N.Y., on the Pascack Valley line and was expected to arrive in Hoboken at 8:38 a.m. The accident occurred at 8:45 a.m. on Track Five, an NJ Transit spokeswoman said.
A passenger, Bhagyesh Shah, said he was standing in the back of the second train car when it smashed through the platform and hit a couple of pillars, which caused the ceiling to rain down.
"It was for a couple seconds, but it felt like an eternity," Shah said. "I saw a woman pinned under the concrete. A lot of people were bleeding. One guy was crying."
Shah said the passengers in the second car broke the emergency windows to get out.
PHOTOS: Rush Hour Train Crashes into Hoboken Train Station
He added that the train, which had three passenger cars, a locomotive and an engineer's cab car, was crowded — especially in the first and second cars, because they give the easiest access to the terminal.
Another commuter, Steve Mesiano, told MSNBC that the crash sounded like a "huge, huge bang, and the lights went off." He was in the second car and said he saw the roof of the first car collapse.
When he got out, Mesiano saw bloodied passengers everywhere.
"There was blood on the floor," he said.
Alexis Valle a pregnant woman who was in the first car, said the car's ceiling fell on her head.
"I thought we were going to die. I didn't think we were going to get out," said Valle, who said her baby was fine.
Jamie Weatherhead-Saul, who was riding in the first car, said "the train just felt like it never stopped."
"It didn't slow down, it didn't, it didn't brake," she said, shaking. "The lights shut off and people started yelling."
NJ Transit, Port Authority (PATH) and Hudson-Bergen light rail service in Hoboken was immediately suspended. PATH said most service resumed about 3 p.m.
President Barack Obama was informed of the crash but hasn't received a detailed briefing, the White House said. It said the investigation is being led by the National Transit Safety Board, with assistance from the Federal Railroad Administration.
Bella Dinh-Zarr, vice chairwoman of the NTSB, said the investigation was being slowed because of safety concerns. The canopy of the building is resting on top of the car, water is leaking and the age of the terminal — which opened in 1907 — means it has to be swept for possible asbestos, she said.
Dinh-Zarr said that outward-facing cameras on both ends of the train were being recovered and that investigators planned to retrieve the train's "black box," or data recorder, later Thursday night.
Kitty Higgins, a former NTSB board member, said the review will likely focus on what caused the train to pull into the station without slowing down.
"Why that happened, we obviously have to find out. Was there something that happened to the driver? Was there an equipment failure we don't know [about] yet? That's what will be looked at," she told MSNBC.
The comprehensive probe will look at all factors, including the condition of the tracks and the recent sleep patterns of the engineer, according to John Goglia, another former NTSB board member. Investigators will examine data from the event recorder, the train's black box.
"The event recorder's going to tell us what the engineer was doing as he approached that station. We will be able to tell if he, in fact, slowed down, if he applied brakes and how much he applied," Goglia said.
While the investigation is in its preliminary stages, there was no initial sign of terrorism or that the crash was a deliberate act, two local law enforcement officials said.
The Hoboken station — a historic facility and NJ Transit's fifth-busiest — was the site of another crash on a different train line that injured more than 30 people in 2011.
An earlier version of this report said at least three people were killed, according to information provided by the Regional Medical Examiner's Office in Newark and a Jersey City Medical Center spokesman. The number is at least one, according to Gov. Chris Christie's office.