University of Missouri football players said they will boycott team activities until the school's president resigns or is fired in the latest protest against Tim Wolfe's handling of race issues.
The football players' move — announced on social media late Saturday — comes after graduate student Jonathan Butler went on hunger strike earlier this week to call attention to the issue.
The Legion of Black Collegians said in a statement that athletes of color on the Mizzou football team won't participate in any "football-related" activities" until Wolfe "resigns or is removed due to his negligence toward marginalized students' experiences."
"We are no longer taking it. It's time to fight," the legion posted on Twitter with a photo of at least 32 black young men, arms linked.
The statement was retweeted by several members of the Missouri team, including starting running back Russell Hansbrough and sophomore safety Anthony Sherrills.
"Never thought I would be in place or time like this to actually make a difference," Hansbrought posted on Twitter.
Safety Thomas Wilson wrote on Twitter that "it's about more than just football for me and my team," while cornerback John Gibson wrote that the team's coaches were "100% behind us."
"Mizzou Football is United. No racial division amongst US," added defensive end Charles Harris.
The university's athletics department said it was aware of the declarations made by many of its student athletes.
"We all must come together with leaders from across our campus to tackle these challenging issues and we support our student-athletes right to do so," it said in a statement.
There was no immediate response from Wolfe over the declarations.
Wolfe has been criticized over his response to a series of incidents on the Missouri campus, including the use of racial slurs and the discovery of a swastika on campus.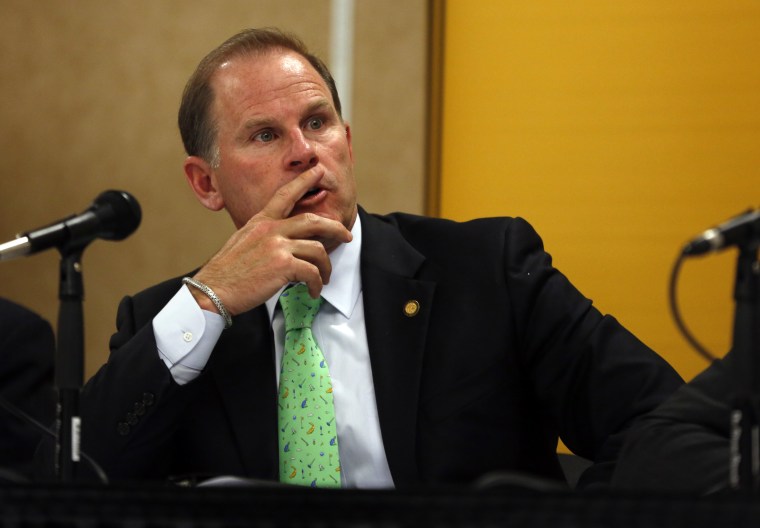 Butler has been on hunger strike since Nov. 2, and a Change.org petition has garnered more than 2,300 signatures calling for Wolfe's removal.
Wolfe met with Butler and student groups on Friday to discuss the university's handling of racial harassment cases, according to the Associated Press.
On Sunday, Coach Gary Pinkel tweeted a photo of him and several black and white students and faculty with the caption. "The Mizzou Family stands as one. We are united. We are behind our players. #ConcernedStudent1950 GP."
The "1950" in the hashtag refers to the year when black students were first allowed into the University of Missouri.
And Gov. Jay Nixon on Sunday said the university must address concerns over "racism and intolerance."
Nixon's statement said the concerns must be dealt with so that the school is "a place where all students can pursue their dreams in an environment of respect, tolerance and inclusion."
"Racism and intolerance have no place at the University of Missouri or anywhere in our state," Gov. Nixon said. "Our colleges and universities must be havens of trust and understanding. These concerns must be addressed to ensure the University of Missouri is a place where all students can pursue their dreams in an environment of respect, tolerance and inclusion."
The University of Missouri campus of 35,448 is mostly white, according to the AP. Approximately 17 percent of the student population identifies with a minority group, according to the university website.