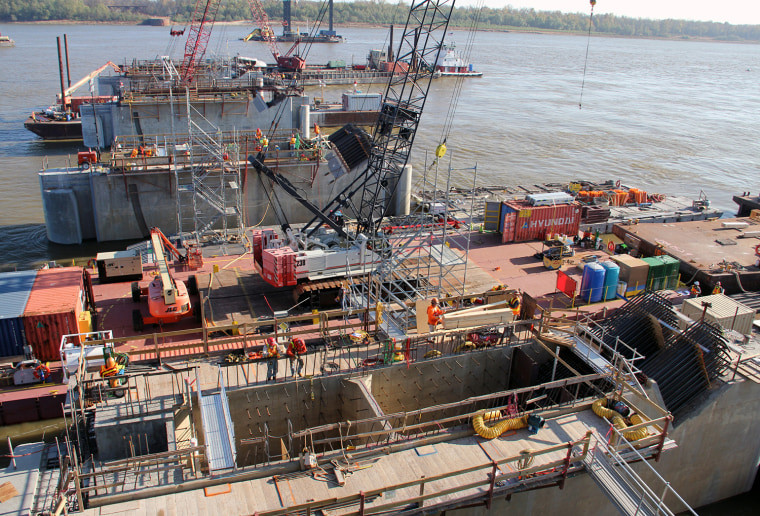 OLMSTED, Ill. – A construction project that has dragged on for more than two decades — and faced mounting criticism for its inefficiency and ballooning costs — has a new jolt of funding after a provision was quietly inserted into Wednesday's bill to end the government shutdown.
Congress first approved the Olmsted Locks and Dam project back in 1988. But 25 years later, it's still under construction. There has been delay after delay, but supporters in this region insist it should be finished to replace two crumbling locks downstream.
"They're in very rough shape," said Brad Bradley, the site's resident engineer for the Army Corps of Engineers. "The government is spending a lot of money to keep them operation."
But now taxpayers are also spending a lot to finish the Olmsted project, which sits on the Ohio River near the Illinois-Kentucky border.
The initial allocated funding for it was $775 million.
On Wednesday, lawmakers increased that to nearly $3 billion.
Bradley estimates that will allow the roughly 550 employees who work here to make the dam operational by 2019 — although he admits it could take even longer.
"It's a risk that's out there," he said.
Part of the reason for the delays, Bradley said, has been the construction method, which was originally touted as "innovative" and a much faster alternative to the traditional "cofferdam" approach, where engineers divert the river temporarily while they build the dam on dry land.
The so-called "in-the-wet" method was chosen for the Olmsted project. It requires workers to build the massive pieces of the dam on dry land and then lower them into the water. The method's backers initially said the dam could be completed in as little as three years.
But it hasn't worked out that way.
"There have been a lot of engineering challenges," Bradley said. Among them, the vast fluctuations of the river's depth and velocity.
"This is a very difficult portion of the river to do business in," he said.
Now, taxpayers will be doing business here for years to come.