Congress wants more documents — lots and lots more documents — about how much the big drug company Mylan makes on its EpiPens.
A congressional committee Monday asked Mylan for a wide range of additional documentation related to the profitability of EpiPen auto-injectors amid questions about how much taxes the company actually pays on sales of the lifesaving anti-allergy devices.
The letter lists 18 different sets of information requested by the House Oversight and Government Reform Committee. And the committee wants all of that by Friday.
The letter was sent to Mylan CEO Heather Bresch and suggests the company didn't clearly disclose its tax assumptions for EpiPen when she appeared before the committee last month.
Related: Mylan's Upgraded EpiPen Torn Apart by Experts
It also suggests that Mylan's current claim about EpiPen's profit doesn't make sense. That's because the company is citing the U.S. tax rate in those profit claims, when Mylan is incorporated overseas and is paying less in taxes.
Bresch, the daughter of U.S. Sen. Joe Manchin, D-W. Va., last year oversaw a corporate inversion for Mylan, which reincorporated it in the Netherlands, despite Bresch and other executives continuing to operate the company from Pittsburgh. That so-called inversion reduced Mylan's U.S. tax liability.
"We remain committed to productive and continued cooperation with the committee, and we intend to respond to their request for additional information," a Mylan spokeswoman told CNBC in response to the letter.
Related: Mylan Understated Its EpiPen Pretax Profits by 60 Percent
The request is just the latest headache for Mylan, which has faced withering criticism from the public and Congress since August, when a furor erupted over EpiPen prices that have increased more 500 percent in recent years, up to more than $600 for a two pack.
The devices are used to counteract the potentially fatal allergic reaction anaphylaxis.In their letter to Bresch, committee chairman Rep. Jason Chaffetz, R-Utah, and ranking member Rep. Elijah Cummings, D-Md., expressed frustration over Bresch's recent testimony and document submission to the committee, which the congressmen suggested did not reflect the story that Mylan is now telling about EpiPen's profitability.
Last week, on the heels of the committee hearing, Mylan said that Bresch's claim that the company has a post-tax profit of $104 for an EpiPen two pack is based on an assumption of a statutory 37.5 percent United States tax rate. The company also said EpiPens have a pretax profit of $160.
Mylan also said last week that "tax is typically included in a standard profitability analysis and the information provided to Congress has made clear that tax was part of the EpiPen Auto-Injector profitability analysis."
Related: Congress May be to Blame for Higher Drug Prices, Experts Say
"In fact, Mylan has provided Congress with a detailed analysis of EpiPen Auto-Injector profitability," the company said. "It also is important to note that use of a statutory tax rate for the jurisdiction being analyzed (in this instance, the U.S.) is standard."
But the letter from Chaffetz and Cummings sent to Bresch on Monday clearly had a problem with that claim.
"Mylan claimed an estimated tax impact of $187 million for EpiPens in 2015," the letter said. "That estimate is nearly three times Mylan's companywide income tax provision that year — $67.7 million — as reported in its annual SEC filing."
"That figure reflected $93 million in non-U.S. taxes offset by U.S tax benefit of $25.9 million." (Emphasis from the document.)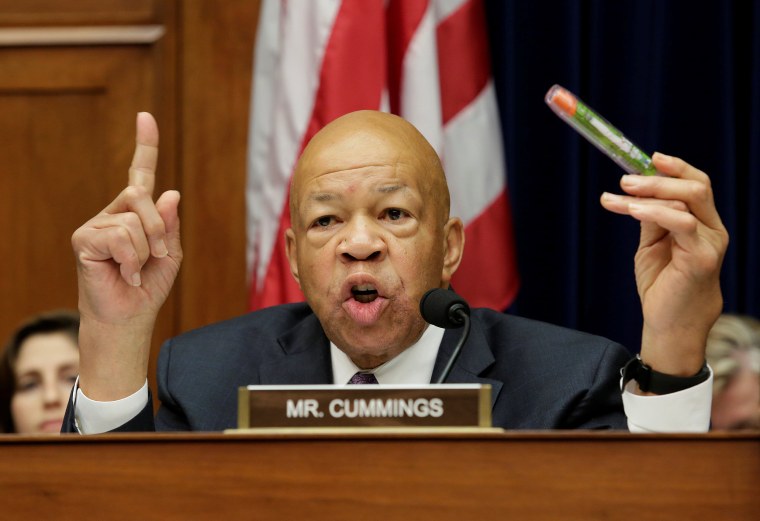 The letter cites a Washington Post article that says the 37.5 percent U.S. tax rate is "more than five times the overall tax rate the company actually paid last year, and much higher than its actual U.S. tax rate, which tax specialists have pegged at close to zero."
The letter notes that during Bresch's testimony, she frequently referred to a graphic, entitled "EpiPen AutoInjector Estimated Profitability," which identified a a set of factors that reduce the product's profit margin, including "rebates & allowances," "cost of goods sold" and "direct EpiPen Auto-Injector costs."
But, the letter said, "the graphic makes no mention of taxes or the tax assumption used by Mylan to estimate the $100 profit number. Neither did your written testimony."
"The only time you mentioned taxes during the hearing was to disclose that Mylan's companywide effective tax rate is between 15 and 17 percent, as a result of Mylan's decision to move its headquarters overseas," the letter from Chaffetz and Cummings noted.
The letter also said that Mylan didn't directly reference its tax assumption for its EpiPen profit estimates in either a Sept. 15 letter to the committee, or in documents the company produced.
Chaffetz and Cummings wrote that failure to disclose the tax assumptions, "despite opportunities to do so ... raises questions." Their letter pointed out that Chaffetz said during the hearing that Mylan's "dumbed down financials" don't make sense without explanation, and that Cummings had said, "your numbers don't add up."
"And it is extremely difficult to believe that you are making only $50 profit [per EpiPen] when you just increased the price by more than $100 per pen," Cummings had said during that hearing.
Mylan on Monday noted that it said last week that "just as we did not use a blended global tax rate, we also did not allocate corporate expenses associated with running the business, which would have further reduced [EpiPen's] profitability."
"We believe it is most appropriate, and conservative, to focus entirely on EpiPen Auto-Injectors specific costs and associated taxes," the company said.