Far from the corridors of Congress, where virtually any kind of gun legislation is dead on arrival and the gridlock has turned into political theater, bare-knuckle battles over firearms are raging in state capitals.
From Sacramento to Trenton and Tallahassee to Des Moines, lawmakers, interest groups and activists skirmish almost daily over pending legislation to either tighten or loosen restrictions on firearms. These smaller battlegrounds are where both sides in the long-running political battle roll up their sleeves and engage in lobbying and grassroots organizing aimed at tilting the national battle — one law at a time.
Related: With Washington Stymied, It's Up to the States to Pass Gun Reform
Recent efforts by Democrats to call attention to the impasse in Congress and turn up pressure on Republicans and the National Rifle Association to allow votes on federal gun legislation —including a House sit-in this week — highlight the growing importance of states in the national gun debate.
The two sides have very different views of how the battle in the states is playing out, though both agree that gun-violence-prevention groups have stepped up their game since the December 2012 massacre of 20 first-graders and six staff members at Sandy Hook Elementary in Newtown, Connecticut.
The nonpartisan National Conference of State Legislatures found that state lawmakers enacted nearly 70 gun-related measures in 2014 alone.
Laura Cutiletta, managing attorney for the Law Center to Prevent Gun Violence, which advocates for tighter gun laws, said she believes the NRA and the gun rights movement are losing their grip on state legislatures.
"There is a very stark difference in what has happened since Newtown compared to what it was like before," she said. "And that's both with proactive legislation that is brought by legislators trying to curb gun violence but also defeating gun lobby bills."
Cutiletta said that since Newtown, 138 new gun laws tightening restrictions on possession or purchase of firearms have been enacted in 42 states, many of them related to prohibiting domestic abusers from possessing weapons, requiring mental health records to be added to background check databases or expanding background checks themselves to cover more gun purchases.
Brina Milikowsky, chief strategy officer for Everytown for Gun Safety, which advocates for "common sense" reforms of gun laws, said the biggest change is that gun lobbyists "no longer have the statehouses to themselves."
"What's really changing the tide on this issue at the state level is that Everytown and our grassroots arm, Moms Demand Action, are able to bring both policy and legal expertise and political strategy to build campaigns … as well as real grassroots power," she said.
Gun rights groups concede that advocates for tighter gun restrictions are more active at the state level than before — a fact they attribute largely to the entry of Everytown, which is backed by billionaire former New York City Mayor Michael Bloomberg, to the playing field. But they say they have more than held their own in getting new state laws passed.
Related: Can Bloomberg's New Gun Control Group Take On the NRA?
Victories cited by Alan Gottleib, chairman of the Citizens Committee for the Right to Keep and Bear Arms and the founder of the Second-Amendment Foundation, include state laws allowing for concealed carry on school campuses, protection against civil lawsuits for gun owners or gun companies, expansion of reciprocity agreements on other states' gun permits and an increase in the number of states where no gun permit is required.
"The bottom line is we've scored very, very well at the state level and I think (the opposition is) putting a lot of hype and spin on something that really isn't there," he said.
But Everytown's Milikowsky says the gun rights groups also have been suffering setbacks in states that were once considered strongholds — like Alaska, Florida and Georgia — all of which failed to pass campus carry legislation this year.
Jon Vernick, co-director of the Center for Gun Policy and Research at Johns Hopkins University, estimates that gun rights groups probably have a numerical edge in state legislation passed since Newtown, but said anti-gun-violence groups have had a bigger impact.
"For my money, the laws that tighten restrictions are more substantial than the laws that loosen restrictions," he said. "So we've seen states require a license to purchase a handgun, like Maryland, or have expanded background checks to all gun sales, like Delaware and Colorado. In my opinion, those kind of changes are more meaningful than saying in some states, 'Yes, you can now carry a concealed weapon in a place that serves alcohol.'"
While the NRA did not respond to interview requests from NBC News, its website gives an indication of the intensity of the state-by-state action.
In the nearly two weeks since the gun massacre at the Pulse nightclub in Orlando, Florida, on June 12, for example, the NRA's Institute for Legislative Action has warned supporters about efforts by Democrats in four states — Florida, California, Delaware and New Jersey — to pass new gun control measures and urged them to contact their lawmakers.
The Delaware legislation "seeks to remove the right to due process of those on the 'Terrorist Watchlist' when taking away their firearm rights," read one such alert.
In addition to pushing through new laws, anti-gun-violence groups are turning to ballot initiatives as an end-run around state legislatures where gun rights groups — led by the NRA — have bottled up legislation.
That new tool already has been used successfully in Washington state, where voters in 2014 approved an initiative requiring universal background checks on gun purchases. Similar ballot initiatives are on the November ballot in Nevada and Maine, and California voters will consider a measure known as the "Safety for All" initiative that would significantly strengthen what already are the most-restrictive gun laws in the nation.
Gun rights advocates also have used the ballot initiative to try to head off new gun safety laws, with voters in Missouri and Alabama both passing measures in 2014 requiring "strict scrutiny" of any attempt to restrict the right to keep and bear arms.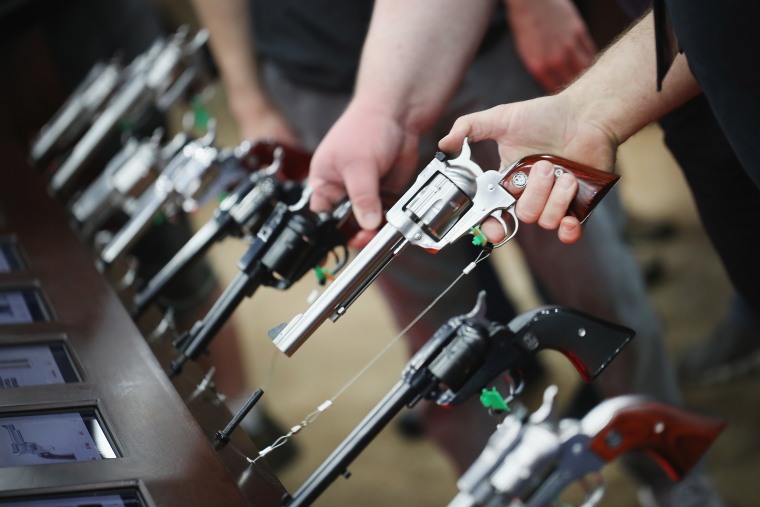 But playing to the public can be a double-edged sword because of Americans' divided and sometimes conflicting opinions on guns, said Frank Newport, editor in chief for Gallup, citing strong support in polls for both universal background checks and concealed carry laws as measures to deter gun violence.
"We've got two conflicting strains of thought," he said. "Collectively, Americans say yes to background checks of any kind. … At the same time, they believe individual citizens taking matters into their own hands would also be effective."
Newport also says there is little evidence to suggest that Newtown marked a turning point in public opinion, even though support for stricter gun laws remains slightly higher than it was before the mass shooting.
Lawrence Keane, a spokesman for the National Shooting Sports Foundation, the trade association for the firearms industry, also said his organization sees no evidence of a shift in public opinion away from gun rights.
But he said his organization is aware of increased efforts by advocates of additional gun restrictions in the states and has taken some steps to answer.
"I would say that advocates for gun control have shifted their focus to the states or even to the local level because they've been unsuccessful in advancing any of their agenda in Congress," he said. "… At the same time, we've responded and adjusted resources to address issues at the state level as well."
Related: How the NRA Exerts Influence Beyond Political Contributions
Keane said his group has tallied its share of legislative successes since Newtown, including playing an active role in repealing old "blue" laws in several Eastern states that prohibited hunting on Sundays and expanding the right of gun owners to possess or use "supressors" or silencers.
But he said the organization's biggest push on the state level has been to successfully lobby for changes to the law in 16 states to require them to report disqualifying records — chiefly mental health records — to the FBI's National Instant Criminal Background Check System (NICS), which is used to vet would-be gun purchasers.
The organization's Fix NICS campaign reflects its strategy of working to improve the current system for background checks even as it opposes legislation expanding such checks, such as the bipartisan bill sponsored by Sens. Joe Manchin, D-West Virginia, and Pat Toomey, R-Pennsylvania, that was narrowly defeated in April 2013.
"Our position in response to the Manchin-Toomey legislation was that the background check system is broken," Keane told NBC News. "… We said before you consider expanding background checks ... you need to get the system to function properly, you need to get the records in the system ... and chief among them is mental health records."
Keane and Gottleib, of the Second-Amendment Foundation, differ on the importance of Bloomberg in revitalizing the gun-violence-prevention movement.
Keane said Bloomberg's involvement in anti-gun initiatives "is not new" and notes that other billionaires like George Soros have previously contributed to gun-restriction campaigns with little effect.
But Gottleib says Bloomberg's infusion of cash into Everytown enabled it to spend $37 million on lobbying in 2014, compared to the $20 million the NRA spent through its lobbying arm.
"The gun rights movement right now on both the federal level and the state level is being significantly outspent on lobbying," he said. "… It's something we're watching very carefully and are very concerned about."
Everytown's Milikowsky said she did not believe Gottleib's lobbying figures are accurate, but that it's hard to make an accurate comparison because the NRA "buries" spending in its financial reports.
"But I do know that their operating budget is $345 million, which is 10 times the size of ours," she said.
Scorecard disagreements aside, observers on both sides of the firearm fence say that advocates of additional restrictions on gun sales appear to be taking a page from the marijuana legalization and gay marriage movements, hoping to create a series of state victories that can be used to slowly turn up the heat on Congress.
Vernick, of the Center for Gun Policy and Research, said that it may be years before it is clear if the campaign is working.
"That's a long-road strategy to add state after state," he said. "… The hope is ultimately that it persuades Congress that the laws are reasonable -- that they're not taking guns away from law-abiding gun owners -- and necessary."