As wildfires burn across the American West, a fight is raging behind closed doors on Capitol Hill as Democrats and Republicans go back and forth on the best funding to battle the blazes.
Democrats want to give the U.S. Forest Service more money and greater flexibility to fight deadly blazes currently ravaging parts of California, Arizona and other states. Republicans agree that more needs to be done, but want the agency to better target its funding as it works to fight fires.
Meanwhile, the U.S. Forest Service is also using up 52 percent of its current $5 billion budget to fight forest fires. The fire season so far is severe with 20 wildfires raging in various states, according to the National Interagency Fire Center.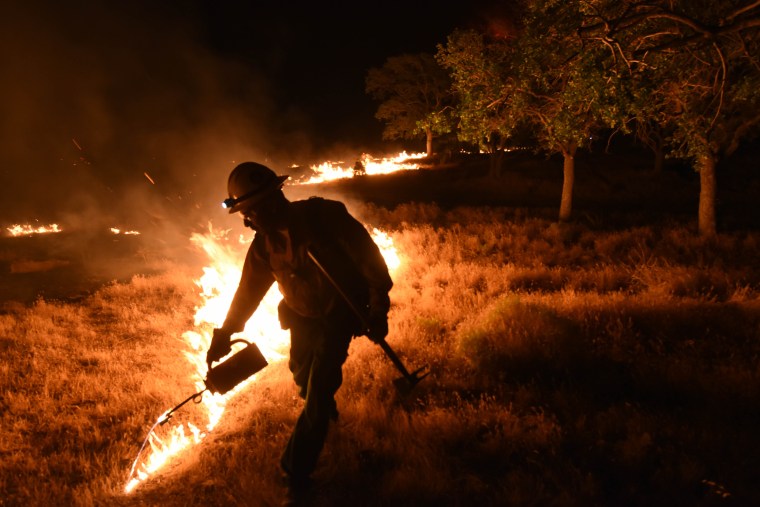 California and Arizona have seen the largest wildfires so far this year, burning close to 50,000 acres in each state.
In June, the House Appropriations Committee approved $3.9 billion to combat and manage wildfires, but it has not yet been scheduled for a vote. Kansas Republican Sen. Pat Roberts, chairman of the Agriculture, Nutrition, and Forestry committee introduced legislation in that chamber aimed at managing as and prevent wildfires — but funding figures are not yet available, staff aides said.
Related: End Said to Be Near in Deadly California Wildfire
The U.S. Forest Service says the amount proposed by the House isn't enough to cover firefighting costs for the 2017 fiscal year either. They are in need of an additional $490 million to fight wildfires beyond what was proposed in the House bill, Michael Illenberg, a spokesman for the U.S. Forest Service told NBC News in a statement.
Democrats on the Appropriations Committee agree and are "frustrated" with proposed funding measures by Republicans, including the Interior subcommittee's ranking member, Rep. Betty McCollum, D-Minnesota, who says the amount of money proposed isn't enough.
Republicans balk at the costs.
"The wildfire problem is not just a budget problem — it's also a management problem," said Sen. Lisa Murkowski, R- Alaska chairwoman of the Senate Energy and Natural Resources Committee. "We have a real and growing problem on our hands, and resolving it will require a comprehensive approach that addresses both wildfire funding and forest management."