A Florida congressman's already ugly divorce has taken a bizarre turn after he said in court papers that he was never actually married to his wife of 24 years.
In documents filed last week in 9th Circuit Court in Orange County and made public Tuesday by his lawyers, Rep. Alan Grayson, D-Fla., accuses Lolita Grayson of having still been married to another man when they were wed in 1990.
Lolita Grayson filed for divorce in January, but Alan Grayson's filing last week seeks an annulment — arguing that there was never a legal marriage in the first place.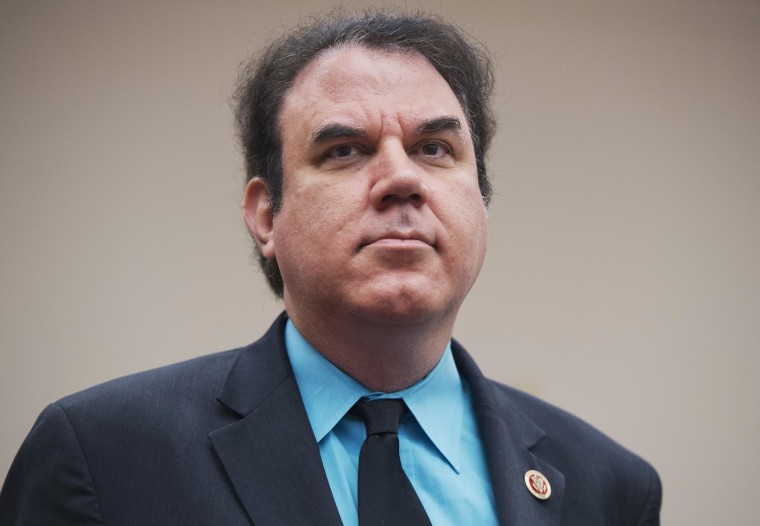 Alan Grayson's lawyers, who didn't respond to requests for comment on Tuesday, backed up the accusation with Florida court records showing that Lolita Grayson sought and obtained a judgment dissolving her marriage to a man named Robert Carson in March 1994 — four years after she married Alan Grayson.
"Unbeknownst to Mr. Grayson, Lolita Grayson was still married to another man, and was not divorced or widowed," according to the congressman's filing, which accuses Lolita Grayson of having "represented herself as single in order to induce Mr. Grayson to marry her."
The filing says that because of the "bigamous" nature of their union, Alan Grayson should be awarded custody of their five children and Lolita Grayson should be ordered to pay him back for "all of the money and property she has received" during their "purported" marriage.
The divorce was already a public spectacle before the congressman — who has fiercely advocated for liberal policies on family issues and same-sex marriage, pointing to his own interracial marriage as a model of an unorthodox union — lodged these new accusations.
In March, Lolita Grayson accused the congressman of assault for allegedly pushing her to the ground during a confrontation. Alan Grayson then released cellphone video appearing to show that it was, in fact, his wife who pushed him. The sheriff's office declined to pursue charges.
The congressman is also seeking legal fees from Lolita Grayson in connection with that incident, accusing her of defamation and slander.