WASHINGTON — House Majority Whip Steve Scalise and three other people were wounded Wednesday morning when a gunman opened fire on members of the Republican congressional baseball team as they were practicing on a field in Alexandria, Virginia.
The gunman, James T. Hodgkinson, was shot by police and later died of his wounds.
Scalise, 51, who represents Louisiana and is the third-ranking Republican in the House, was standing at second base when the shooting erupted, witnesses said. He was hit in the left hip but managed to drag himself into the outfield and was rushed back across the Potomac River to a Washington, D.C., hospital.
MedStar Washington Hospital Center said Wednesday night that Scalise sustained a single rifle shot to his left hip. The bullet fractured bones, injured internal organs and caused severe bleeding, it said.
Scalise, who has received multiple units of blood, remains in critical condition and will need further surgery, it said.
"Prior to entering surgery, the Whip was in good spirits and spoke to his wife by phone," Scalise's office said in a statement. "He is grateful for the brave actions of U.S. Capitol Police, first responders, and colleagues."
Alexandria Police Chief Michael Brown told reporters that local officers arrived within three minutes and immediately engaged the gunman.
"Quite frankly, it was not only chaotic. It was a combat situation," Brown said.
Among the latest details in the attack:
Hodgkinson, 66, of Belleville, Illinois, was also taken to the hospital, where he died. A motive remained unclear. Law enforcement officials with knowledge of the investigation told NBC News that there was no indication of ties to international terrorism.
The FBI said that nobody else was in custody and that no other suspects were being sought.
Witnesses described a "firefight" between the suspect and police. The others wounded besides Scalise: a Capitol Police officer, a congressional staffer and a lobbyist. None were believed to have suffered life-threatening wounds.
Another Capitol Police officer suffered an ankle injury. Earlier, it was believed that the officer had also been shot.
The FBI said "a second congressman" sustained minor injuries during the incident "and was also transported by a medic unit." It didn't identify the lawmaker, who NBC News later confirmed was Rep. Roger Williams, R-Texas, who suffered a sprained ankle.
Scalise was expected to recover. His high-ranking role typically affords him a Capitol Police security detail.
House Speaker Paul Ryan, R-Wisconsin, said on the House floor that the officers had been identified as Crystal Griner and David Bailey. "We are, as ever, awed by the tremendous bravery of the Capitol Police," he said.
"An attack on one of us is an attack on all of us," Ryan said.
Related: Capitol Police Officers Hailed as Heroes After Baseball Practice Shooting
Speaking at the White House, President Donald Trump, who announced that Hodgkinson died, lauded Capitol Police and first responders.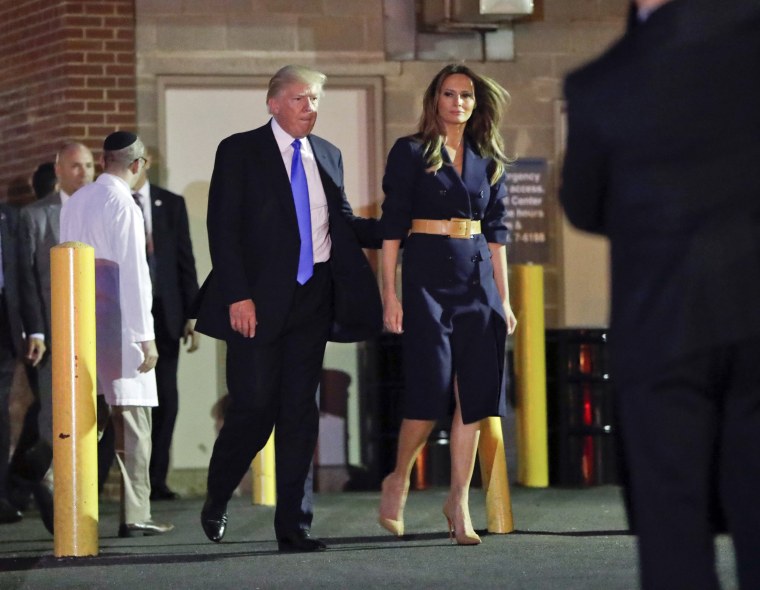 Trump visited Scalise at the hospital Wednesday night with his wife, Melania Trump. He made no remarks afterward. The president then said on Twitter that Scalise, whom he called "one of the truly great people," was in "very tough shape — but he is a real fighter."
A senior administration official said the Trumps met with several of the doctors treating Scalise and Griner herself before they visited first with Griner and then with Scalise's wife, Jennifer.
Melania Trump gave Jennifer Scalise a bouquet of white flowers during a conversation of about 10 minutes at the congressman's bedside, the official said.
Related: Gabby Giffords Says Her 'Heart' Is With Scalise, Other Victims
Witnesses told investigators that when the gunman arrived at the ball field, he asked people: "Are these the Republicans or the Democrats?"
Timothy Slater, head of the Criminal Division of the FBI's Washington field office, told reporters late Wednesday afternoon that the suspect's motives remained under investigation. He had no comment when asked whether the gunman had "a vendetta against Republicans."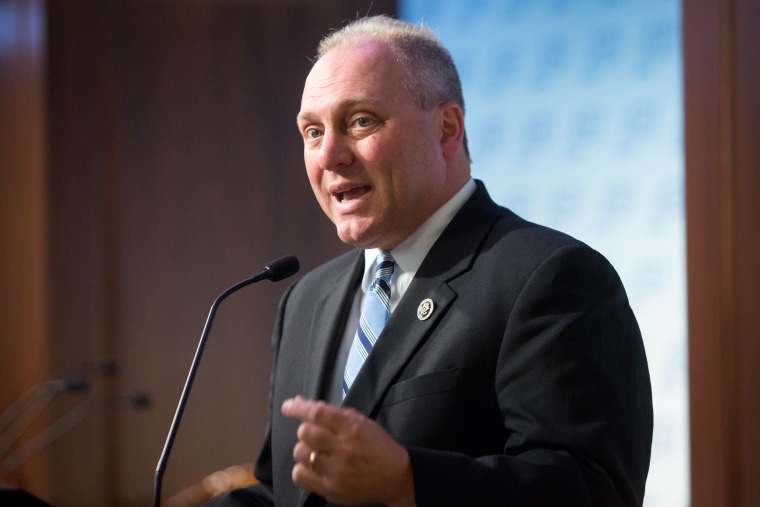 An emotional Rep. Joe Barton, R-Texas, said that what happened at Eugene Simpson Stadium Park was "unconscionable," calling it a symptom of how today's poisoned and polarized politics.
"He was doing it simply because he didn't like the political climate and chose to start shooting at a bunch of congressmen who today happened to be Republicans," said Barton, who was at the park with his sons, Jack and Brad, when the shooting happened.
"That's not America," he said.
Barton said that the group was lucky that Scalise was there with his Capitol Police security detail and that they were able to prevent the shooter from getting on the field.
"Had he got past the fence, it would have been a bloodbath," Barton said.
Slater said Hodgkinson was believed to have been in the area since March, jobless and living out of his vehicle. He said investigators had no idea why the gunman chose "today at all, or this place."
Sen. Rand Paul, R-Kentucky, said the shooting started about an hour after about 20 Republican lawmakers arrived at the field for what started out as a typical practice. He said he was standing by the batting cage when Scalise was shot.
"There was a rapid succession of shots, you know, five or 10 shots," Paul said. "In the field, I see Representative Scalise is shot but moving, and he's trying to drag himself through the dirt and out into the outfield."
"I probably heard 50 to 60 shots," Paul added. "Then, finally, we heard the response from the Capitol Hill police."
The office of Williams, the Texas Republican, said that he wasn't wounded but that a member of his staff — identified as legislative correspondent Zack Barth — was shot and taken to the hospital.
A family friend told NBC News that Barth was treated for a gunshot wound to his calf and was released. The friend added that Barth said the gunman pointed his weapon straight at him.
In addition, Tyson Foods said employee Matt Mika, a director of government relations in the company's D.C. office and a former congressional staffer, was shot and taken to the hospital. His condition wasn't immediately known.
The shooting began shortly after 7 a.m., said Brown, the Alexandria police chief. Three minutes after the first 911 call, Alexandria police arrived and began trading shots with the gunman, he said.
Related: Which Lawmakers Were Attending Baseball Practice Where Scalise Was Shot?
When it was over, police recovered the suspect's rifle and handgun, according to the FBI and the federal Bureau of Alcohol, Tobacco, Firearms and Explosives. Investigators were tracing the ownership and purchase history of the two firearms, said Slater of the FBI.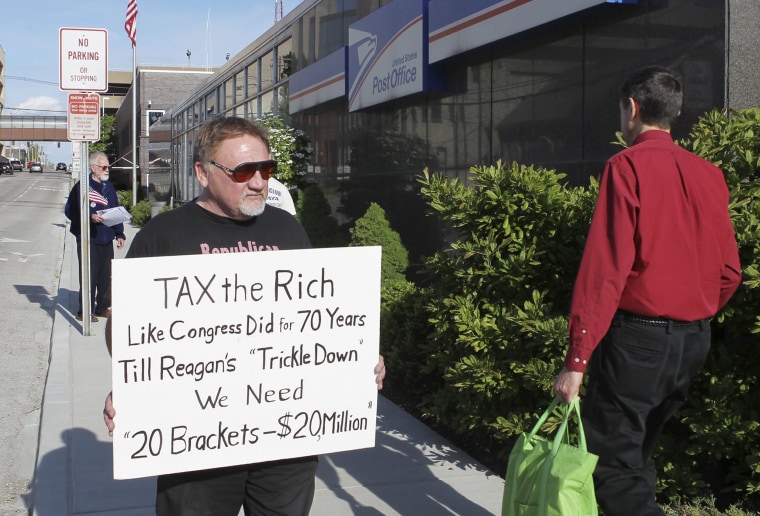 Photos: Gunman Opens Fire at Republican Baseball Practice
Members of Congress from both parties have been using the field each morning in Alexandria's Del Ray neighborhood — about seven miles from Washington — in preparation for an annual bipartisan charity game scheduled for Thursday.
The Democrats had practiced earlier in the morning. Thursday's game was supposed to honor the victims of recent terrorist attacks in London and Manchester, England.
Sen. Jeff Flake of Arizona, who plays center field on the Republican baseball team, said he was standing along the first-base line when gunfire erupted. He took cover in the dugout, where he helped the congressional staffer who had been shot near center field. He estimated that at least 50 shots were fired.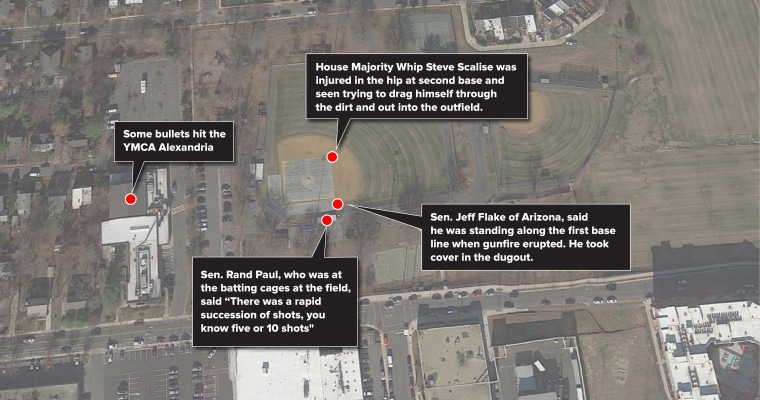 The shooter "could have fired into the dugout," Flake told MSNBC. "We had somebody yell after about 10 minutes, 'Shooter's down!' And so I sprinted out to Steve and put pressure on the wound."
Flake said he used part of a jersey to suppress the bleeding.
"He was coherent. He was asking for water," Flake said of his colleague. "He was bleeding quite a bit."
Rep. Brad Wenstrup of Ohio, a doctor who was at the practice, also helped treat the victims, Flake said. Rep. Mo Brooks of Alabama used his belt as a tourniquet on one of the victim's legs, he added.
Several other lawmakers at the scene, including Rep. Steve Pearce of New Mexico, tweeted that they were safe.
Residents told NBC News that children were walking to a school about a block away from the park, which includes a soccer field and a dog run and is next to a YMCA, when the volley of gunfire rang out.
Stuart Claggett, who was walking his dog, said he heard the shots go off "like fireworks."
"They were fairly loud, but it wasn't like a machine gun. It stopped for a tiny amount of time," Claggett said.
He added that "some people might know that's where [members of Congress] play" baseball.
Leonard Crook said he was working out on the main floor of the YMCA, about 50 yards from the field, when a woman frantically began banging on the door, trying to get in.
"Some bullets hit the Y, so we went into the basement, and everyone stayed there until everything blew over. We were locked down in the Y and not allowed to go anywhere," Crook said.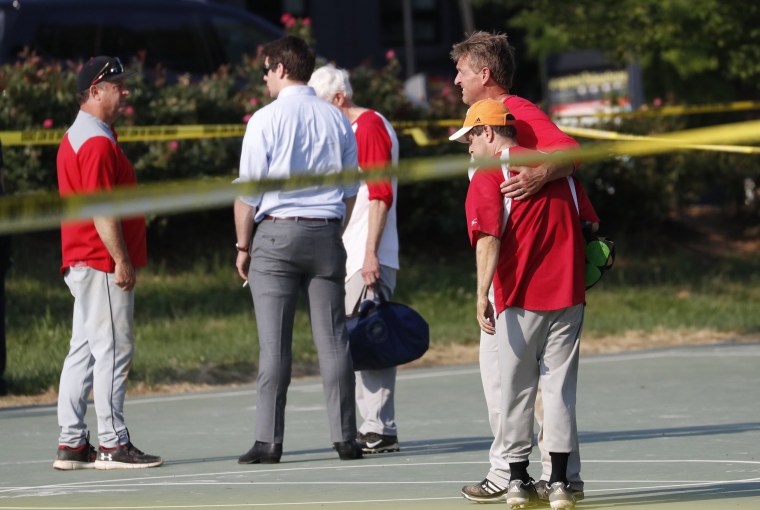 Trump released a statement after being briefed on the shooting and canceled his planned remarks at the Labor Department later Wednesday.
The Capitol Police said that "out of an abundance of caution," they "deployed a robust police presence throughout the Capitol Complex," although all buildings remained open.
Hallie Jackson, Alex Moe, Kristen Welker and Pete Williams reported from Washington. Ariana Brockington, Jonathan Dienst, Erik Ortiz, Corky Siemaszko and Tom Winter reported from New York. Andrew Blankstein and Alex Johnson reported from Los Angeles.