Connecticut school board members decided to reinstate the original name of a local high school's mascot despite complaints from the community and a tribal government office that it is offensive to Native Americans.
In a 5-4 election Wednesday, the Board of Education voted in favor of calling Killingly High School's sports teams the Redmen, a spokesperson told NBC News.
Some board members defended keeping the name, saying that it was a way to honor Native Americans, according to NBC Connecticut.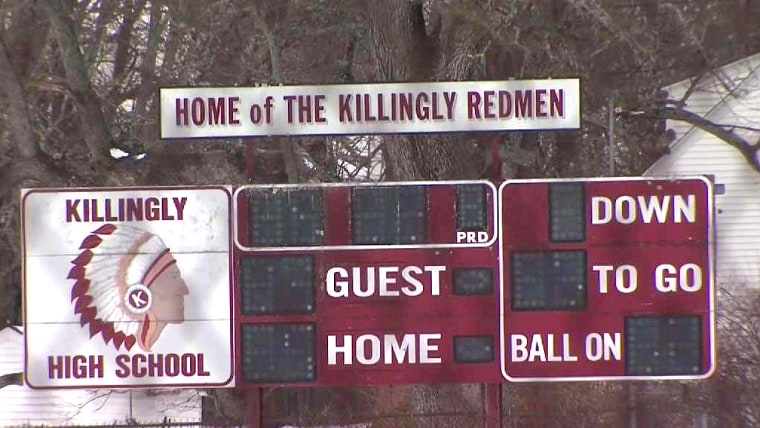 Others, however, argued that the term is outdated and voting to keep it is ignoring grievances expressed by students at the high school as well as Native Americans who opposed it.
"We stopped letting it be about the students and doing what's right. And people can be mad about the process and people can be mad about losing whatever it is they think they're losing. But the people who are directly impacted have spoken and we chose not to listen to them," said board member Hoween Flexer, NBC Connecticut reported.
During the meeting, the board asked for the Redmen logo to be changed so that it does not portray Native Americans in a negative way, NBC Connecticut reports. They also discussed ideas of having classes that teach the high school students about Native American heritage.
Last year, the name was changed to Red Hawks.
The name change, however, angered residents who wanted the original mascot brought back.
Lisa Vance, a teacher, said she thought the mascot was racist. "I find it offensive and I think we're better than that," she told the outlet in December.
Resident Danielle Hughes said, "We should just evolve already and move past using names that are historically seen as a slur."
Representatives of the Mashantucket Pequot Tribal Nation, a tribal government office, told The Bulletin in June that the tribe did not support the high school using Redmen as the names of their sports teams and applauded students for trying to get it changed.
In a statement to NBC News on Friday, the tribe said it was disappointed the board voted to reinstate the mascot.
"Although we appreciate the Board of Education's decision to establish a subcommittee to develop a Native American centered curriculum, we're disappointed in their vote to reinstate the offensive Redmen mascot," a spokesperson said. "We support the sentiments shared by members of our Youth Council at yesterday's hearing, and believe the mascot doesn't honor or represent Native people and has no place in our school system. We urge the Board to rethink their decision."