A pastor in Connecticut who had just stopped at his mailbox was fatally struck by a Stamford officer's patrol cruiser Wednesday, devastating the city and police department where he served as an advisor and his wife is a commissioner, authorities said.
The Rev. Tommie Jackson, 69, died from his injuries after Stamford Officer Zachary Lockwood, 24, struck him with his Ford Interceptor, according to the Connecticut State Police, which is investigating the crash.
The accident happened at about 4:12 p.m. on a street with a right curve, state police said. When Lockwood saw Jackson, the officer "made an evasive steering maneuver" before impact.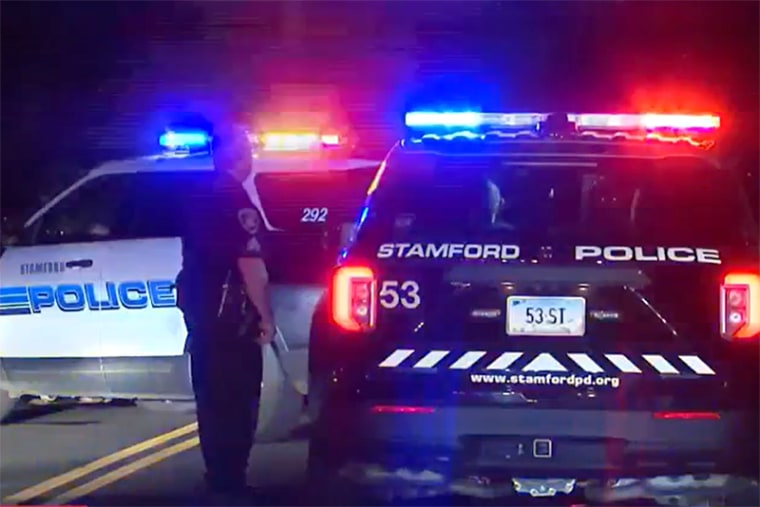 Lockwood was not reached for comment Thursday afternoon.
Stamford police said in a statement Thursday that Lockwood performed cardiopulmonary resuscitation on Jackson until medical personnel arrived. Jackson died at Stamford Hospital.
Lockwood, who is on administrative leave, has been with the department since April 2022, police said.
"Rev. Jackson was a friend and advisor to many of us at the Police Department and we are profoundly saddened," Stamford Assistant Chief Silas Redd said in the statement. "Pastor Tommie Jackson was such a beacon of light for so many in the Stamford community, for past 25 plus years."
"His steadfast commitment to serve those under the guidance of his pastorate, extended far and wide," Redd said. "The void that has been left by his untimely passing will be difficult to fill; only the passage of time will bring comfort and healing. I ask that we all keep both the family of Pastor Jackson, his church family, Officer Lockwood, and his family in our thoughts and prayers during these most difficult times."
Jackson was a pastor at Rehoboth Fellowship Church and Faith Tabernacle Church, as well as assistant director of the Urban Redevelopment Commission, according to Stamford Mayor Caroline Simmons.
A woman who picked up a call from a phone number affiliated with Jackson on Thursday declined to comment on his family's behalf.
Simmons called Jackson "a pillar in the Stamford community" who wore many hats. Jackson's wife, Dorye Jackson, is a commissioner in the city's police department, the mayor said.
"I am devastated and heartbroken by the untimely passing of Reverend Tommie Jackson," Simmons said in a statement. "Reverend Jackson was a pillar in the Stamford community and led a life devoted to faith and public service," she said, adding that he was "a larger-than-life presence."
"Reverend Jackson's decades of service and leadership made an indelible impact on the City of Stamford," Simmons said. "I was honored to call him a friend and I will greatly miss his positive energy, wonderful sense of humor, and infectious smile."