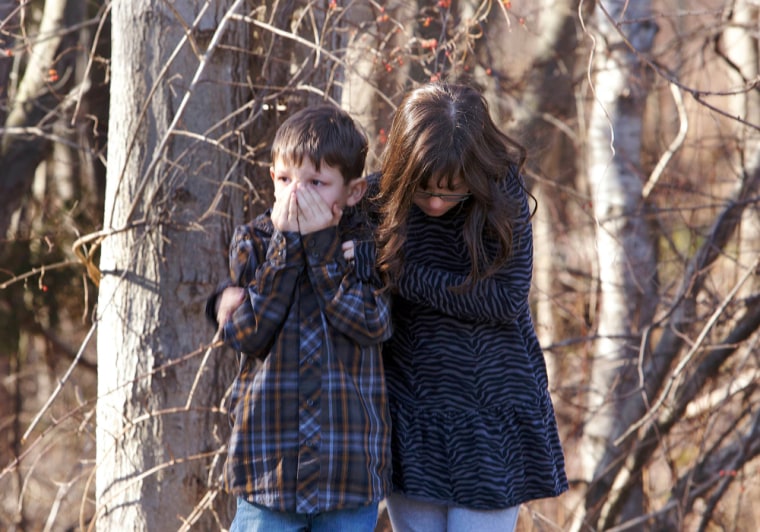 The killing of 26 people, including 20 children, at a Connecticut elementary school Friday morning is the second deadliest school shooting in the United States, behind only the Virginia Tech massacre in 2007.
The incident at Sandy Hook Elementary School in Newtown sent crying children spilling into the school parking lot as frightened parents waited for word on their loved ones.
The gunman, identified as Adam Lanza, 20, killed 20 children and six adults at the school. Lanza also was found dead at the scene, authorities said. The body of a woman believed to be his mother was found at their home in Newton, authorities said.
Officials initially told NBC News the gunman was Lanza's brother, Ryan. But a senior official later said that Ryan was nowhere near the shooting, was not believed to be involved and was cooperating with the investigation.
Elementary school massacre: 26 dead, including 18 kids, in Connecticut
Most casualties took place in one section of the school. The 600-student school includes students from kindergarten through fourth grade.
The Newtown shooting took place less than six years since the worst school shooting in United States history. On April 16, 2007, student Seung Hui Cho, 23, killed 32 people and wounded 17 others before killing himself on the Virginia Tech campus in Blacksburg, Va.
See more video on the tragedy at Sandy Hook Elementary on NBCNews.com
That grim record surpassed the death toll of the Columbine High School shooting massacre. On April 20, 1999, 13 people were killed and 24 injured when Eric Harris, 18, and Dylan Klebold, 17, opened fire in the Littleton, Colo., school.
Other school shootings in the United States include:
Jan. 16, 2002: Peter Odighizuwa, 43, an expelled law student at the Appalachian School of Law in Grundy, Va., shot and killed the dean of the school, a professor and a student, and injured three other people.
Oct. 28, 2002: Robert S. Flores, 41, a student at the University of Arizona College of Nursing in Tuscon, Ariz., killed three people before turning the gun on himself.
March 21, 2005: On an Indian reservation in Red Lake, Minn., 16-year-old Jeffrey Weise killed his grandfather and his grandfather's girlfriend before driving to his high school, where he shot dead seven others. 
Oct. 2, 2006: Charles Carl Roberts IV shot 10 girls at West Nickel Mines School, an Amish one-room schoolhouse in Nickel Mines, Pa., killing five.
Feb. 14, 2008: Steven Kazmierczak returned to his former campus at Northern Illinois University in DeKalb, Ill., where he killed five people before turning the gun on himself.
Feb. 12, 2010: Three people were killed and three others wounded when Amy Bishop, a biology professor, opened fire at the University of Alabama in Huntsville.
Feb. 27, 2012: Thomas "T.J." Lane, 17, shot five of his fellow students at a school in Chardon, Ohio. Three of them died within two days following the shooting.
April 2, 2012: Former student One L. Goh, 43, killed seven people at Oikos University, a private Korean Christian college in Oakland, Calif.
But none of these eclipsed the toll of the deadliest attack ever on a school in the United States. On May 18, 1927, 45 people, including 38 children, were killed when bombs planted by Andrew Kehoe, 55, ripped through the Bath School in Bath Township, Mich., and exploded outside as rescuers arrived at the scene.
Related content from NBCNews.com: