Conservative author and filmmaker Dinesh D'Souza was indicted in federal court on Thursday on allegations he made illegal contributions to a U.S. Senate campaign in New York in 2012.
D'Souza — a former president of King's College in New York, and co-director of the controversial documentary "2016: Obama's America" — is accused of illegally directing associates to make contributions to a Senate campaign committee that totaled $20,000. He then reimbursed those individuals for the contributions, prosecutors say.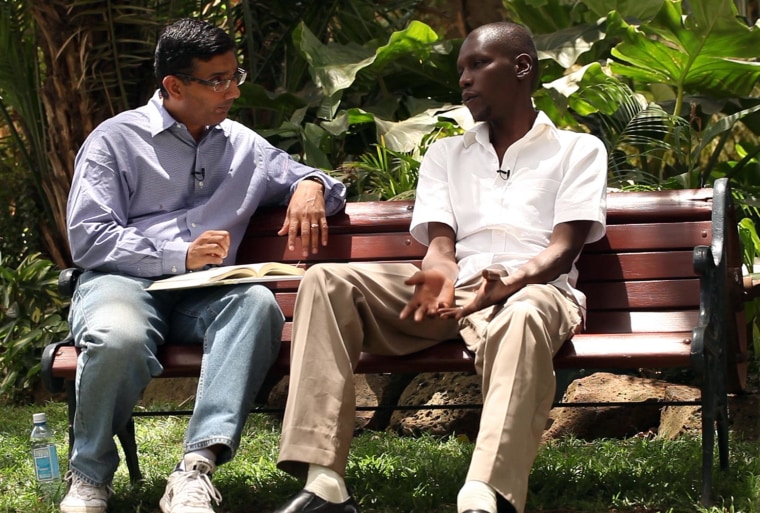 Though the candidate isn't identified in the indictment, NBC News has confirmed that it is Republican Wendy Long, who lost the Senate bid in a landslide to Sen. Kirsten Gillibrand.
D'Souza campaigned in 2012 on behalf of Long, a lawyer who graduated from Dartmouth College a year before D'Souza.
In 2012, federal election law limited the amount of contributions from individuals to $5,000.
In response to the charges, D'Souza, via high-profile attorney Benjamin Branfman, released a statement saying:
"It is important to note that the indictment does not allege a corrupt relationship between Mr. D'Souza and the candidate. There was never a corrupt agreement of any kind, nor was there any request made that the candidate take any action or refrain from taking any action as a candidate, or as a US Senator, if her political campaign were to have been successful."
The statement continued, "Simply put, there was no "quid pro quo" in this case, nor was there even any knowledge by the candidate that Campaign Finance Rules may have been violated. Mr. D'Souza did not act with any corrupt or criminal intent whatsoever. He and the candidate have been friends since their college days, and at worst, this was an act of misguided friendship by D'Souza."
The charge carries a maximum of two years in prison, according to a news release from the U.S Attorney for the Southern District of New York Preet Bharara.
D'Souza is also charged with one count of causing false statements to be made the Federal Election Commission in connection with the campaign contributions. If convicted, that charge carries a maximum sentence of five years in prison.
"As we have long said, this Office and the FBI take a zero tolerance approach to corruption of the electoral process," Bharara said in a statement. " If, as alleged, the defendant directed others to make contributions to a Senate campaign and reimbursed them, that is a serious violation of federal campaign finance laws."
The prosecutor said the indictment is the result of a routine review by the FBI of campaign filings with the FEC .
According to his website, D'Souza was born in Mumbai, India, and came to the United States as an exchange student. He graduated from Dartmouth College in 1983.