The family of the 14-year-old boy whom police shot and critically wounded at a Nevada high school said Thursday that the officer should have found a better way to resolve things.
A school district police officer shot the boy Wednesday during a confrontation witnessed by more than 40 classmates at Hug High School in Reno, authorities said. They said the boy got into an altercation with a classmate and began threatening other students with a knife.
The boy remained in critical condition Thursday at Renown Medical Center, police told NBC News, which isn't naming him because he's a juvenile.
"There are many questions to be answered as to what happened and what could have been done to avoid the use of lethal force," the boy's family said in a statement Thursday.
"We believe options were available to law enforcement that were not pursued," the family said, adding: "All matters will be fully investigated and all answers necessary sought out."
The family's lawyer, David Houston of Reno, said it was "premature" to decide whether to seek court action.
But Houston told NBC station KRNV that it was "very odd [that] there is no step between the use of lethal force and other methods that could have perhaps rendered the situation harmless."
"It is my belief we do not send our children to school to be shot," he said.
However, Traci Davis, superintendent of the Washoe County School District, praised the officer for having acted quickly "to protect the safety of our students."
"I truly believe that the outcome could have been much worse," Davis said.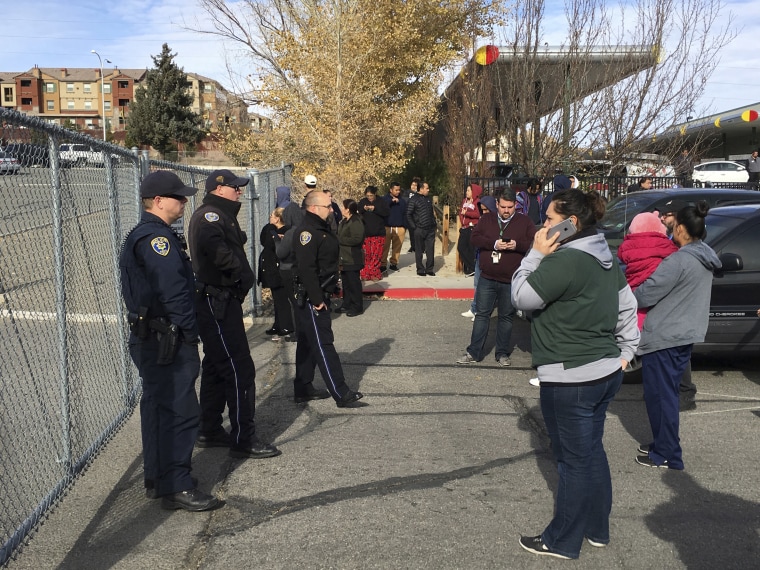 School district Police Chief Jason Trevino said the shooting was under investigation by the Reno Police Department, and he cautioned against drawing conclusions from videos circulating on the internet that recorded parts of the episode.
The officer was placed on administrative leave pending the investigation. Authorities wouldn't provide any other details about the shooting or about policies governing officers' firing their guns at or around students.
But at least one parent said that while it was unfortunate that a child was shot, she was fine with how the confrontation was resolved.
"I was very comfortable with the fact that there's police officers there, because the kids like to fight," said the woman, whom NBC News also isn't naming to protect the identity of her 17-year-old son, who attends the school.
"They are there to protect the kids — which is what he did," she said. "I'm glad the situation got handled the way it did. My kid was right there. He could have been stabbed."
The U.S. Education Department's National Center for Education Statistics says (PDF) that 43,770 public schools in the United States, including 16,700 public high schools, were staffed with armed officers at least one day a week during the 2013-14 school year, the last term for which complete data are is available.