A fugitive gunman wanted in the shooting deaths of five men — including a quadruple homicide inside a Kansas City home — was arrested early Wednesday in a ditch next to a Missouri highway.
Pablo Antonio Serrano-Vitorino, 40, was taken into custody after pulling a gun on a passerby at a gas station, Sgt. Scott White of Missouri State Highway Patrol told reporters.
The witness called cops, who found the suspect in a ditch near the junction of Interstate 70 and Highway 19 in Montgomery County, about 170 miles east of Kansas City. A rifle was discovered but Serrano-Vitorino did not resist arrest, according to officials.
Related: ICE Mistake Let Suspect Free 4 Months Before K.C. Murders
"We're very relieved that it ended the way it did and a lot of citizens are breathing a sigh of relief," White said. "We didn't want any more injuries ... any more deaths."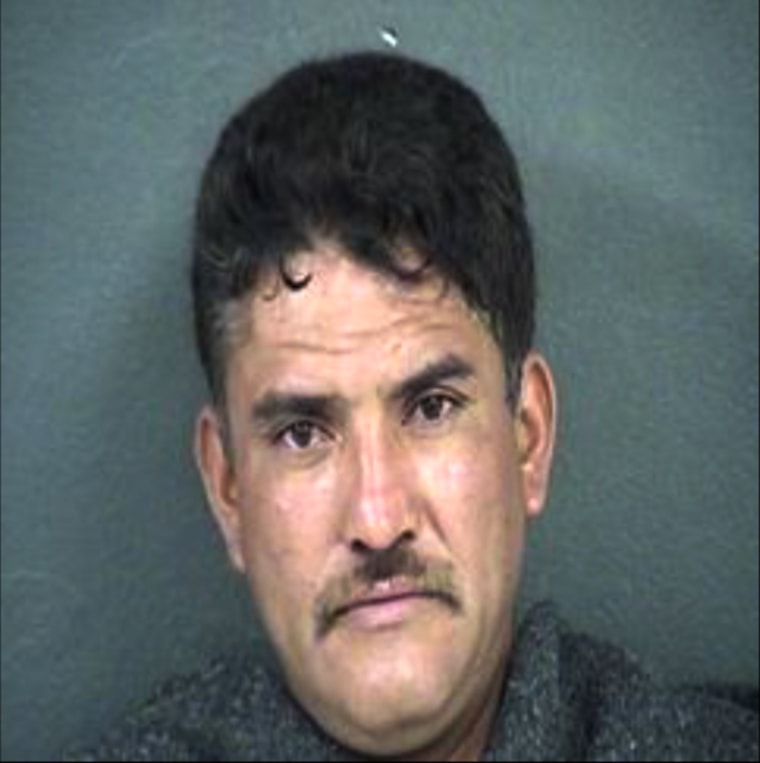 A manhunt was launched Tuesday after prosecutors charged Serrano-Vitorino with four counts of murder in Monday night's shotgun attack in the Kansas City home. He lived next door to the victims.
Serrano-Vitorino is also wanted for questioning in the shooting death later of a fifth man, identified as Randy J. Nordman, 49, near New Florence, Missouri.
His red Dodge Ram pickup truck was found Tuesday morning abandoned off Interstate 70 not far from Nordman's home, investigators said.
"I want to thank all the community for the support they gave law enforcement today," White added.
Investigators haven't released the names of the dead in Kansas City. But they were all in their early 30s, and at least one lived in the house, The Kansas City Star reported.
Serrano-Vitorino was detained at 12:18 a.m. (1:18 a.m.ET) and was checked out in an ambulance before being taken to the Montgomery County Jail, White said.
Officers were in searching the intersection after the tip-off from the member of the public who said he had been approached by a man with a gun.
Police "were able to take him into custody without incident," White added.