A North Miami behavior therapist trying to help a patient with autism says he was shot in the leg by cops responding to the scene — even after he laid down on the pavement and put his hands in the air.
Part of Monday's incident was caught on a witness' cellphone camera, and shows caregiver Charles Kinsey trying to explain to police that weapons were not necessary as they aimed their rifles in his direction.
Kinsey, 47, spoke Wednesday from his hospital bed with a local FOX affiliate and recounted trying to show police he was not a physical threat.
North Miami police said they were called to the scene after a report of a man walking around with a gun and threatening suicide.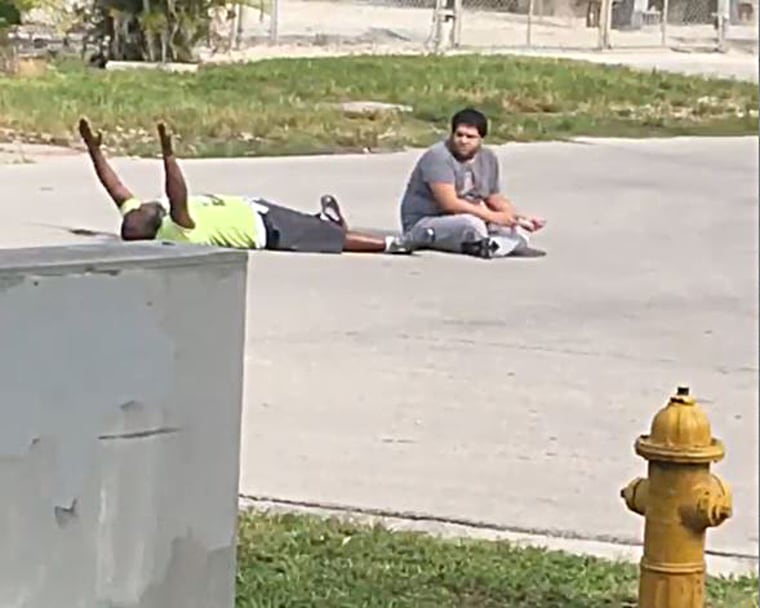 "I'm telling them again, 'Sir, there is no need for firearms. I'm unarmed, he's an autistic guy. He got a toy truck in his hand,'" Kinsey said, restating what could be heard on the video.
The shooting itself is not seen in the footage, although at least one of the three officers at the scene did fire, striking Kinsey in the leg.
"It was like a mosquito bite, and when it hit me, I'm like, I still got my hands in the air, and I said, 'No I just got shot!' And I'm saying, 'Sir, why did you shoot me?'" Kinsey recalled, "and his words to me, he said, 'I don't know.'"
Related:In Death of Black Men and Police, A Light On Hard Truths
Kinsey's attorney, Hilton Napoleon, said his client heard another officer ask why he opened fire.
"The shooting officer said he didn't know why he shot him," Napoleon said, according to NBC Miami.
The officer who fired his weapon was not identified, but was placed on administrative leave amid an investigation.
At a news conference Thursday, North Miami Police Chief Gary Eugenedid not detail who was involved or how many shots were fired. He confirmed that no gun was found.
"At my request, as of yesterday, the Florida Department of Law Enforcement is taking over this investigation," he said. "The State Attorney's Office is also looking at the case."
Attorney General Loretta Lynch also said Thursday that the Justice Department was familiar with the incident and was working with local officials to gather more information.
The shooting, while not fatal, is being scrutinized as another example of excessive use of force by police against unarmed black men.
"There is no justification, heightened alert or not, to shoot an unarmed man laying on the ground with his hands in the air who is telling you that no one has a gun and the person here is autistic," Napoleon added.
He is also outraged that Kinsey was handcuffed and was left on the road until paramedics arrived about 20 minutes later, he said. (A Miami Dade Fire Rescue log says it took about 31 minutes from when the EMS call was received to when paramedics arrived with Kinsey at the hospital.)
Kinsey, who works at the MacTown Panther Group Homes, said the man with autism ran away, and he was attempting to calm him when the police encounter unfolded.
"I was really more worried about him than myself," Kinsey told the local affiliate. "I was thinking as long as I have my hands up … they're not going to shoot me. This is what I'm thinking, they're not going to shoot me. Wow, was I wrong."
After the police news conference, Congresswoman Frederica Wilson said the video shows Kinsey being "rational," begging the question why he was still shot.
Kinsey's wife, Joyce, told the local affiliate that her husband is lucky he will be OK.
"Right now, I am just grateful that he is alive," she said, "and he is able to tell his story."