Nicholas Jeffers didn't mean to throw a house party.
But when the 20-year-old North Carolina A&T State University student had a small birthday gathering for a friend on Saturday night at his apartment in Greensboro, N.C., the get-together quickly escalated after someone posted the event on Twitter and Facebook, Jeffers told NBC News.
By the end of the night, Jeffers said, there had been a fight, and two innocent bystanders were shot dead.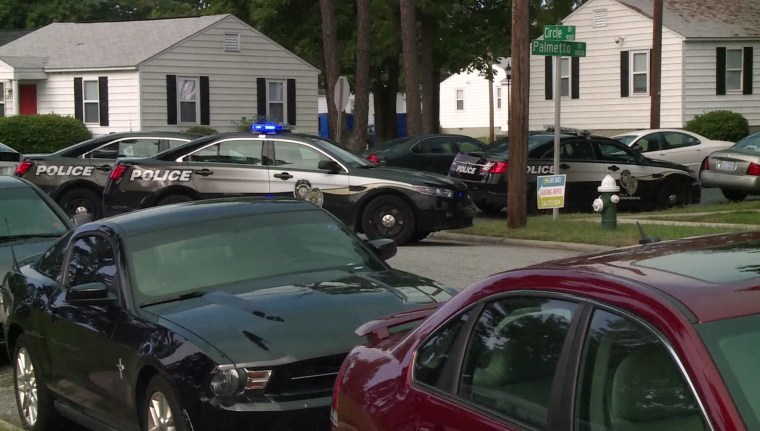 The victims were identified Sunday as Alisia Dieudonne, 19, a sophomore computer science major from Homewood, Ill., and Ahmad Campbell, 21, a junior agriculture and environmental systems major from Kittrell, N.C.
"We don't have anything indicating the two students were involved in the altercation," Greensboro police Cpl. M.D. Matthews told the Greensboro News & Record.
Jeffers wasn't sure who announced that he and his roommates were having a party, but by early Sunday morning, there were lines at the apartment's back and front doors, he said.
"At one point, it was 10 or 12" people, he said. "Thirty minutes later, there were 50."
About 2 a.m., a fight broke out over a woman, Jeffers said, so he and his roommates cleared out the apartment. Dieudonne and Campbell had both been invited to the gathering — she was a good friend, he said, while Campbell was close with Jeffers' cousin — so they stuck around.
"I was outside trying to calm everything down," Jeffers recalled. "It seemed like everything was resolved."
But once Jeffers stepped back inside, three shots were fired from the street, he said. Dieudonne and Campbell, who were still inside, were struck, Jeffers said. The men who Jeffers believed fired the shots weren't students, he said.
Harold Martin, the university's chancellor, called the incident "extremely disturbing." He said Sunday that both victims were active in campus life and were "vitally important members of the Aggie family."
At a vigil on Sunday, a speaker described Dieudonne as someone who felt like family, Jeffers said, adding that to him, that seemed right.
"Once you were friends," Jeffers said, "she was the type of person that always had your back."