A woman has been charged in North Carolina after a three-state investigation that was sparked by a Facebook photo of a dog with its mouth duct-taped shut, authorities said Monday.
Katharine F. Lemansky, 45 — also known as Katie Brown — was scheduled to appear in court Dec. 14 in Wake County on a misdemeanor charge of cruelty to animals, Cary, North Carolina, police said.
Lemansky admitting taping the chocolate Labrador's mouth shut in an incident that created an uproar on social media Friday, police said. She could face up to 150 days in jail and a fine if she's convicted.
Related: Florida Police Investigate Photo of Dog With Duct-Taped Mouth
Cary Police Capt. Randall Rhyne said Monday that the dog — one of two owned by Lemansky — was found to be "very well cared for" when examined and that it remains with Lemansky because there's no evidence of abuse.
The dogs are clean and well-nourished, and they even have embedded microchips to track them in case they go missing, Rhyne said.
But "taping the dog's muzzle shut was a terrible decision on Ms. Lemansky's part, and charging her with animal cruelty under North Carolina law was the right thing to do," he said.
Lemansky posted the notorious Facebook message under the name Katie Brown, accompanied by a caption reading "This is what happens when you dont shut up!!!" It has since been deleted, but not before it was shared more than 380,000 times.
Lemansky followed up the post with a second message reading "Dont panic everyone it was only for a minute but hasnt barked since... POINT MADE!!!"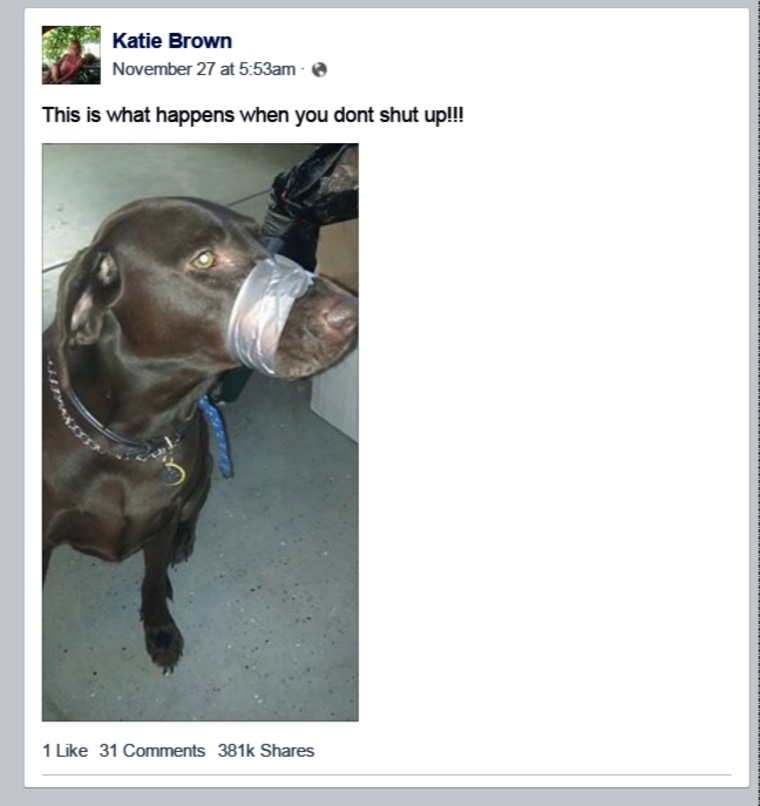 Lemansky's address remains unclear, and it took authorities in three states to track her down to Cary, N.C., according to court records and police reports.
Police in South Daytona, Florida, were the first to investigate because of location information associated with her Facebook account. They determined that Lemansky had moved more than a year ago and tracked her to Torrington, Connecticut — where police discovered that she owns property in nearby Avon under the name Brown.
But Lemansky/Brown also doesn't live at the Avon address, according to surprised renters whom investigators visited Saturday, according to a police incident report. Police finally found her in Cary, where her son told them she'd been staying recently.
Outrage over the incident put a strain on officials resources as tens of thousands of people around the world called investigators in all three states to express concern for the dog, officials said.
So many people called 911 in Cary that police had to assign seven overtime operators to handle the load, NBC station WNCN of Raleigh reported.
South Daytona police, meanwhile, said they'd had to schedule a fifth of their off-duty workforce to help handle concerned calls — which got so heavy that their switchboard crashed briefly over the weekend.
And Volusia County, Florida, Animal Services was laboring under such a load of calls and messages that the agency put out a public plea for people to stop.
"Our current furry friends that are missing in the area are not getting the attention they deserve," the agency said. "Please be assured the proper agencies are investigating and doing everything to ensure the dog's safety."