LOS ANGELES — Former child star Corey Feldman was briefly hospitalized early Wednesday with a cut on his abdomen and told police that he had been stabbed by a mystery man at a Los Angeles intersection.
Feldman, who moved back into the spotlight last year with claims that he was the victim of a Hollywood pedophile ring that preyed on young actors, said he was in his car and stopped at a light late Tuesday at the intersection of Ventura and Reseda boulevards when he was attacked, a Los Angeles Police Department source told NBC News.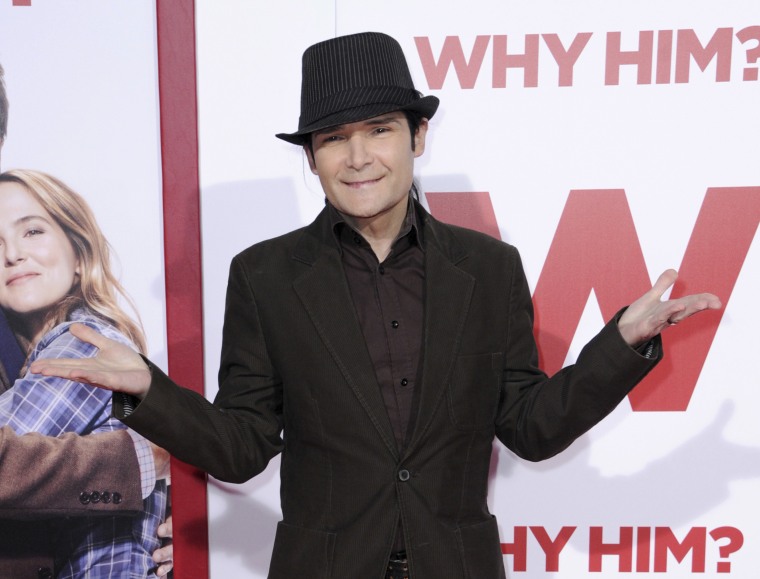 On Twitter, Feldman described — in all caps — how he was attacked by a man who "OPENED MY CAR DOOR & STABBED ME WITH SOMETHING."
Feldman said his attacker was one of three men who approached the car. He wrote that he had security team members with him but that they were distracted.
The actor also tweeted that the attack by "THIS VILE 'WOLFPACK' " was somehow connected to his blowing the whistle on the purported pedophiles.
"I HAVE REASON 2 BELIEVE ITS ALL CONNECTED!" he wrote.
The LAPD is investigating Feldman's report, the source said.
But the actor, best known for his turns in movies like "Stand By Me," "The Lost Boys" and "License to Drive," did not provide investigators with a description of his attacker, and no weapon was recovered.
In the afternoon, a Feldman representative told NBC News that the actor was stabbed with what was believed to be a needle or syringe.
"It was my understanding the police were initially investigating this as an attempted homicide due to the fact that they didn't try to take Corey's wallet or car, they just stabbed him with an object and ran," the rep said.
Feldman suffered a small cut.
"But the main concern was that he might have been infected with poison or a virus," the rep said. "He was cleared to go home and came home this morning and is resting right now. We won't have test results for viruses for a couple of days."
In interviews with NBC's Megyn Kelly and others, Feldman has gone public with claims that older men in the entertainment industry sexually abused him and other child stars.
Andrew Blankstein reported from Los Angeles. Corky Siemaszko reported from New York.