Panama City Beach officials voted Friday to close their beaches beginning at 7 p.m., becoming one of the last cities in Florida to shutter its shores amid the coronavirus pandemic after the governor refused to do so.
While Panama City Beach's chamber of commerce declared Thursday that beaches there weren't closed, and the town was "open for business," many residents pushed back, prompting the city council to schedule an emergency meeting for Friday afternoon.
The council voted unanimously to close the beaches for at least a week. City spokeswoman Debbie Ward told NBC News that Bay County, where Panama Beach City is located, is expected order all beaches closed later Friday.
During Friday's city council meeting, some residents appealed to keep the beaches open to help flailing businesses. Panama City Beach's primary source of income is tourism.
Others said it was a huge risk to public health to keep the beaches and other gathering places open.
Mayor Mike Thomas said during the meeting that the council had been urging him to make a decision on the beaches since the beginning of the week.
"It has been me mainly holding it up, and if I could, I'd hold it up some more, I would — but apparently I can't," Thomas said. "So don't blame them, blame me for this delay, and one of these days, we'll see who was right."
He said Gov. Ron DeSantis' decision Tuesday, at the height of spring break rush, not to order the beaches closed was an "opportunity" for Panama City Beach.
"We've got nine miles of beach ... plenty of room for people to spread out," Thomas argued, adding that pictures of beachgoers clustered in groups of dozens came from the same annually packed "quarter-mile stretch of beach."
But he said: "This is a horrible disease that we have got to stop, and I will vote to do what we need to do to stop it."
DeSantis had ordered that parties on beaches be limited to 10 people, but Panama City Beach officials said the rule was hard to enforce.
Full coverage of the coronavirus outbreak
On Friday, DeSantis followed that up with an executive order closing beaches and two counties, Broward and Palm Beach, which are considered to be particularly prone to coronavirus cases. Broward County has 124 cases and Palm Beach County has 34, the state's health department reported.
He also ordered all restaurant dining rooms and gyms in the state to close. Restaurants could only fulfill takeout and pickup orders.
Florida's total number of coronavirus cases rose to 520 as of Friday, all of them state residents except 46, and 10 people have died, according to the state's department of health. Another thousand people were being monitored.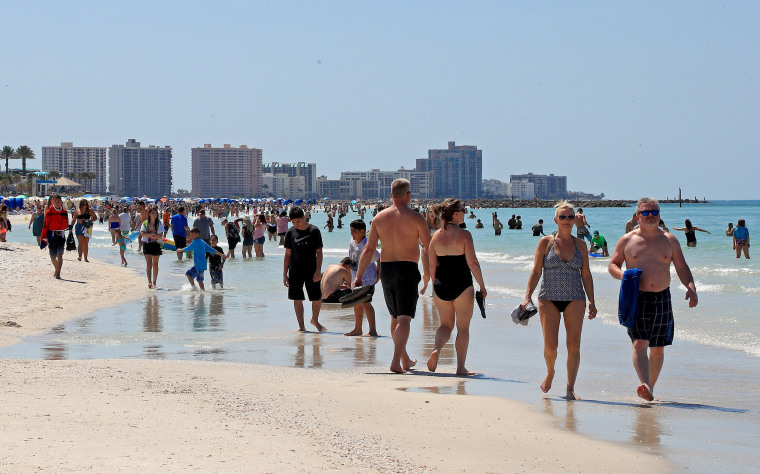 Despite the lack of a statewide order to close beaches, many local officials have taken that action on their own.
Pinellas County, where idillic beach destinations Clearwater and St. Petersburg are located, decided to close its beaches Friday before noon. The Pinellas County Commission voted unanimously Thursday to close the beaches, a day after the sheriff's department said resolutely that "after much consideration and deliberation," the county was keeping its beaches open.
Download the NBC News app for full coverage and alerts about the coronavirus outbreak
Clearwater had already independently voted to close its beaches starting Monday.
All public beaches in Miami-Dade County closed Thursday night, Mayor Carlos A. Gimenez announced Wednesday.
Beaches in Lee County also close Thursday night, according to county officials. Popular beach vacation spots Fort Myers and Sanibel are in Lee County.
Public beaches in Tampa are also closed until further notice, city officials said. Naples announced Wednesday that it would close its beaches until at least March 30.
And Miami Beach and Fort Lauderdale shut down their beaches on Monday.
But beaches in Monroe County, which encompasses most of the Florida Keys, are still open, as officials said they will close the area to visitors. The county's emergency management department on Thursday ordered hotels, guest houses, short-term rentals in RV parks and vacation rentals to close for at least two weeks starting at 6 p.m. Sunday.
Long-term vacation home renters can stay until the end of the contracts, according to the Monroe County Tourist Development Council. And restaurants in the county are allowed to operate at 50 percent capacity to serve residents.
"We know that closing down the tourism industry is a major inconvenience for our visitors," said Monroe County Mayor Heather Carruthers. "We also understand the economic impacts all Keys businesses and families will likely face."
"But the health and safety of our visitors and residents are paramount," she said.
County beaches will remain open to residents to promote "mental and physical health," the emergency management department said, with the 10-person limit on groups enforced by police.
There is one coronavirus case in the Keys, according to Bob Eadie, the administrator and health officer for the Florida Department of Health in Monroe County. The emergency management department said Friday the case had not been confirmed by the Centers for Disease Control and Prevention.