The gridlocked coronavirus economy could upend housing from coast to coast, bursting national apartment rents that have risen by 150 percent over the last decade, experts say.
Yet the situation will likely do little to alleviate the housing crisis, because the more than 16 million Americans who filed for unemployment insurance in the last three weeks will still need roofs over their heads, say economists and affordable housing advocates.
More than half of the 600 concerned landlords on a conference call Wednesday with the Apartment Association of Greater Los Angeles said they have tenants who haven't fully paid their April rent, according to Executive Director Daniel Yukelson.
"It does show you the impacts the crisis is having on both owners and renters," he said by email.
Overheated rents are blamed in part for the rise in homelessness and "deaths of despair," as well as the need for 13 million Americans to take on more than one job. More than a third of U.S. homes are rented. The median price for a two-bedroom apartment in San Francisco is $3,102; in New York, $2,565; and in Boston, $2,125.
Housing and homelessness experts continue to argue over the solution, from building more housing to fighting gentrification, but the halted economy could end up being the ultimate down force.
"Rents will fall," said David Shulman, a senior economist with the Anderson Forecast at UCLA. "But income is going to drop."
Full coverage of the coronavirus outbreak
The months ahead could bring a construction slowdown caused by a skittish luxury market, while landlords could face their own cash crunches as renters default, said Whitney Airgood-Obrycki, a research associate at Harvard University's Joint Center for Housing Studies.
It's also likely that many renters will move in with family and friends and that homelessness will continue to rise, she said.
"With this pandemic, what is likely to happen is people will lose a significant portion of income, so we're likely to see more doubling up for housing," she said. "We're also going to see rent discounting and a lot of rent concessions."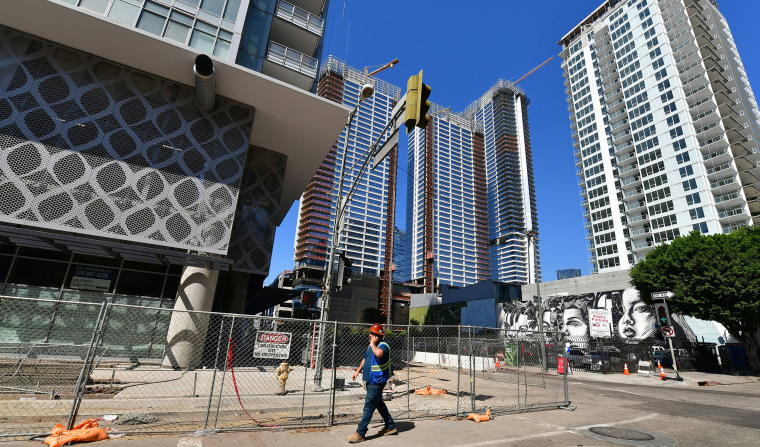 Airgood-Obrycki recently cited data that show that more than half of renters in "at risk" sectors, such as retail, travel and recreation, were already cost-burdened, paying 30 percent or more of their incomes on housing. Those kinds of jobs are often sidelined by a faltering economy.
"America has a two-pronged problem on its hands: a coronavirus recession that will push families out onto the streets and a weak social safety net that will fail to catch them," Aaron Carr, founder of New York City's Housing Rights Initiative, said in an email. "If Congress doesn't make rental assistance universal, they will be doing an extraordinary disservice not just to countless families, but the country they claim to love."
Download the NBC News app for full coverage and alerts about the coronavirus outbreak
California and the city of Los Angeles have placed limited moratoriums on coronavirus-related evictions, and President Donald Trump has vowed to suspend evictions and foreclosures for 60 days as part of the $2 trillion coronavirus relief package he signed March 27.
But experts say that the housing bill will come due at some point and that evictions and foreclosures will follow. In Los Angeles County, where sprawling homeless encampments shelter nearly 60,000 people, some advocates are bracing for the situation to worsen.
"Since April 1, we've gotten over 100 inquiries from tenants saying they're out of work and can't pay the rent," said Larry Gross, executive director of the Coalition for Economic Survival in Los Angeles. "Our homeless numbers are going to jump significantly."
The rental site Apartment List said Tuesday that 1 in 4 Americans responsible for rent or mortgage payments were unable to cover the full April bill for housing. Similarly, the National Multifamily Housing Council said more than a third of renters in the U.S. hadn't fully paid up through April 5.
Some Airbnb hosts affected by the freeze on travel and tourism say they're considering opening their units to long-term renters, which could increase supply and, theoretically, depress rents.
Airbnb spokesman Samuel Randall said the platform represents less than 1 percent of the housing market "in the vast majority of U.S. cities." That figure suggests that the short-term rental platform would have minimal impact on rents, but research touted by the Harvard Business Review last year concluded that Airbnb does affect rental markets negatively.
In Los Angeles, apartment rents fell this year for the first time since 2010, when the country was still in the throes of a recession, according to CoStar Analytics, which provides data to landlords, developers and real estate investors.
"We're seeing rents nationwide down," said John Affleck, CoStar's vice president of market analytics. "I don't think anyone's going to be migrating or relocating soon except to a family home."
He expects rents to decline in areas that depend on tourism, restaurants and the service sector, like Florida, Las Vegas and Honolulu. Luxury apartment developments with units for lease will also struggle nationwide, he said.
Some experts believe the impact of the coronavirus on the economy could upend housing in the U.S., with density pressure in markets like New York, Los Angeles and San Francisco giving way to renewed migration to the suburbs.
Low interest rates could prompt higher-income city renters to consider buying in the suburbs, people who are sharing rooms and apartments could lose a taste for it after social distancing, and employers may shift permanently to using remote workers who would no longer have to live nearby, said Shulman of UCLA.
"People may rethink if they want to be urban or suburban," he said.
He believes the housing market will get over this latest crisis, but it will take "a long time."
Yukelson of the Los Angeles apartment association called the coronavirus economy "temporary insanity."
"We will get through this," he said.