In a time of coronavirus-related anxiety and restrictions, the wedding industry has a message: Keep calm and marry on.
Factories in China that produce 80 percent of Western wedding dresses are backlogged on orders due to coronavirus-induced closures, leading to delays in wedding dress delivery. But the bridal industry remains certain it can deliver a gown to each and every bride — some might just arrive a couple weeks late.
Last year, more than 2.2 million brides sorted through miles of chiffon, lace and sequins to find their dream wedding dresses. The bridal industry not only needs to know how to temper bridal anxieties, but also anticipate market fluctuations to ensure dresses are fitted and delivered on time.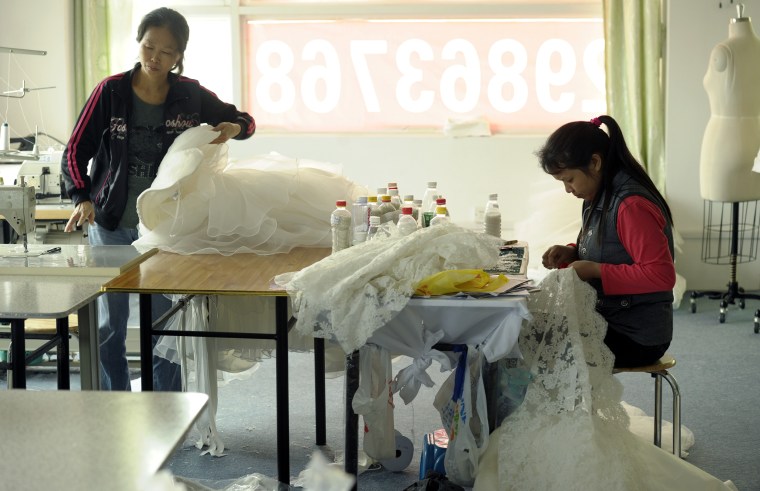 Kleinfeld, the upscale New York bridal boutique featured in the reality television show "Say Yes to the Dress," feels confident that the coronavirus won't affect its brides.
"We're the No. 1 retailer in the world," Kleinfeld's co-owner Ronnie Rothstein said. "Our production department is very much on top of this and so far we have not been alerted to any problems."
Kleinfeld's designers manufacture wedding dresses all over the world from Vietnam and Malaysia to Israel and Italy. Because they are not exclusively dependent on China or even Italy, which is now on lockdown in an attempt to control the outbreak, Rothstein said they haven't had any issues from the coronavirus.
Molly Simons of Salem, Massachusetts, ordered her Kleinfeld gown in September, well in advance for her May wedding. Her dress was slated to arrive by mid-February, but now won't be shipped from Canada until mid-March because beading was held up overseas. Her bridesmaids dresses, ordered in January, should arrive by the end of April, leaving less than a month for alterations.
While Kleinfeld has offered a $25 refund for alterations per dress, Simons said Kleinfeld has been unable to guarantee that the date wouldn't be moved again.
"I still have faith I will get the dresses, but all alterations will be very last minute," she said. "It's just really uncomfortable to be frustrated with the unknowns."
Even with industry giants like Kleinfeld, delays are normal and unavoidable. In 2018, David's Bridal filed for bankruptcy and a year later the tariff wars with China began to affect the bridal industry. Disruptions happened, but the brides seem to always get a dress.
"No one's gonna go without a dress, no one," said Steve Lang, the CEO of the bridal gown and wedding dress manufacturer Mon Cheri Bridals and president of the American Bridal and Prom Industry Association. "I think, right now, it's a lot of uninformed panic."
Lang, who is based in Trenton, New Jersey, said that although the bulk of his 45 factories are located in China, Mon Cheri has a diversified production base of factories across Asia and has experienced only four weeks of average lost time from their factories in China. Lang also says that Mon Cheri, which sells its dresses at retailers across the country, and other reputable bridal companies have enough gowns in U.S. warehouses to meet bridal demand.
"People are getting upset for I think the wrong reasons. I don't want to tell any woman that she doesn't have the right to worry about her wedding gown. But put it in perspective, it's not like a heart-lung machine that you need that's not gonna arrive on time," Lang said.
As China slowly returns to regular factory operations, Lang said that all his dress factories there have resumed production and the only area not at "100 percent capacity" are the material mills.
China is the largest textile exporter on the market and recent disruptions from the U.S.-China trade war have already put a strain on wedding dress production. Now, the coronavirus presents another layer of disruption, affecting the fabric supply to dress manufacturers within China as well as across Asia.
The strain is also evident across the Pacific, from fabric and textile suppliers like the New York-based Preview Textile Group.
"We are getting a lot of calls from our customers about what they should do about their supply," the company's president Elliot Glantz said. "And our response is: Quite frankly, we don't know."
Shipments from China started arriving at Preview this week, allowing them to begin restocking, Glantz said. But supply disruptions will likely persist across all levels of wedding gown production as Chinese factories navigate new virus protection measures, including maintaining a supply of masks and disinfectants and quarantine space to house sick workers, NPR reported. An over-hasty return to full operation could result in more disruptions if factory reinfection ensues, forcing the factory to again shut down.
With locations both in New York and Los Angeles, Shareen Bridal has been largely unaffected by the coronavirus given its large inventory of fabric from China and the fact that it sews its dresses domestically.
Owner Shareen Mitchell feels confident that the bridal industry will be completely back to normal soon. But the reality, she said, is that those in the industry don't want to scare away potential clients by expressing concern.
"They are being wise, they are not panicking," Mitchell said. "I would still take orders because as a business owner, I can't act as if there's an issue."
Bridal companies with a large inventory of dresses in the United States like Kleinfeld and Mon Cheri, as well as consignment retailers and dress rental companies, are best served to meet demands. But as both Lang and Rothstein noted, smaller mom-and-pop boutiques that source most of the dresses from wholesalers in China are the most negatively affected by factory disruptions.
And even for brides, on the list of coronavirus concerns, it's still just a dress.
"Keep in perspective that people are very sick," bride-to-be Simons said. "It feels silly to worry about these little details when so many people have lost their lives."