A growing number of schools in western Washington state and Oregon are scrambling this week to temporarily close and sanitize classrooms following the confirmation of additional cases of coronavirus and at least six deaths linked to the disease in Washington.
The decision to cancel classes Monday in at least a dozen schools in the greater Seattle area indicates how essential it is for school districts to have contingency plans and could be a preview for communities across the country weighing what preventative steps to take, health experts say.
In Mill Creek, Washington, a high school has decided to close after officials announced Friday that a student had somehow contracted the disease known as COVID-19. In addition, an elementary school in Lake Oswego, Oregon, south of Portland, is shutting its doors through Thursday after a person who lives with a school employee tested positive for the disease.
Health experts, however, are advising caution for school officials who must balance making safety and cleanliness a top priority at schools while being mindful not to make unnecessary closings at a time when COVID-19 is not considered a risk to the larger U.S. student population. But experts added that now is the time to prepare a contingency plan.
Full coverage of the coronavirus outbreak
"I understand this whole situation may seem overwhelming and that disruption to everyday life may be severe. But these are things that people need to start thinking about now," Dr. Nancy Messonnier, the director of the National Center for Immunization and Respiratory Diseases at the Centers for Disease Control and Protection, said last week. "You should think about what you would do for child care if schools or day cares closed."
That's what parents in suburban Seattle are now grappling with. Devon Johnson has a child at Bothell High School in Bothell, which was closed last Thursday and Friday for cleaning, and another in the Northshore School District, which is closing one school Monday and all schools Tuesday "out of an abundance of caution."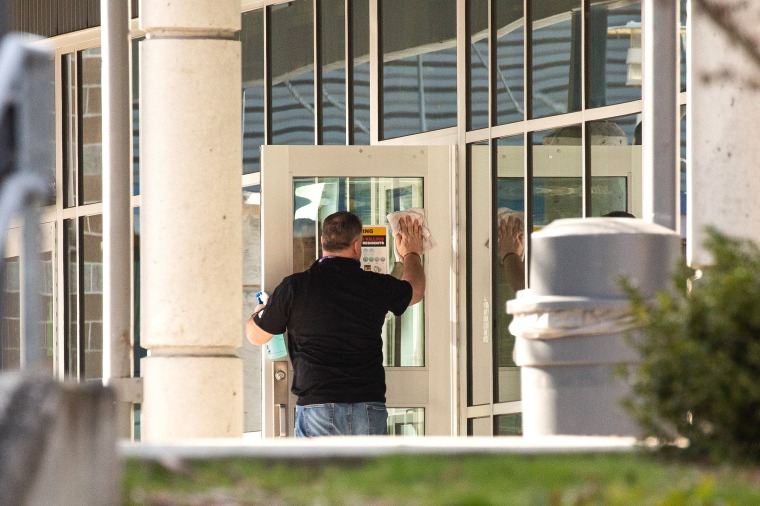 Bothell was closed after a staffer's family member had traveled internationally and fell ill. The coronavirus testing on that person came back negative on Friday, officials said.
"I think erring on the side of caution was a good call," Johnson said. "Imagine the backlash if [schools Superintendent Michelle] Reid hadn't closed the school and the teacher had tested positive."
The Northshore School District in its letter to parents said it will close schools Tuesday to train staff on how to teach remotely in the event students need to remain at home for a long period.
"We cannot control this virus, its spread, or its impact throughout the state or the country," Reid wrote to parents. "What we can control is how we will continue to meet our responsibility to educate our students for the future."
Other districts, including Bellevue, Washington, and Miami-Dade County, Florida, have made laptops and other electronic devices available to students so that the school year is minimally interrupted if schools are closed.
"If we have to shut down a school for any reason — and that's a measure of last resort — or isolate classrooms of students where they would have to stay home, we are able to empower those students and families," said Miami-Dade Schools Superintendent Alberto Carvalho, adding that the district has about 200,000 devices for use.
But the threshold to close schools should remain high, and the CDC has said that schools don't need to keep students at home if there have been no confirmed cases of COVID-19.
The American Federation of Teachers, the nation's second-largest teachers union, said in newly issued guidance to K-12 and higher education members that their workplaces need to be prepared.
"While we hope multiday or week school closures don't happen, our first priority is the health and safety of those who learn and work there, and putting plans in place that look out for kids, teachers and their families," the union's president, Randi Weingarten, said. "Those plans must be communicated openly, they must be coordinated in direct collaboration with school staff — including teachers, custodians, bus drivers and front office personnel — and they must include clear protocols for everything from pay and benefits to hazard training to trauma counseling."
Download the NBC News app for full coverage of the coronavirus outbreak
Donna Mazyck, executive director of the National Association of School Nurses, which represents 17,000 members across the U.S., said for school nurses, preparing for coronavirus is "very much like preparing for a bad flu season — it's all about getting the message out to avoid touching your eyes, nose or mouth because that's how germs spread."
She said she understands why schools are treading vigilantly in the face of the coronavirus, given how close contact teachers are with students and students are with one another. In Japan, which has seen more than 270 cases of the coronavirus, all elementary, junior and high schools are being closed for a month in order to control the spread of the disease. Other nations, including Italy, Bahrain and China, where COVID-19 originated, have also closed schools.
Mazyck, a former high school nurse in Maryland, said this latest outbreak only highlights the lack of school nurses in schools across the United States. A 2016 survey found that while about 75 percent of schools have either a full-time or part-time nurse, 25 percent have none at all.
"School nurses are on the front-lines and they should be there to help allay fears and respond to threats," Mazyck said.
As of Monday, there have been 43 confirmed cases of the coronavirus in at least 10 states, according to the CDC. The death toll in the U.S. increased to six Monday, all in Washington state. Health officials say older people and those with underlying health issues are at the greatest risk of severe symptoms.
Widening concerns over the spread of the coronavirus have triggered a major outreach effort in school districts in recent weeks, with letters advising parents on how their children can best reduce the risk of contraction.
In suburban Chicago, desks and other surfaces at New Trier High School are being wiped down and disinfected daily. The Fairfield-Suisin Unified School District, north of San Francisco, is also sanitizing classrooms, while California education officials have warned that special events, like school dances and plays, could be canceled.
The California Department of Health issued guidance last month, including that travelers from mainland China arriving in the U.S. should be excluded from schools for 14 days beginning the day after they left China.
"We are strongly recommending that school districts review this document and follow the guidelines," Scott Roark, a spokesman for the California Department of Education, said.
The closing of schools is not unprecedented. For instance, Bay Area schools closed in 2018 because of the smoke-filled air coming from the Camp Fire, the most destructive wildfire in California's history.
Hundreds of K-12 schools across America were also closed during the H1N1 pandemic of 2009.
A 2015 study that looked at the effects of the closings found that school closings may have been implemented too late to be an effective method of social distancing during the H1N1 outbreak and suggested that implementation of school closings should have occurred before it became widespread in the school or community.
Dr. Howard Markel, the director of the Center for the History of Medicine at the University of Michigan and a co-author of the study, said it's essential for schools to continue reassessing their plans daily and have policies for handling epidemics "like we do for snow days."
But he cautioned against pulling the trigger and shutting down schools too soon and too often, which can desensitize parents and students for when the situation is truly critical.
"Right now, the best action is to be calm, all is well, and carry on," Markel said. "You have a far greater chance of catching influenza this season and a far greater risk of getting hit by a car."