Testing for the coronavirus would have to be at least doubled or tripled from its current levels to allow for even a partial reopening of America's economy, public health experts say, but it is unclear how soon such an ambitious goal could be reached amid persistent shortages of testing supplies and a lack of coordination from the Trump administration.
Without diagnostic testing on a massive scale, federal and state officials and private companies will lack a clear picture of who has been infected, who can safely return to work, how the virus is spreading and when stay-at-home orders can be eased, public health experts say.
"We are an order of magnitude off right now from where we should be," said Dylan George, an expert in infectious disease modeling who advised the administration of President Barack Obama in combating the Ebola epidemic. "Testing is the perpetual problem here."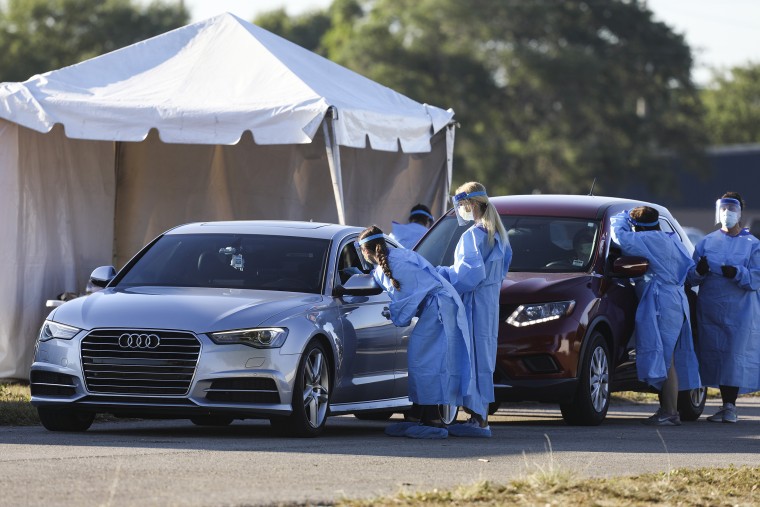 President Donald Trump announced federal guidelines Thursday to ease stay-at-home orders that leave it up to the states to decide on timing. The president outlined a gradual process that would be based on benchmarks like declines in positive cases.
"We are not opening all at once, but one careful step at a time," Trump said.
The percentage of the U.S. population that has been tested for COVID-19, about 1 percent, remains far too small to consider going back to normal routines, said Dr. Dan Hanfling, who worked in the National Healthcare Preparedness Program during the Obama and Trump administrations.
"I don't think we're near it. I don't think we're close," Hanfling said.
Full coverage of the coronavirus outbreak
Hanfling welcomed the guidelines issued Thursday and said the language was "appropriately cautious." But he said the recommendations are "highly dependent" on diagnostic and antibody tests' being available. "And we must recognize that both testing capacities currently remain limited," he added.
The White House did not respond to a request for comment.
The Trump administration has defended its role in pushing for more testing and said this week that it is preparing an aggressive testing strategy to support plans to reopen the country.
Administration officials are weighing options on how to ratchet up diagnostic testing and testing for coronavirus antibodies, and they are looking at targeting those tests to geographic areas and specific industries, NBC News reported Thursday.
To achieve a massive increase in testing would be a historic undertaking for even the best-staffed, most competent federal government. But the Trump administration has a track record of overpromising and underdelivering on testing.
On March 6, the president said anyone who wanted to be tested could get tested. That is still not the case. On March 13, the administration touted a Google website that would supposedly guide Americans to coronavirus testing sites. The portal that eventually launched two weeks later did not have that information.
At a White House news conference last month after meeting with CEOs from Walmart, CVS and other major retailers, the president announced plans to set up drive-thru testing sites at their stores. Only a small number of testing sites have opened so far.
An average of 145,000 tests a day were carried out over the past week nationwide, or about a million a week, according to the COVID Tracking Project. Experts disagree about how many tests would be required to get a handle on the outbreak, but even the most conservative recommendations from former officials like Scott Gottlieb — head of the Food and Drug Administration until last year — call for at least doubling the current level of testing now and tripling it by the fall.
Other experts, like Divya Siddarth and E. Glen Weyl of Microsoft, say testing needs to ramp up to millions a day, to reach about 2 percent to 8 percent of the population, or even to tens of millions a day.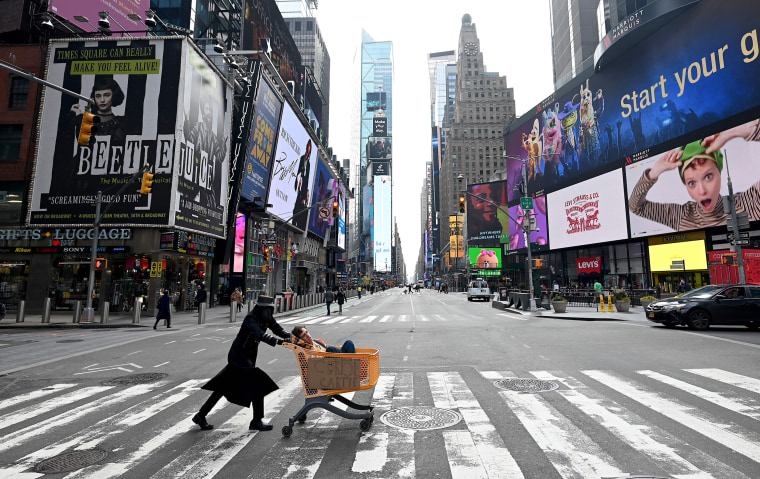 Whatever the target, it is not clear when the U.S. will see such a dramatic expansion, even though Trump has previously suggested that some areas could reopen in May or even earlier. Meanwhile, state officials and hospitals continue to report shortages of swabs, reagents and other supplies needed for testing kits, as well as delays in securing test results.
"Hospitals and health systems continue to lack critical testing supplies, including swabs, transport media and reagents, which is the most frequent reason contributing to testing machines not being able to be used to their full capacity," said a spokesperson for the American Hospital Association.
Erick Blank, chief program officer of the Association of Public Health Laboratories, which represents local and state-run government health labs, said the shortages of supplies for tests are much the same as they were in late February, when testing first ramped up.
"We're pretty much still at the same place we were," Blank said. "Ancillary supplies continue to be a problem, and we can't get enough of them."
Private labs could hold the key
State public health labs have only limited capacity to expand testing, and the key to any major increase in testing lies with private labs.
Even as governors and doctors appeal for more tests and supplies, some major private labs say they are not using all of their capacity.
A spokesperson for one of the largest lab companies, Quest Diagnostics, said this week that its capacity to test in recent days "has exceeded demand for these services." Abbott Labs conceded that the 200 testing machines it deployed to hospital labs and academic centers around the country were not being used to full capacity in part because the labs were lacking staff and supplies.
The reason for the unused capacity is unclear, but public health and policy experts said the disconnect underscores the need for more federal coordination to iron out problems to ensure enough supply.
"The manufacturers will only invest in further capacity if they believe the demand is there," said Simon Johnson, professor of global economics and management at the Massachusetts Institute of Technology. "The White House has to signal that we're going to do millions or tens of millions a day."
Julie Khani, president of the American Clinical Laboratory Association, said: "Dedicated funding to support laboratories performing high-quality testing is still needed."
Officials from the major trade association representing private labs said they have not been consulted about any new White House testing proposals.
The problems cropping up in the supply and use of testing kits, experts said, are mainly the result of a vacuum at the national level, with no guiding hand in Washington setting out a clear strategy for testing, setting production targets for industry or setting criteria for who should be tested and how the data should be shared and analyzed.
Other countries, such as Germany and South Korea — which saw its first COVID-19 case the same day as the U.S. — rolled out large numbers of tests quickly and as a result appeared to have limited the spread of the virus. In both countries, the testing was managed and organized at a national level.
Kenneth Bernard, who advised the administrations of Presidents Bill Clinton and George W. Bush on infectious diseases, said the federal government should take charge and "pour resources" into a massive effort through the Federal Emergency Management Agency or the Department of Health and Human Services to expand testing by the millions through private and state test production facilities.
"They should ship the tests free to all point-of-care and public health institutions in all states with the requirement that anonymous data be shared in a national database so public health decisions on changing social distancing and other lockdown actions can be rationally rolled back."
The Edmond J. Safra Center for Ethics at Harvard University has called for a federal pandemic testing board, similar to the War Production Board during World War II, that could secure supplies directly from manufacturers or order companies to produce reagents or other items needed for testing kits.
Trump, however, has mostly been reluctant to wield federal authority during the COVID-19 crisis and has tended to portray the federal government as playing a supporting role for the states.
Strong leadership and hands-on management from the federal government are "what's required," said J. Stephen Morrison, director of the Global Health Policy Center at the Center for Strategic and International Studies. "But obviously that's not what we're seeing so far."
Instead, some states or groupings of states that were hit earlier by the outbreak — including California — may be the first to find a solution to the testing shortfall with help from university researchers and private companies, Morrison said.
"They are the ones to watch how they move ahead on this," he said.
Minnesota Gov. Tim Walz has said his "moon shot" goal for the state is 5,000 tests a day. The biggest hurdle is not testing capacity at labs but the ability of the state's health care system to collect that many samples a day, said Maureen Sullivan, supervisor of the emergency preparedness and response unit for the state's infectious disease labs.
"The issue now isn't so much the lab supplies. It's other supplies," Sullivan said, in particular personal protective equipment and viral transport media — the liquid used to preserve the genetic material to be tested.
Download the NBC News app for full coverage and alerts about the coronavirus outbreak
Washington is testing an average of 4,500 specimens a day, and state experts estimate that, barring supply chain and other issues, its testing capacity could increase to as high as 14,000 specimens a day. But that is with "a lot of caveats right now," said Dr. Raquel Bono, the state's director of COVID-19 Health System Response Management. "Testing is extremely tenuous right now in its ability to scale."
Apart from diagnostic tests, states are also hoping to organize large numbers of antibody tests that would determine whether someone has been exposed to the coronavirus and generated an immune response and whether the person could be insulated from getting sick again. But so far, labs have yet to develop a reliable antibody test.
The reliability of coronavirus tests has also become a growing concern, with health care workers and hospital administrators reporting high rates of false negatives.
Although testing has increased significantly from two months ago, the Trump administration was initially slow to recognize the need for large-scale testing and was hampered by bureaucratic delays, according to public health experts. A test developed by the Centers for Disease Control and Prevention turned out to be flawed, and it was weeks before the FDA started to enlist the help of private labs and to fast-track approval for new tests. That late start made the task much more difficult, placing unprecedented strains on a supply chain for public health agencies and private labs.
By the time the federal government started pushing for more testing kits, manufacturing supply chains were already depleted, with little capacity to ramp up quickly, said a former Trump administration official who was a member of the so-called Red Dawn email chain of public health experts seeking to sound the alarm on the coronavirus response.
"The U.S. ramped up late, so it was March by the time a lot of them got their stuff in gear," the former official said, referring to labs conducting COVID-19 tests.
Compounding the problem, the former official said, several labs obtained molecular testing components from the same manufacturers, many of which are overseas.
"The global capacity for that has been mostly tapped out, because everybody got in the queue to get these reagents," the former official said.