BELFAIR, Wash. — A coroner in Washington state has released the identity of a gunman and three of his four victims in what authorities described as a mass shooting and suicide.
The Kitsap Sun newspaper reports that 51-year-old David Wayne Campbell shot and killed his wife, 49-year-old Lana J. Carlson, as well as her children Quinn and Tory Carlson, who were 16 and 18, respectively.
The Mason County coroner on Saturday was withholding the identity of a fourth victim pending notification of relatives.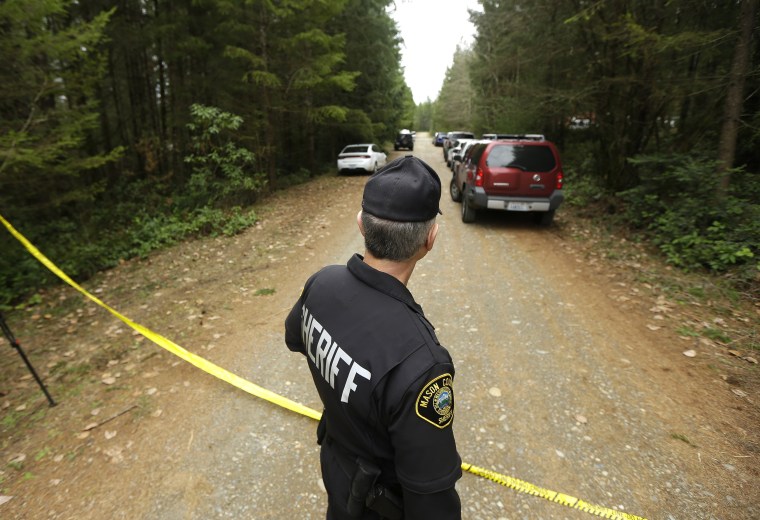 The Kitsap County Sheriff's Office said Campbell called authorities Friday morning to report that he had shot four people at a home near Belfair, southwest of Seattle. A SWAT team negotiated with him for more than three hours before he came outside and killed himself.
A 12-year-old girl related to the victims survived and was taken to the hospital for an evaluation, Mason County sheriff's Chief Deputy Ryan Spurling said. Her condition was not immediately known.
"Apparently she's OK," Spurling said. "I don't know if this is a daughter, or stepdaughter, or what the relationship is, but she escaped from the house."
Related: Suspect, 4 Others Found Dead After Armed Standoff in Washington
The officer who took the Campbell's call had had dealings with the man before, authorities said. The officer went to the home across Puget Sound from Seattle with another deputy.
"They took cover fearing for their own safety, not knowing exactly what they were getting into. That's when they set up a perimeter, not allowing the individual to go to other residences or endanger other people and called in reinforcements," Spurling said.
Authorities negotiated with Campbell for about three hours Friday before a SWAT team entered the house in a heavily wooded area and found the bodies.
Campbell "apparently came outside the home and shot himself," Sheriff Casey Salisbury said. "It's a terrible tragedy."
Jack Pigott, who lives down the road, said he heard gunshots Thursday night but none Friday.
The couple who lived in the house about 25 miles southwest of Seattle had been married for four or five years, Pigott said. The wife had two teenage sons who were adopted from Russia during a previous marriage. She also had a daughter who was adopted from China.
Pigott said the Campbell had a heating and air conditioning contractor business. He had recently been hospitalized, Pigott said, but he didn't know why. When he returned home, he was on a lot of medications, Pigott said of the man.
It was common for the family to do shooting practice, Pigott said, and that's what he thought of when he heard the gunfire.
"I was getting a load of wood into the house, and I hear some gunshots," he said. "Four or five, a pause and then another round."