The battle for LGBT rights has demonstrated the power of boycotts — or the threat of them — in trying to turn back policies seen as discriminatory. But this development includes a twist: in a growing number of cases, the moral stands are being taken by corporations.
Many of America's most powerful companies — including Apple, IBM, Wal-Mart, the NFL, the NBA and American Airlines — have voiced opposition to states' recent attempts to limit anti-discrimination protections for gays, lesbians, bisexuals and transgender people. With the response comes the implied warning that they could take their resources, jobs and money-making events and go elsewhere.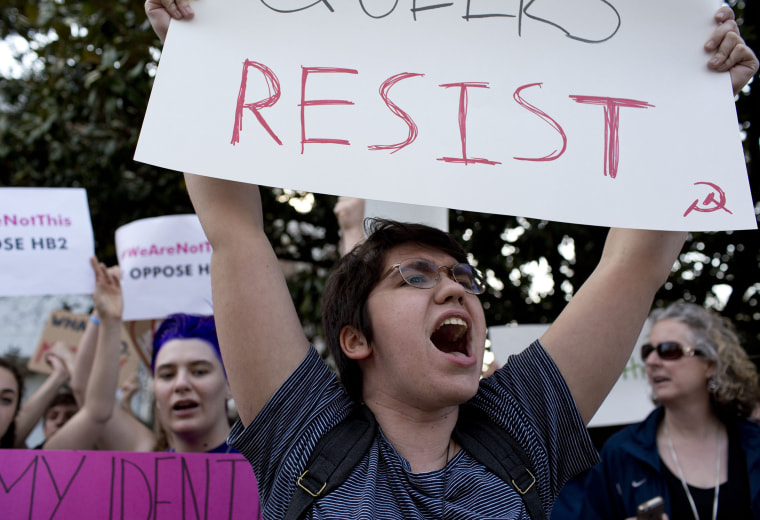 The latest examples are North Carolina, which just passed a law restricting cities' ability to pass anti-discrimination measures, and Georgia, where Gov. Nathan Deal is considering signing a bill that allows businesses to cite religious beliefs to deny service to gay and lesbian couples. A motley array of corporations, from Dow Chemical to Disney, have stepped into the fight, aligning with civil rights activists in arguing that the measures will hurt the states' reputation and make it harder to do business.
Related: A Rushed Vote Draws North Carolina Into National Fight Over LGBT Rights
That includes sports leagues. The NBA suggested it might rethink its decision to have next year's All-Star Game in Charlotte, and the NCAA said it would monitor the North Carolina case while deciding where to hold its future basketball tournaments. In Georgia, which is building a new stadium for football's Atlanta Falcons, the NFL said it would take anti-discrimination policies into consideration when choosing future Super Bowl sites.
A smaller effort is underway in Missouri, where local businesses, including PETCO, have urged lawmakers to back off a bill that would protect businesses who refuse to provide services for same-sex marriages.
"What's interesting there is that companies or brands are becoming so essential to people's lives that they're playing a role in these big social debates," said Deborah Small, a marketing professor at the Wharton School at the University of Pennsylvania.
Related: Disney, NFL could boycott Georgia over 'religious freedom' bill
Companies are learning that in order to succeed, they need to reflect changing cultural values — not only to remain relevant to consumers but also to recruit good workers, Small said. With the Supreme Court upholding gay marriage and the federal government backing anti-discrimination protections for LGBT Americans, "it's in their interest to be on the right side of history."
The corporate activism seems to get results. But it's difficult to say for sure.
In Arizona two years ago, Gov. Jan Brewer vetoed a bill that would have allowed businesses to refuse service to gay and lesbians due to religious beliefs after she came under pressure from the NFL and the state Chamber of Commerce, who said it would damage the economy. But Brewer never said publicly what exactly motivated her decision. In a televised address, she said the bill could cause "unintended and negative consequences" and had "the potential to create more problems than it purports to solve."
Indiana passed a similar religious freedom law last year over warnings from local corporations and the local tourism industry that it would hurt economic investment in the state. Only after he signed it did Gov. Mike Pence get the law clarified to say it didn't sanction discrimination.
In Arkansas, local corporate behemoth Wal-Mart urged Gov. Asa Hutchinson to veto a religious freedom bill. But Hutchinson, saying he was swayed by a conversation with his son, worked out a compromise that LGBT activists say did not go far enough; the state has resisted adding LGBT protections.
Earlier this month, South Dakota Gov. Dennis Daugaard vetoed a bill that would have required transgender students to use bathrooms that matched their sex at birth. Opponents played the business angle, arguing that a boycott of the state would ruin the tourism industry. But they also warned that the state could be violating federal law. In the end, Daugaard said he'd been swayed by transgender citizens' personal stories.
In North Carolina, opponents had little time to organize. Lawmakers introduced and passed its law on Wednesday in a hastily-convened special session that ended with Gov. Pat McCrory signing it that night. The corporate response came the day after, but LGBT rights activists said they hoped growing pressure from the business community would persuade lawmakers to repeal the law.
In Georgia, a growing list of Hollywood figures — Lee Daniels, Rob Reiner, Aaron Sorkin, Anne Hathaway — have joined the opposition to its religious freedom bill, threatening to undermine the state's goal of becoming a hub for film and television production.
Gov. Deal has until May 3 to decide whether to give in.