Some residents of Corpus Christi, Texas, resumed turning on the tap after an industrial chemical leak at an asphalt plant sparked fears of widespread water contamination.
Officials said Saturday that there has been no evidence of tainted water, although testing of water samples was still being done in Houston and could be made available Sunday. As a precaution, pallets of bottled water were trucked in to alleviate the situation following a ban that was put into place Wednesday night.
The EPA said there were four "unconfirmed reports" of symptoms possibly related to prohibited water use. Corpus Christi Mayor Dan McQueen called the reports "rumors."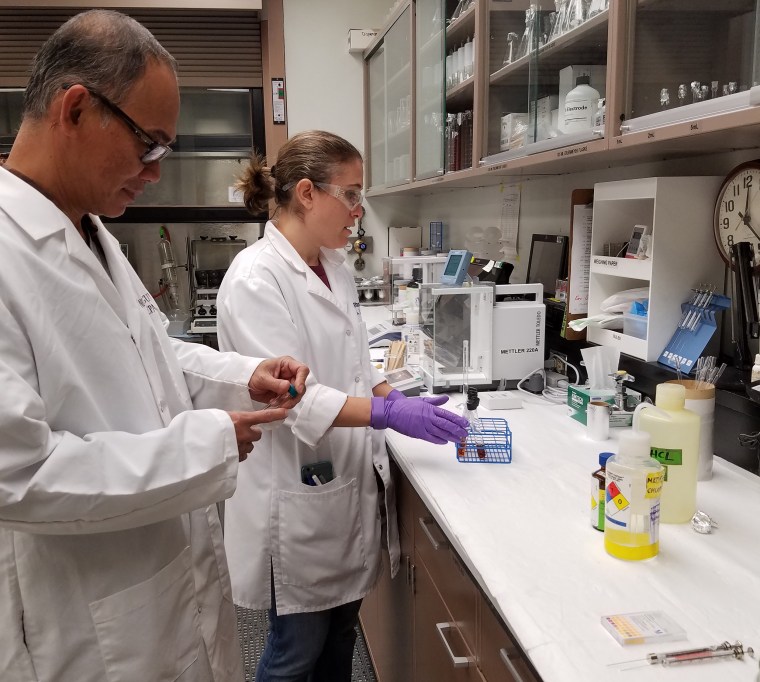 City water towers have also been flushed out to ensure the water is safe, officials said.
A ban remains in place in some portions of the Gulf Coast city of nearly 320,000, and officials are left grappling with closings of schools and day cares, and moving dozens of animals in a local shelter to San Antonio out of concern.
"We know the citizens are suffering. We're suffering too," Corpus Christi Councilman Greg Smith said at a news conference Saturday.
Here's what you need to know about the ban.
What is the chemical that may have contaminated the water?
An incident report described the leak as a "backflow incident from a chemical tank impacting the public water system." The chemical is a combination of Indulin AA-86 and hydrochloric acid.
Indulin is an asphalt emulsifying agent that's corrosive and can burn the eyes, skin and respiratory tract if a person comes into contact with concentrated amounts. The amber liquid is considered a hazardous material by the Occupational Safety and Health Administration and could cause damage to internal organs.
"You don't expect to see it in water," said Terry Clawson, a spokesman with the Texas Commission on Environmental Quality.
Up to 24 gallons of it may have seeped into a pipeline carrying water, allowing it to move to other areas of the city, Kim Womack, a spokeswoman for the city, said Thursday.
How did the contamination start?
City workers determined there was a leak in the asphalt plant's chemical tank and on Tuesday determined there was a backflow problem.
The city told the Texas Commission on Environmental Quality (TCEQ) about it Wednesday, said Assistant City Manager Mark Van Vleck, and hours later, the state banned the use of public drinking water. Mayor Dan McQueen has said local officials only learned of the leak Wednesday. TCEQ officials did not respond to a request for comment Saturday.
Van Vleck cautioned that the investigation is ongoing, "so we don't know what happened." He added: "We do not know (there was contamination) because we can't prove it."
How long have officials know about the leak?
Van Vleck said the first "dirty water report" came Dec. 1 from an asphalt plant in the city that's leased to Ergon Asphalt and Emulsions. City workers flushed the pipe. A second report came from the same building Dec. 7, he told The Associated Press, and the main was flushed again.
But Monday, Valero workers told the public works department there was a "white, sudsy liquid" in the administration building; Van Vleck didn't specify where the liquid was coming from.
How widespread is the ban?
Initially, the use of tap water was banned throughout all of Corpus Christi when officials said they learned Wednesday of a leak that contaminated a water distribution system.
The city has since been divided into three zones allowing water to be used depending on location.
For instance, those living in Zone 1 have been allowed to use tap water for drinking, cooking, bathing and all regular uses.
Those in Zone 2 have limited water use, while those in Zone 3 are banned from using the water completely as a precaution. That involves about 113,000 people still under the restrictions.
What does the company say happened?
Bill Miller, a spokesman for Ergon Asphalt and Emulsions, said the company is also looking for answers from the Texas Commission on Environmental Quality to know whether any water was actually contaminated.
"Inaction is bad for people in our position. The longer we sit here, the worse it looks," Miller said, according to the AP.
Has anyone been sickened?
Federal and state agencies say there have been four unconfirmed reports of people suffering symptoms that would be associated from using contaminated water. Details of those symptoms were not provided by the agencies.
Corpus Christi Mayor Dan McQueen also said at Saturday's news conference he heard about people falling ill.
City Councilman Michael Hunter told the Corpus Christi Caller-Times that it was unlikely the leaked chemical was concentrated enough to do harm, but that every precaution must be taken.
What is the response from residents?
More than a half-dozen lawsuits have already been filed against the oil refiner Valero, of which leases the asphalt terminal to Ergon. The Corpus Christi Caller-Times reported that several businesses and a class-action lawsuit representing all of the city's residents allege the companies recklessly exposed business owners and residents to toxic chemicals.
Van Vleck said the city made the Ergon plant install new valves because of the leak, but has not restored water service to the plant.
Editor's note: A previous version of this story stated that Ergon was a subsidiary of Valero. Valero simply leases the a portion of the plant to Ergon.