The FBI is conducting a counter intelligence investigation into Russia's efforts to manipulate public opinion in the U.S. presidential election, examining how the operation was paid for and whether any Americans were involved, current and former U.S. officials told NBC News.
One former intelligence official briefed on the matter said the investigation is looking into whether certain former Trump campaign aides had improper contacts with the Russians. The CIA, the National Security Agency and the Treasury Department are also participating in the probe, officials say.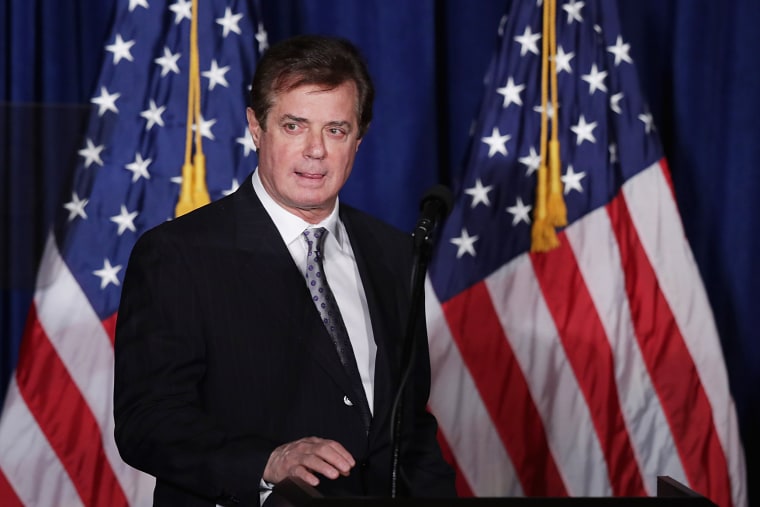 The current and former officials have not said whether the investigation has unearthed any evidence of wrongdoing by Trump aides or any other Americans. Trump spokesman Sean Spicer said on the TODAY Show that the president would let the investigation go wherever it leads.
"Of course — absolutely, I think he's made that clear," Spicer told Meet the Press moderator Chuck Todd. "He's not going to shut anything down."
Former intelligence officials told NBC News that President Trump would technically have the authority to order an end to the investigation, given that the intelligence agencies report directly to him. But it would be politically disastrous for him to do so, they said.
"I remember the last president who ordered a stop to an investigation and it cost him his presidency," said Raymond Batvinis, a former FBI counter intelligence agent who teaches national security at George Washington University, speaking of Richard Nixon and Watergate.
NBC News has not confirmed reports in the New York Times and Washington Post, published in the days leading up to the inauguration, that investigators are reviewing intercepted communications and financial data relevant to Trump aides as part of the probe. However, obtaining such documents in a counter intelligence investigation would be standard practice, current and former officials say. The Times reported that officials who had disclosed details of the investigation to the paper had done so because of fears that the Trump administration would shutter it.
The existence of the counter intelligence investigation was first reported this week by McClatchy newspapers.
Senate Intelligence Chairman Richard Burr said last week that his committee will investigate possible contacts between the Trump campaign and Russia.
NBC News reported in November that the FBI had been conducting a preliminary inquiry into the business activities of former Trump campaign manager Paul Manafort and his dealings with Ukrainian and Russian oligarchs. It's unclear whether that inquiry has grown, and whether it is related to the counter intelligence investigation or has any connection to Manafort's work for Trump. Manafort has denied wrongdoing. He left the Trump campaign in August.
Counter intelligence investigations examine whether Americans have broken the law to help foreign governments steal secrets or improperly influence American policy. The nature of this one has not been made clear, and there are major unanswered questions, including whether the U.S suspects collusion between any Trump associate and the Russian influence campaign that intelligence assessments say favored Trump.
It's also not clear whether the FBI has sought, through a special national security process known as a Foreign Intelligence Surveillance Act warrant, records associated with any American as part of the probe. Some news organizations have reported the existence of such a warrant, but NBC News has not confirmed those reports.
To use a FISA warrant to target the communications of an American, the FBI would have to show a judge probable cause to believe the American was acting as an agent of a foreign power while breaking U.S. law, according to the statute.
"We're not looking to shut anything down, we want to know the facts."
It is also possible for intelligence agencies to pick up communications by or about Americans as they eavesdrop on foreigners abroad, an activity that does not require a FISA warrant.
After weeks of casting doubt on intelligence assessments that Russia was behind a broad effort to interfere in the election in favor of Trump, the president said he accepted the findings after a secret intelligence briefing on them.
"The president is going to make sure that he gets the best information from the intelligence community and the other department justice entities to make the best decision possible," Spicer said on TODAY. "But we're not looking to shut anything down, we want to know the facts."
Several experts said it was highly unlikely Trump would pull the plug on the investigation.
If he did, "that just would be egregious conduct — the kind of thing that would start to trigger public resignations," said Susan Hennessey, a former NSA lawyer.
If any American were knowingly to help Russian intelligence seek to influence a presidential election, he or she might be violating any number of laws, Batvinis and Hennessey said, but a lot would depend on proof of intent.
Laws governing fraud and bribery could be in play, they said, or computer fraud provisions around hacking. Also at issue could be a much lesser violation, that of acting as an agent or a foreign government without registering with the Justice Department. That law is rarely prosecuted.
If the FBI were to examine whether a specific American was involved with any Russian operation, it would be possible for them to run that person's information through the NSA's vast trove of intercepted communications, Hennessey said.
But there is no guarantee that would unearth evidence.
"The U.S. doesn't collect every conversation that's ever had in Russia," she said.