As demonstrators who want to get back to work planned a show of force in multiple U.S. cities Friday for International Workers Day, counterprotesters said they would hold their own rallies in support of keeping non-essential businesses closed to prevent the spread of coronavirus.
The lunchtime counterprotests are being organized by the organization Refuse Fascism.
"We are nonviolent," said Chantelle Hershberger, an organizer of the Los Angeles rally. "We're not there to literally go toe-to-toe."
Demonstrators in Los Angeles will wear masks and practice social distancing as they march to City Hall, where Reopen America protesters were expected to gather, she said.
"We will be following social distancing precautions, knowing that we are putting our lives in danger," Hershberger said.
She said the reopening crowd was receiving a lot of attention, including armed protesters storming the Michigan Capitol on Thursday, even as a majority of Americans support social distancing and stay-at-home orders.
"I think not showing up legitimizes these folks," she said.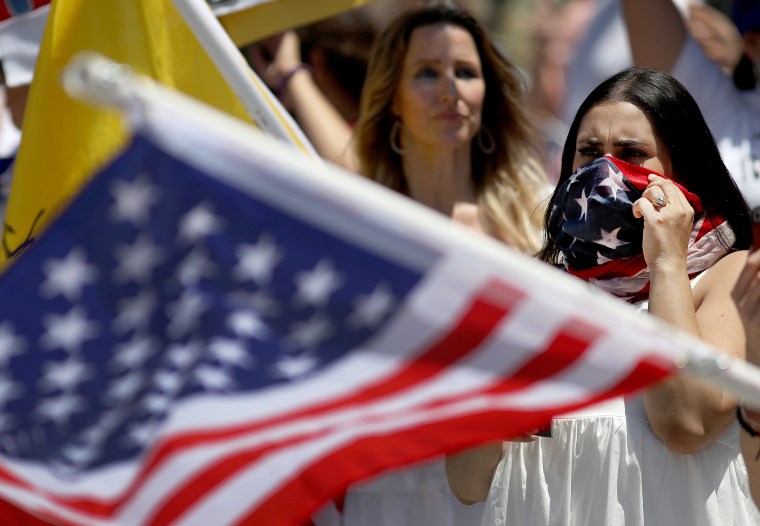 The demonstrations were planned in Los Angeles, Chicago, Boston, San Francisco and Springfield, Illinois. In most cases, the people organized by Refuse Fascism plan to be near Reopen America protesters.
In Chicago, a caravan of vehicles and a "a small group" on foot will be positioned near the Reopen America rally, said Refuse Fascism co-founder Andy Zee.
"In a society where black people, Latinos, and Native Americans are already dying at disproportionate rates, who do you think will be sacrificed in order to re-open America and get the economy going again?" he said by email.
Refuse Fascism rallies were also planned in New York and Chicago, cities without scheduled Reopen America events.
Download the NBC News app for full coverage of the coronavirus outbreak
Reopen America also planned to demonstrate in cities where counterprotesters had not planned events, including San Diego and Huntington Beach, California.
"We have the right to work, and we can do so while exercising preventative safety measures," organizers of the Huntington Beach event said in a website posting.
Hershberger said the counterprotests would be nonviolent, and organizer Noche Diaz said in a statement, "Two futures will face off."