NASHVILLE, Tenn. — Country singer Sonny James, who recorded romantic ballads like "Young Love" and turned pop songs into country hits, has died. He was 87.
James, whose given name was James Loden, died Monday in a Nashville hospice facility, according to a family friend, Gary Robble, who was the lead singer of James' backing band, the Southern Gentlemen.
The singer born in Hackleburg, Alabama, was known as the "Southern Gentleman" because of his gentle, respectable demeanor. He was also a songwriter as well as a guitarist and fiddler. He started his music career with his family's band with his parents and his sister, Thelma. Before he reached high school age, he already had performed on several country music radio shows.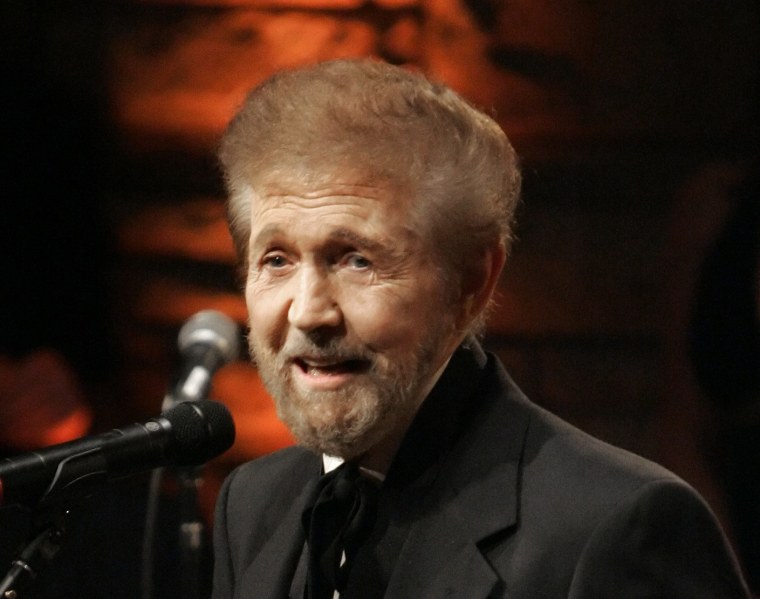 As he started his own musical career, Capitol producer Ken Nelson suggested he use a combination of his nickname, "Sonny Boy," with his first name as his professional name.
In 1956, James scored his biggest hit, "Young Love," which sold 3 million copies and became a No. 1 hit on the country and pop charts. A decade later, he started an impressive run on top of the country charts with 16 consecutive No. 1 songs between 1967 and 1971.
His hits included "It's the Little Things," ''You're the Only World I Know," ''I'll Never Find Another You," ''Empty Arms," ''Behind the Tear," ''Take Good Care of Her," ''When the Snow Is on the Roses," ''That's Why I Love You Like I Do" and "Here Comes Honey Again."
Robble said James invited the Southern Gentlemen to record and tour with him during this period, which created a vocal-driven sound based on hit songs from the R&B and pop genre. Some of his popular covers included "Since I Met You Baby," ''Endlessly," ''Running Bear," ''It's Just a Matter of Time," ''Only the Lonely" and "Only Love Can Break a Heart."
"Sonny made country music more commercial," Robble said. "He wasn't trying to. He was singing what he enjoyed singing."
James was elected to the Country Music Hall of Fame in 2006.
In the 1960s, he made several motion pictures, including "Second Fiddle to a Steel Guitar," ''Las Vegas Hillbillies" (with Jayne Mansfield) and "Hillbilly in a Haunted House" (with Basil Rathbone and Lon Chaney Jr.). He then went on to produce Marie Osmond's first records, including her biggest country hit, "Paper Roses."
Osmond tweeted, "Country Music Hall of Famer, producer & lifelong friend (hashtag) SonnyJames. U will be missed! (hastag) RIP." She included a video link to James performing "Young Love" on the "Donny & Marie" show in the 1970s.
He was the first co-host of the Country Music Association Awards show with Bobbie Gentry in 1976.
He recorded some pioneering albums: "200 Years of Country Music" in 1976 chronicled country music and took more than a year to plan, research and record. "Sonny James In Prison, In Person" was recorded in 1977 with inmates at the Tennessee State Prison, while "The Astrodome Presents the Southern Gentlemen" in 1969 was the first live album recorded there. His "Little Bit South of Saskatoon," which he wrote, was used as theme music for the movie "Slap Shot" starring Paul Newman.
He retired in the mid-1980s, because of vocal issues, according to Robble. He is survived by his wife, Doris.