A Michigan restaurant server closed out 2019 with an unexpected gift — a couple left her a $2,020 tip.
The generous gift came on Sunday with a $23.33 bill at Thunder Bay River Restaurant in Alpena, in Northeast Michigan, along with a handwritten message that read "Happy New Year. 2020 Tip Challenge."
The server, Danielle Franzoni, a single mother and recovering addict who was homeless a year ago, said that at first she thought the tip was a joke.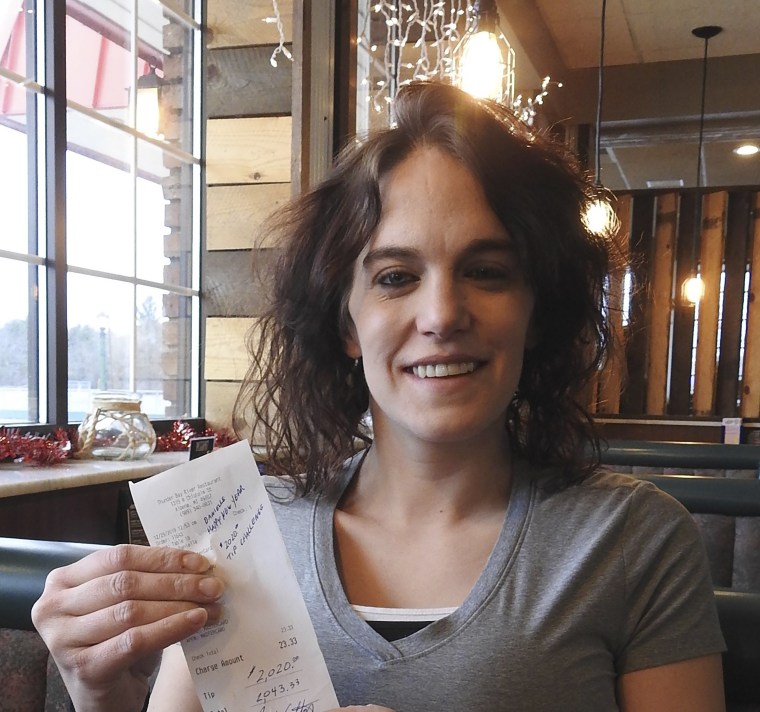 Her manager assured her that it was real, but she said in a recent interview that it still hasn't sunk in.
"I don't even have the exact words," Franzoni said. "I feel like I want to say everything from my heart, but this couple has no idea what they have done for my family."
Franzoni said she plans to use the money to reinstate her driver's license, which she said is "huge." She said the couple who left the tip, whom she has spoken to before, likely didn't know about her past struggles.
"They don't know anything of me — I've never had but just small-talk conversation with them," Franzoni said. "And they've changed my life, completely."
More important than the money was the sentiment, Franzoni said. "From where I used to be and the choices I made in life, this doesn't happen to someone like me," she said.
Download the NBC News app for breaking news
"It's the message. It's the faith that this couple and this family has put back into my family," she added. "I'm a waitress. I don't make great money. It would take me months to save up $2,000."
Alpena is a city of around 10,000 on the coast of Thunder Bay off Lake Huron.
This holiday season has also seen other large tips. Just before Christmas in Madison, Wisconsin, donors from the Boys and Girls Club of Dane County gave a $4,000 tip to be split by two servers at a restaurant there, NBC affiliate WMTV reported.
Also in December, a group of 12 at a Cracker Barrel in Dublin, Georgia, who'd asked for the restaurant's best server showed their appreciation by leaving a $1,200 tip, The Macon Telegraph reported. Janet Ballard said she was "overwhelmed" and in tears after the gesture.