A California couple called off plans for a vacation to Southeast Asia and opted for "something safe" — and ended up on the quarantined Grand Princess.
Henry and Judy Choy, 58 and 57, from Union City, California, were still aboard the cruise liner docked in Oakland on Tuesday, hoping to end their strange odyssey that began on Feb. 21 out of San Francisco.
"So originally my wife and I planned a trip to Southeast Asia around this time, and because of the coronavirus, we thought it was high risk going to the area," Henry Choy told "Stay Tuned" on Monday. "So we thought we'd do something safe and travel within the U.S. instead."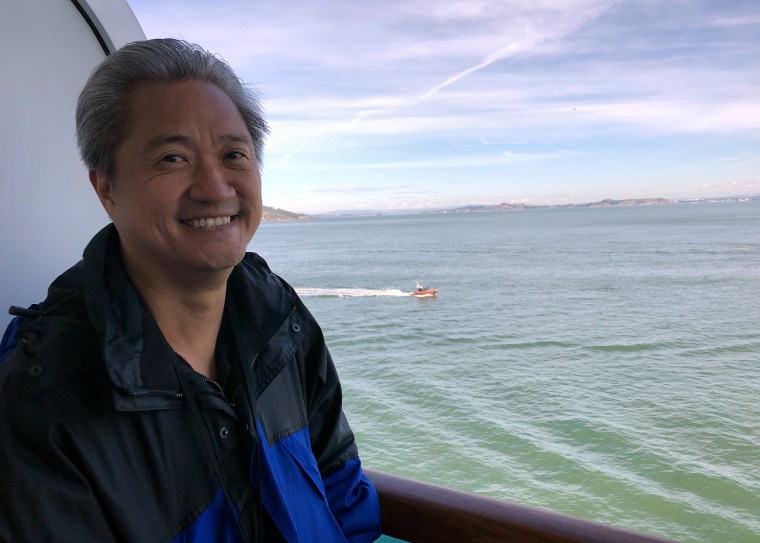 The cruise had been scheduled to end on Saturday in San Francisco.
They had been to Hawaii and had circled back toward Mexico when the cruise line announced it was cutting the trip short because of an outbreak on board. The ship had been told to anchor off the coast of California as 21 people tested positive for coronavirus.
But the Grand Princess has been docked in the Bay Area since Monday and the couple was still on board Tuesday, waiting to be allowed to disembark. Passengers will eventually be quarantined at military bases in California, Texas and Georgia.
The couple has not tested positive for coronavirus.
"I think that the general mood for the audience or the passengers here was actually pretty good" despite the sudden change in plans, Choy said.
Boredom and food — both quality and quantity — have been the major issue for most passengers.
One night, the Choys ordered a ravioli dinner, which consisted of four ravioli.
"The food quality was, is pretty bad and the quantity was very, very small. Times of urgency like this, I just think you need to be flexible right?" Choy said.
While the ship has allowed people to take scheduled walks around the ship, the couple has opted, again, to play it safe and stay indoors.
That's where they've spent most of their time "moping around and then being slightly pathetic," Choy said.