A couple involved in the lawsuit against the embattled Kentucky clerk who was jailed after refusing to issue marriage licenses to same-sex couples said they are looking forward to getting married on Friday and hope they face no problems this time around.
Karen Roberts and April Miller were denied a marriage license on Tuesday by Rowan County, Kentucky, clerk Kim Davis, who has said she is refusing to issue the licenses based on her religious beliefs as an Apostolic Christian.
But Davis' actions were in direct defiance of the U.S. Supreme Court, after justices rejected an appeal by the clerk on Monday. Her appeal was the first legal skirmish to reach the Supreme Court since it declared on June 26 that the Constitution guarantees same-sex couples the right to marry.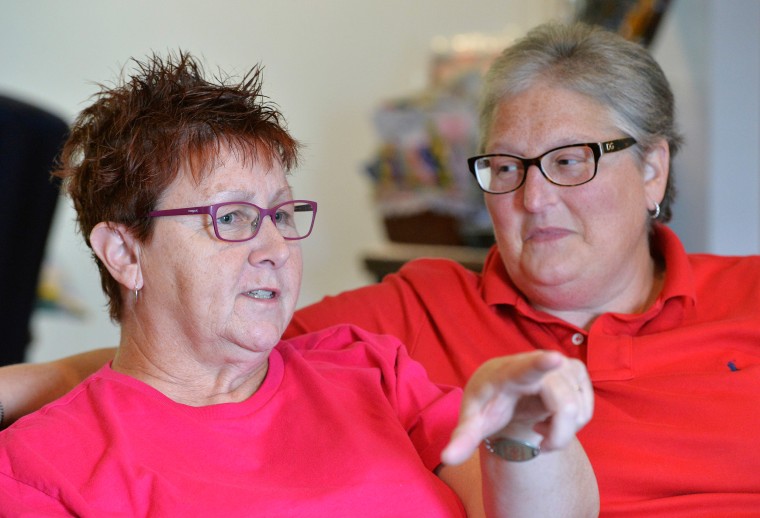 "We felt humiliated," Roberts said. "Marginalized," Miller added.
Davis was found in contempt of court Thursday and ordered to be jailed by Judge David Bunning.
On Thursday afternoon, five of her six deputy clerks said they would issue marriage licenses to same-sex couples, after the judge said they too would face fines and jail time if they refused while Davis was being held in contempt of court.
The lone holdout was Davis' own son, Nathan.
Miller, who testified in court Thursday, and Roberts said they can't wait to finally get married after the judge's ruling.
"It means I get to get married to the person I love," Miller said of the decision.
The two have been together for 11 years and have been denied a marriage license three times, the latest of which was Tuesday.
"There are five deputy clerks who said that they will be in compliance with the judge's order," Roberts said. "The judge said they will be open tomorrow. I don't want any shenanigans like last week."
Miller said she was saddened that Davis had chosen to remain in jail after Judge Bunning approved a proposal by the plaintiffs' attorneys to allow the clerk to be released if she agreed not to interfere with her deputies issuing licenses for gay couples.
Davis turned down the compromise, saying through her attorney that she "would not make any representation" that she would allow marriage licenses to be issued. She remains in custody.
"I'm so sorry that it took a federal judge to get compliance. It's make me really sad," Miller said. "It was sad that our town got dragged through this."
Roberts added that while she was happy with the judge's decision, the case highlighted many of the hurdles same-sex couples still have to face.
"We have a long way to go, with this case and everything else," Roberts said.
"Tomorrow's going to be a bigger day," she added, looking towards Miller. "A happy day."