A Maryland couple has temporarily lost custody of two of their children after being accused of uploading allegedly abusive videos to YouTube under the guise of "pranks."
Mike and Heather Martin, also known on YouTube as "DaddyOFive," became renowned for their pranking videos, which often result in the apparent humiliation of their five children.
The videos show the parents — and sometimes the older children — yelling obscenities at the younger children, playing games that result in the children hitting one another, and blaming them for making messes only to later reveal that it was only a "prank."
The video that sparked the outrage was published to the site on April 12 and called "INVISIBLE INK PRANK." It — along with numerous other videos on the DaddyOFive channel — has since been removed.
NBC News viewed portions of the videos which have been preserved in the form of clips on other YouTube accounts.
On April 22, Heather and Mike Martin uploaded an apology video to their nearly 800,000 subscribers, saying they had made "some terrible parenting decisions."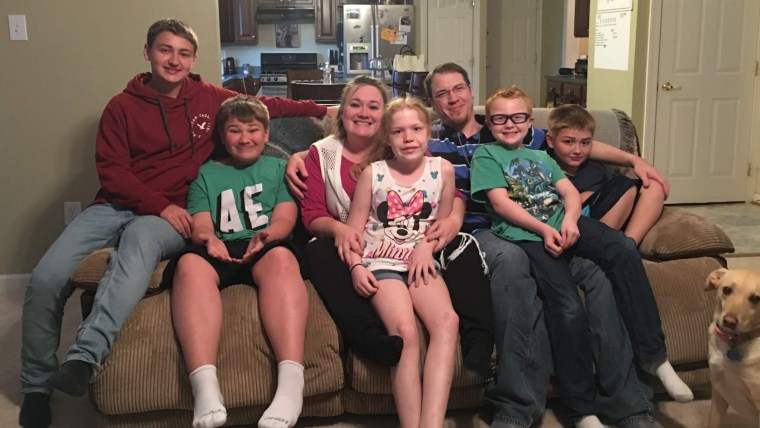 "We went from something that wasn't so bad and then we kept going more and more for the shock factor versus reality to see what could get more views," Heather Martin said in the video. "And the kids kind of feel like some of it is their fault, and it's not their fault. We're the parents and we should have made better decisions."
Just days after the apology video was posted, the family's youngest child Cody and his sister Emma — Mike Martin's biological children and Heather Martin's stepchildren — were temporarily removed from the Martins' home and placed in the custody of their biological mother, the Frederick County Sheriff's Office confirmed to NBC News.
Major Tim Clarke confirmed to NBC News that the department had received dozens of Facebook and Twitter messages claiming that the Martins' children were being abused.
Related: Choate Failed to Report Sexual Misconduct to Authorities for Decades: Report
Clarke said that the sheriff's office does not petition for temporary protective orders and that the Frederick County Circuit Court had granted temporary custody to the children's biological mother, Rose Hall, at her request.
"It was very heartbreaking and disturbing to see my kids being abused," Hall said in a video with her attorney Tim Conlon, which was posted to YouTube.
Hall said Cody, who appears to often be the target of the prank videos, initially did not want to go with her because, "Mike and Heather told him that I threw him away like he was garbage and I didn't love him no more," she said. But eventually, he calmed down, and have been adjusting to life out of the Martin household, she added.
Clarke said there was no issue removing the children from the home.
In the video that caused the initial backlash, Heather Martin can be seen yelling at Cody over black ink stains on the child's carpet. Cody sobs as he repeatedly tries to explain to his parents he didn't make the ink stain. Eventually, she reveals the stains are invisible ink and will disappear.
Mike Martin tells Cody "it's just a prank."
The seven-minute video was removed for violating YouTube's policy on harassment and bullying, according to FOX News. But the videos appear to show the children — primarily Cody — were subjected to what appeared to be verbal and sometimes physical altercations before the parents changed gears and explained they were "joking."
In one video, Mike Martin is seen pushing Cody into a shelf. In another, Cody sobs in a bathtub as Mike Martin yells at him — Cody eventually says he wants to stay in the tub "for the rest of my life until I die."
"I want to be alone. You all don't care about me. You all don't love me. You all don't like me. So just go. Why are you still here? Just go," Cody says as Mike Martin continues filming his son.
In another video, Cody is seen sitting in his bed as his father accuses him of creating a mess in his room. The bed has been stripped of sheets, and Cody sits beneath a blanket as his father yells at him. Cody sobs as he explains he didn't create the mess.
In several of the video clips, as his father yells, Cody hides behind a pillow and cries.
Another video shows Mike Martin playing a game with his kids, in which if they don't flip a water bottle correctly, they have to slap another child. The video shows one child slapping Cody's sister Emma, and Emma begins to cry.
"The Martins accept full responsibility for their parenting decisions and remain transparent and cooperative with oversight agencies," Rob Weinhold, of the Fallston Group, a Baltimore-based crisis leadership firm who is providing life coaching services for the Martins, told NBC News in an email. "Their primary focus continues to be their family during this extraordinarily difficult time. There is a significant professional services team working with the entire family, all focused on healing and a more positive future, particularly for the children."
The Frederick County State's Attorney's office and Frederick County Social Services did not immediately respond to NBC News' request for comment.