Two gay California couples who are leading the legal fight to overturn the state's ban on same-sex marriage said Thursday on the eve of their landmark Supreme Court hearing that they were relieved to have "the end in sight" and believe the justices will step in "to right these wrongs."
Kris Perry and Sandy Stier, and Paul Katami and Jeff Zarrillo, are the faces to the challenge to Proposition 8, a citizen's initiative denying gays and lesbians the right to wed that voters approved in a pitched multi-million dollar ballot battle in 2008. The court will hear arguments in the case on Tuesday.
"The right thing for the justices to do is to lead the country on including all of us in this institution and finding a way to equity and fairness that brings the country together rather than dividing us based on a characteristic that we cannot change," Perry said on a call to reporters.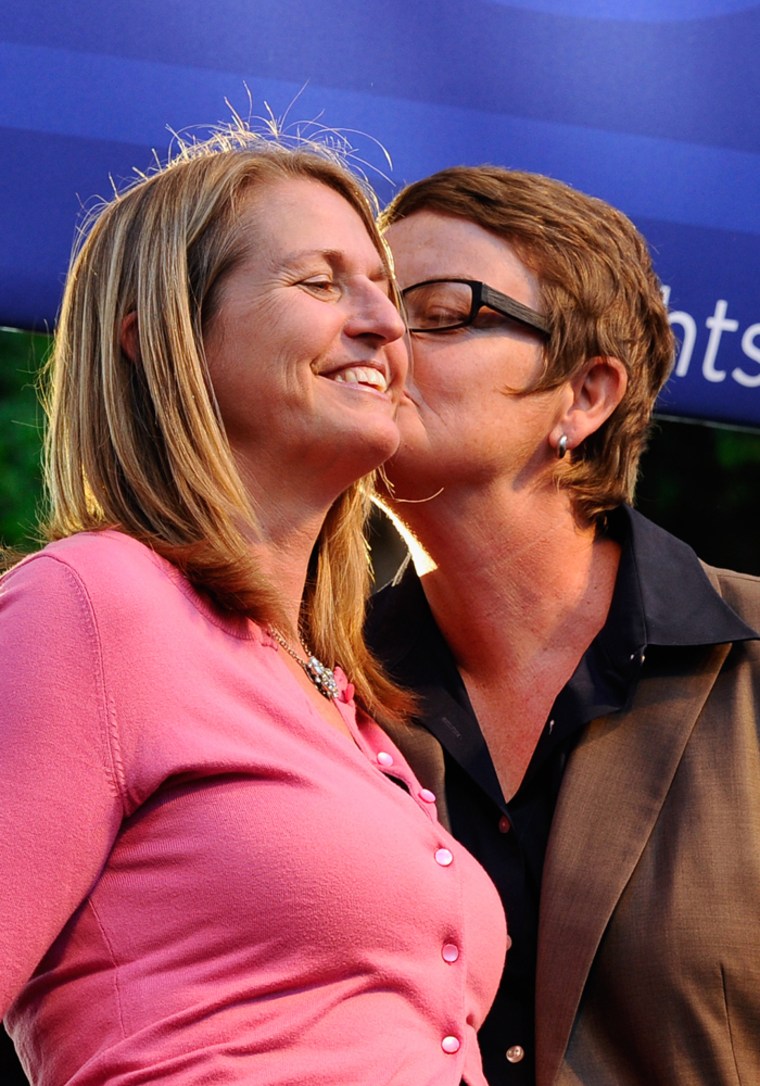 "There is an opportunity here for the court to send a message that who we love is important and we should be treated equally under the law," she added.
The couples will be in Washington, DC, for the historic hearing, which comes one day before the justices hear arguments contesting the constitutionality of a federal law, the Defense of Marriage Act (DOMA), that bars recognition of same-sex marriage and thereby denies more than 1,100 benefits to gay and lesbian couples. 
"We both are very relieved and excited by the prospect of the final chapter in this case happening in the next few months," Perry said, adding that they have "been waiting a very long time to be married and to celebrate that with our children and our parents. … I know that we are both very excited to have the end in sight."
The couples' journey began years earlier, when they decided to join the legal effort and testified before lower courts about the impact the ban has had on their lives. They further entered the public realm as advocates, doing interviews and television/online spots about their campaign.
"All four of us have regular lives and we have jobs that we need to pay our bills and so we have to be able to plug in and unplug when that happens," said Zarrillo, of Burbank. "But being a part of this case, and being so closely associated with it, it reminds us of the daily harm and that discrimination even more every day."
The legal struggle, he added, also "made us closer as a couple and has made us want access to that language even more, because the word 'marriage' and the word 'husband' and the word 'wife,' they have meaning" to society, family and children. 
"It affirms the commitment that we have built and shared," he said. "While some people say it's just a word, that word is so important. And if it wasn't so important, we wouldn't even be having this conversation."
Stier, of Alameda, said being a part of the case has impacted their lives in a "dramatic way." Two of the couple's four boys were headed to college when they joined the fight, but another two were just starting high school, and so that "experience has been happening in parallel with this case."
"For Kris and I, the focus of our lives has always has been and continues to be our family," said Stier. "And that will continue to be the driving focus of our lives and it's really what helps us be inspired by the case – is that we want other families to have the greatest potential for success."
When the couples first joined the legal fight, the objective was to repeal Prop. 8, and lower courts sided with them. The latest court, the Ninth Circuit Court of Appeals, said that since same-sex marriage was allowed in California for a few months in 2008 before the vote, it could not be taken away.
The Supreme Court justices could agree with that lower court decision — in a move that would limit their ruling to couples in California — or they could side with the backers of Prop. 8. Efforts to reach the backers, ProtectMarriage.com, for comment on Thursday were not immediately successful.
The court also could broaden out their ruling to recognize same-sex marriage in all states, as the couples' attorneys have argued, saying that the more than 30 statewide bans on gays and lesbians getting married violate the U.S. Constitution. Nine state, plus the District of Columbia, allow same-sex marriage.
"If we've learned anything through this journey, it's that when the minority rights are being oppressed by a majority the court is supposed to step in, and some times it's not always popular for them to do so," Zarrillo said. "We would expect the court to step in and right these wrongs."
As their legal battle seemingly winds down, Stier said the couples know that the journey they embarked upon is not their's alone but will affect many others, noting she felt they – and thousands more couples – were "on the cusp" of being able to finally legally wed.
"We are ... struck by the importance not only of being married but of a shift happening in the country that will affect generations to come," she said. "When we imagine the day, we're standing somewhere and taking our vows and deciding to be married, we will not only be committing to each other but will be overwhelmed, I'm sure, by the power of this decision, not only for ourselves but for the whole country."
Meanwhile, the opposition is gearing up for the fight — and is expecting a win. As Brian Brown, President of the National Organization for Marriage said in a statement:
"We, too, are looking forward to the court hearing. It represents the opportunity to right the wrong that was imposed by federal judges in stripping over 7 million California voters of their right to define marriage as the union of one man and one woman, the same definition that has guided civilization for thousands of years. We are confident of our position."
Related:
Clint Eastwood to Supreme Court: Drop California's ban on same-sex marriage
US asks Supreme Court to strike down law denying benefits to same-sex couples