EDEN, N.C. — Tionna Hairston was on her third attempt to twist a cap off a bottle of water. It was a Friday morning in late February and the 26-year-old, still in her nightgown, needed to take her medication. The pills have become a part of her daily life since she had a heart attack and multiple strokes — complications of Covid-19. 
Hairston's strokes ravaged her fine motor skills, making anything that demands a tight grip a source of frustration.
But Hairston, who endured 136 days in the hospital and an in-patient rehabilitation center, has triumphed over much more than bottle caps. Her mom, Stacy Peatross, with whom she lives in this small city near the Virginia border, regularly reminds her of that. 
"You got it. Turn," Peatross said, walking over to the couch where Hairston was. "Concentrate and believe you can do it."
Hairston curled her fingers around the bottle. The top didn't budge.
"It's OK," Peatross said. "You're doing it. You've proved it to yourself." 
Peatross and Hairston caught Covid in May 2020, and when Peatross got better, she assumed her daughter, who only had a mild case, would, too.
Instead, Hairston developed blood clots, something the virus can increase the risk of, for reasons that are not entirely understood. They do not usually happen in young, healthy people like her. 
Her clots led to a stroke, and three days later, to cardiac arrest. For half an hour, Hairston's heart barely beat, depriving her of oxygen as a medical team raced to resuscitate her. Doctors didn't expect her to survive more than a few days, never mind walk, talk or smile again.
"The thought early on was that she likely would never regain any functional neurologic status," said Dr. LaSean Robinson, a hospitalist at Novant Health Forsyth Medical Center in Winston-Salem, North Carolina, who cared for Hairston after she was moved out of the intensive care unit. 
If Hairston were to live through her hospitalization, physicians feared she would "need total care for the rest of her life, likely in a long-term care ventilator facility," Robinson added. 
Before she got sick, Hairston was just beginning to fulfill her dreams. She was about to move out from her mother and stepfather's house into her own apartment. She had her first boyfriend. 
Working as a cashier at a restaurant, she was trying to save enough money to eventually return to culinary school, which she had to abandon years ago when her financial aid ran out.
 Her dreams have since been dramatically altered. Now she would like to be able to read without getting fatigued after several lines. She wants to be able to write without having to pause to remember which direction the letter "S" goes. Some day she hopes to drive again.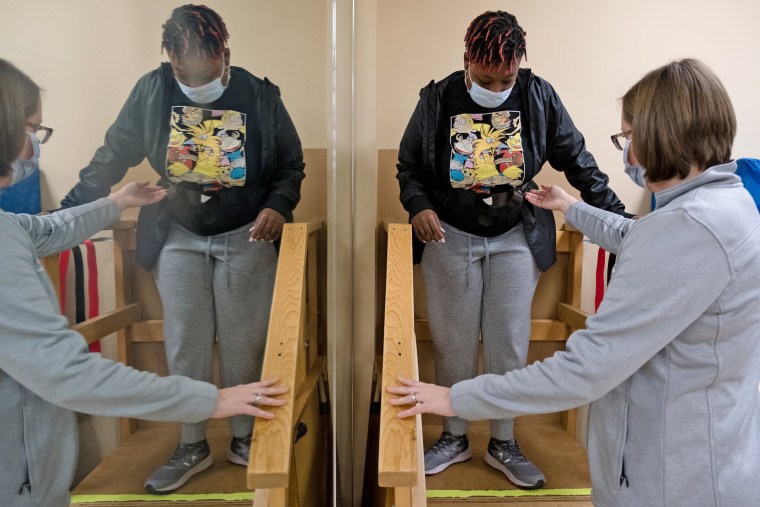 Those helping her are confident she will. A certified nursing assistant provided by Medicaid comes to Hairston five days a week, assisting her with daily tasks as well as balance and strength exercises assigned by her physical and occupational therapists. Hairston also plays cognitive-strengthening games.
"It frustrates me to have to be like this. I usually think to myself, 'I'm not like this,'" Hairston said. "It seemed like I took a thousand steps back." 
"It seemed like I took a thousand steps back."
All around her, two years after the coronavirus was declared a global pandemic, the virus's disruptions are becoming less noticeable to others.
A recent change to federal health officials' metrics resulted in indoor mask use no longer being recommended for most of the United States. Some vaccine mandates are being dropped. And in his State of the Union address this month, President Joe Biden declared it a "new moment," one where Americans can safely get "back to more normal routines." 
But for Hairston and many other Covid survivors, normal still feels far away.
Of the nearly 80 million Covid cases counted in the U.S. so far, it is not clear how many people have lasting health problems from the disease. Experts say they likely total in the millions. 
Their ongoing health issues have a ripple effect on their whole families. When Hairston first came home, Peatross, a nurse, went part-time to painstakingly help her daughter regain simple skills: taking a shower, walking up steps, picking up a sandwich.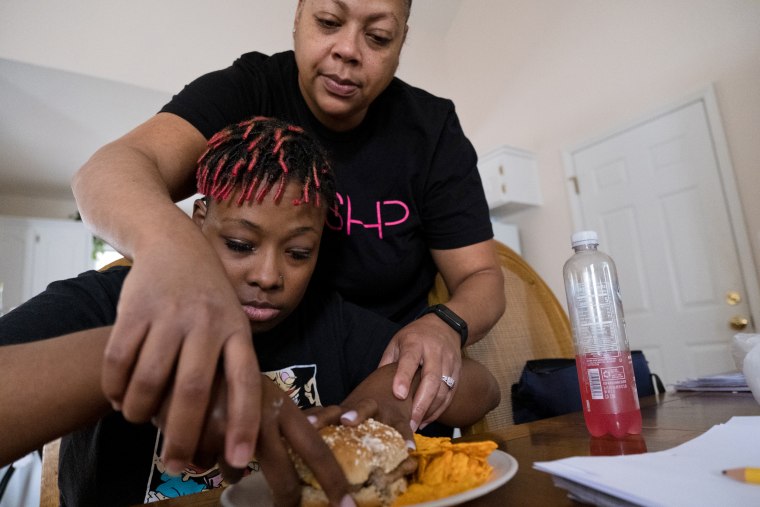 It was exhausting. One day, sitting on her bed, Hairston felt so demoralized trying to put on socks and shoes, that both she and her mom started crying.
"This is the part that people don't see, of the damage of what this has done to her life and our lives," Peatross said.
Nonetheless, Hairston's progress has been stunning, especially considering that doctors had at one time asked her family if they wanted to remove her from life support, Peatross said.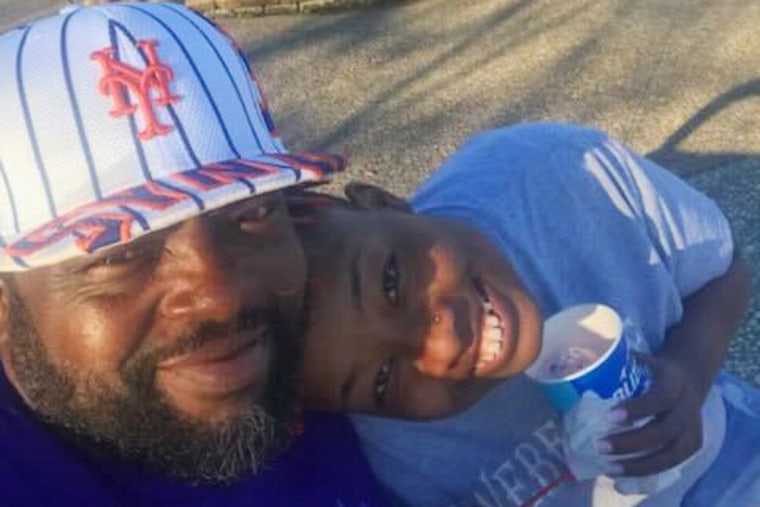 Hairston can do everything doctors worried at that time that she wouldn't. On a walk through the park recently with her dad, Gregory Link, Hairston decided to pick up her pace.
"Come on, slow poke," she called over her shoulder, grinning at Link. 
'She was coding'
Link, a pastor, didn't know when he visited Hairston in the hospital on June 9, 2020 — dressed head-to-toe in a clown suit — that she was a day away from almost dying. 
She had been admitted earlier in the week after Peatross saw something terrifying: Hairston's eyes drifting outward in opposite directions. 
Doctors explained that clots related to Covid had caused a stroke. A couple of days later, though, they were optimistic that she was getting better.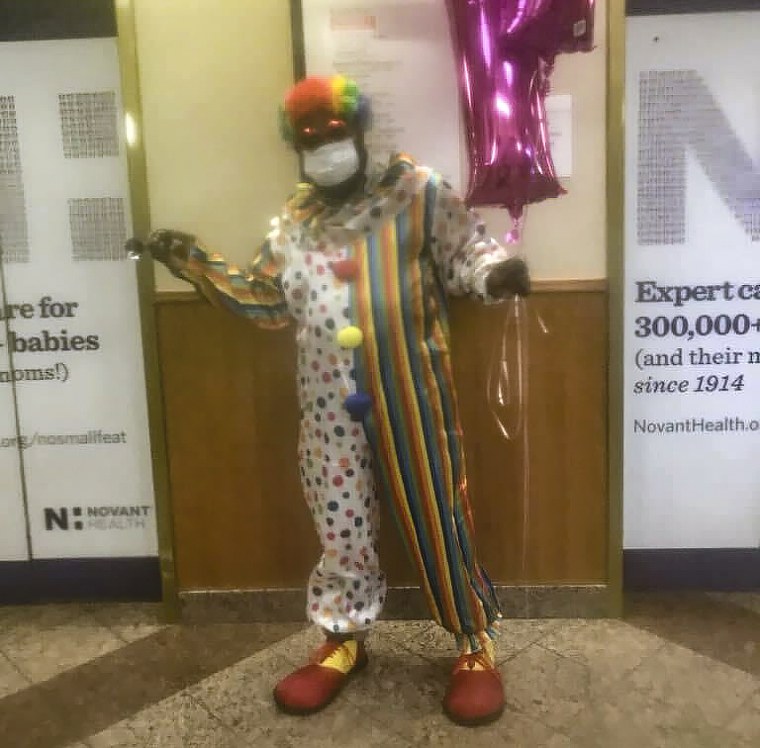 Wanting to cheer her up in the meantime, Link showed up in oversize red and yellow shoes, a rainbow wig and a polka dot and striped costume. Before he left, doctors told him they felt she would be released soon.
Instead, Hairston developed chest pain. Blood clots were discovered on her heart, which doctors attempted to dissolve with blood thinners, Peatross said. The following day, Hairston stood up to use the bathroom. On her way, she collapsed. 
"I knew she was coding," Peatross said.
A seemingly endless stream of staff ran into the room to save her daughter. The 30 minutes during which Hairston's heart activity had nose-dived left her prognosis dire. She was unresponsive. Her kidneys and liver were shutting down.
Looking over CT scans of her brain a day later, doctors saw widespread damage. They asked her family: What did they want to do about life support? 
Peatross tried to ignore her nursing knowledge. She wanted to hold out hope that Hairston still had a promising future. But she didn't want her to suffer, and her brain scans confirmed she very well might. 
Link took another approach. 
"Do you have any good news?" he asked the doctors. 
They didn't. So Link went looking for some. Was there any part of her brain at all that wasn't damaged? 
Yes, they responded, but not enough to have any quality of life. 
The "yes" was all Link needed. After a family discussion, taking Hairston off life support was no longer to be considered. 
A breakthrough 
In the days following her heart attack, Hairston showed little improvement.
"We were at a point where we were literally clinging onto faith after being told on numerous different occasions that there was no hope for her," said her oldest brother, Gregory Hairston. 
Two weeks in, on Hairston's 25th birthday, there was a breakthrough. Her uncle, Sterling "BB" Hairston, came to visit and saw his niece had one eye open. 
He took two steps to the side. Her eye followed him.
"I said, 'Tee, I know you see me. I know you did. It's your birthday. Happy birthday, baby, I love you,'" he said. "And when I said that, a tear came to her eye."
Hairston's family became more hopeful. Peatross placed a salmon-colored journal in her hospital room for visitors to write letters to her that she could read if she woke up.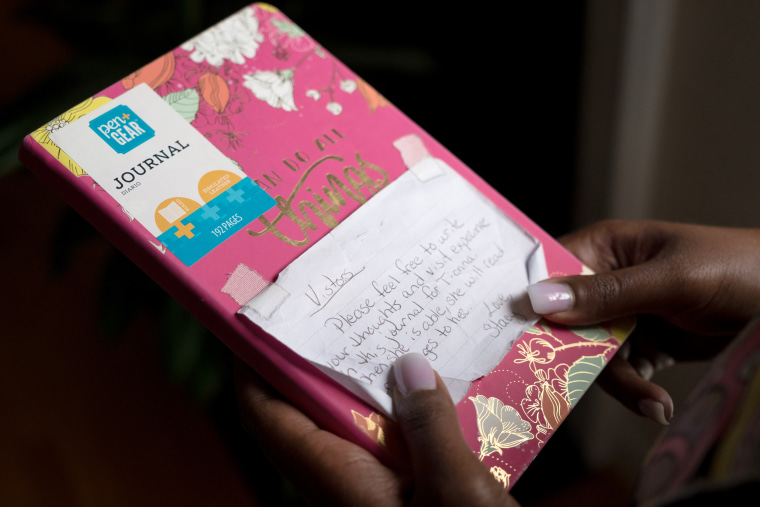 She did. There were other "miracles" that started happening, too, Peatross said.
As June turned into July, Hairston's kidneys started functioning on their own, allowing her to get off dialysis. She started responding to people's voices. One day in July 2020, she leaned up to give her mom a kiss for the first time in months.
Robinson, the hospitalist, also felt it could not be explained by medicine alone. She had been drawn to Hairston's case, asking to switch patient lists with colleagues when Hairston wasn't assigned to her so she could continue caring for her youngest case with such severe Covid complications.
"Of course the medical professionals were important and they were needed and necessary," she said. "Her family was so strong in their faith. I just joined my faith with theirs." 
Hairston now takes blood thinners and anti-seizure medication and has a heart defibrillator, but otherwise is recovering. Doctors told her family being so young has likely made it easier for her brain to create different pathways to re-learn what she lost. 
She feels protected against getting very sick again because she's vaccinated and boosted, and she wants other young people to know they're not invincible. 
"This can happen to anybody," she said.
She still would like to move into her own apartment, hopefully one year from now. She also hopes to be in another relationship someday.
In the meantime, there is no shortage of obstacles. Some she still can't quite overcome, like the water bottle cap.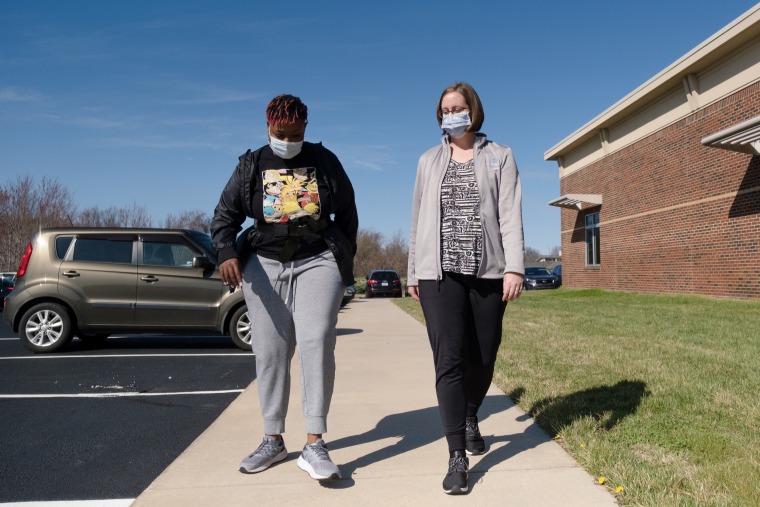 But the day before, under the watch of her physical therapist, Hairston put on earrings by herself for the first time since getting sick. 
She kept the dangly earrings on into the evening, proudly wearing them when many of the family members who had spent hours by her hospital bedside arrived at her house for dinner. 
Hairston sat down at the table. Over taco salad, the family talked. They spoke about Hairston's time in the hospital, none of which she remembers. They recalled what a relief it was when they discovered Hairston's ability to make fun of her siblings was as intact as ever.  
Hairston listened, her shiny earrings gently swaying every time she broke into a smile.