The resurgence in coronavirus cases led the governor of North Dakota to issue a statewide mask mandate after months of resisting such action, while Oregon and New Mexico ordered partial lockdowns.
"New Mexico is at the breaking point," New Mexico Gov. Michelle Lujan Grisham said.
The toughened restrictions come as the United States broke yet another record, with 176,309 new coronavirus cases on Friday, bringing the nationwide total to 10,818,345, according to NBC News' tally. The country has now had more than 100,000 new cases daily for 10 consecutive days.
Full coverage of the coronavirus outbreak
At least 13 states—Arkansas, Colorado, Delaware, Illinois, Iowa, Kansas, Kentucky, Maryland, Montana, Nevada, New Hampshire, Ohio and Wisconsin— have record numbers of new daily cases.
Deaths have meanwhile climbed to about 1,000 a day on average. The virus has claimed the lives of 245,555 people nationwide, according to NBC News' tally. The coronavirus death toll in Texas may reach 20,000 on Sunday as the state report abouts 100 deaths daily. As of Saturday, 19,864 in Texas have died of Covid-19.
Among the developments:
North Dakota issued new statewide requirements, including a face-mask mandate.
Oregon ordered a two-week "freeze" starting Wednesday, requiring businesses to cease in-person operations.
New Mexico's new stay-at-home order will go into effect Monday.
Six governors from northeastern states are holding an "emergency summit" this weekend to coordinate efforts in response to a rise in cases across the region.
At least 13 states have hit new records in daily cases.
Texas may reach 20,000 Covid-19 deaths on Sunday.
California Gov. Gavin Newsom issued new travel guidelines requiring people who return from nonessential, out-of-state or country travel to self-quarantine for 14 days.
North Dakota's Republican Gov. Doug Burgum announced late Friday night that "the State Health Officer, with my full support, has issued an order requiring face coverings to be worn in all indoor businesses and public settings and outdoor public settings where physical distancing isn't possible."
The order will remain effective until Dec. 13.
In addition, all bars and restaurants in North Dakota will be required starting Monday to close at 10p.m. and operate at 50 percent capacity, as long as that does not exceed 150 people. All banquet, ballroom and event venues will be limited to 25 percent of maximum occupancy, and school winter sports and extracurricular activities will be suspended.
"To be clear, these are statewide requirements, not simply recommendations," said Burgum.
The number of active positive cases in North Dakota has doubled since Oct. 20 to nearly 10,500, indicating that future hospitalizations may rise at a time when the capacity of the state's health care system is already strained.
The rise is "jeopardizing the ability of our hospitals to provide first-rate treatment, not only for Covid-19 patients," but also to others seeking care for other conditions, the governor said.
The coronavirus has killed at least 700 people in North Dakota as the state's 14-day average positive test rate doubled to 15.6 percent in the last month, said Burgum.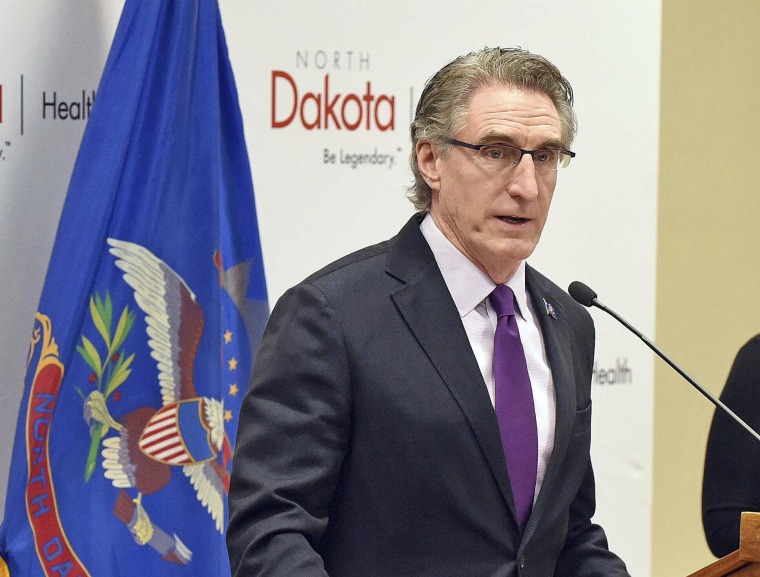 In Oregon, Democratic Gov. Kate Brown ordered a two-week "freeze" starting Wednesday, under which many businesses will be required to close their offices to the public and have employees work from home "to the greatest extent possible." She said order violators could face fines or arrest.
"For the last eight months, I have been asking Oregonians to follow to the letter and the spirit of the law, and we have not chosen to engage law enforcement," Brown said. "At this point in time, unfortunately, we have no other option."
While most Oregon stores will remain open, gyms, museums, pools, movie theaters and zoos will be forced to close, and restaurants and bars will be limited to takeout. Social gatherings will be restricted to six people.
Dr. Esther Choo, an emergency medicine physician at Oregon Health and Science University, gave an emotional plea Friday, stressing that the new restrictions it will help save her life and the lives of her family members, neighbors and friends, and other essential workers across the state.
"Many of you cheered and rang bells and put up signs calling us heroes, and we're so grateful for that," Choo said. "Right now, we're asking you to be our heroes and to listen to our call for help again."
Oregon has seen a 93.4 percent increase in cases over the past two weeks, with an average of nearly 900 new cases daily in the last nine days. Since the start of the pandemic, almost 55,000 Oregonians have been infected at least 753 have died.
In New Mexico, Democratic Gov. Lujan Grisham put a two-week stay-at-home order in place starting Monday. New Mexicans can only go out for essential trips. Essential businesses may operate in a limited capacity and nonessential businesses have to cease all "in-person workforce and activities," the governor said.
"We are in a life-or-death situation, and if we don't act right now, we cannot preserve the lives, we can't keep saving lives, and we will absolutely crush our current health care system and infrastructure," said Lujan Grisham.
New Mexico has seen a nearly 59 percent increase in cases over the past two weeks and an uptick in deaths. The virus has killed nearly 1,200 people in the state and infected 62,006.
The state of New York, once the epicenter of the pandemic, is now ordering gyms, restaurants and bars to close at 10 p.m. and limiting private gatherings to 10 people. In New York City, Mayor Bill De Blasio said parents should be prepared for a possible shutdown of schools as the coronavirus positivity rate nears 3 percent.
New York Gov. Andrew Cuomo and five other governors from northeastern states were to hold an "emergency summit" this weekend to coordinate efforts to slow the virus's spread across the region.
Download the NBC News app for full coverage of the coronavirus outbreak
"We believe we're going to have to be taking additional steps," the Democratic governor said Friday, adding that he doesn't expect any major changes over the weekend.
New York has reported more than 45,700 new coronavirus cases in the past 14 days, averaging 4,163 new cases per day over the past week.
Cuomo said he expects that infection rates will continue to increase in New York and nationwide as the holiday season begins.