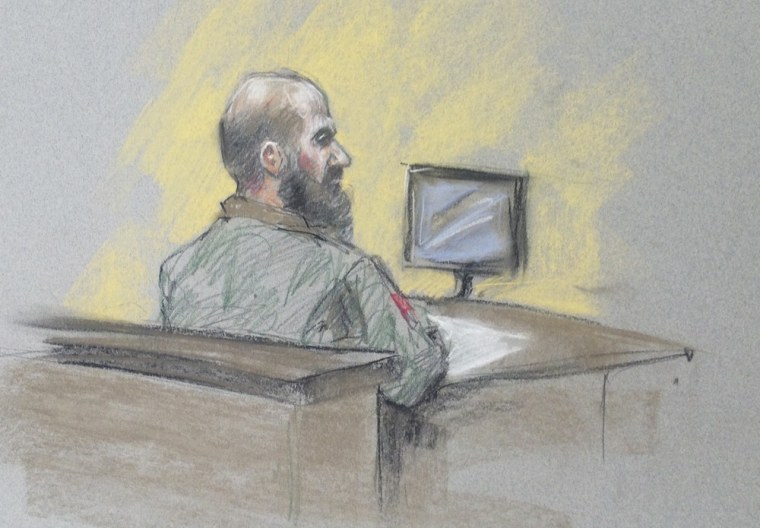 FORT HOOD, Texas — Former Army Maj. Nidal Hasan was sentenced to death Wednesday for killing 13 people in a 2009 shooting rampage at Fort Hood, Texas – and the families of several victims said justice had been served for a "coward."
 A court-martial jury of 13 retired military officers deliberated for just under two hours before they unanimously agreed on the maximum penalty of lethal injection. The sentence also included dismissing Hasan from the Army and stripping him of his military pay.
 Hasan, 42, will now be flown to the maximum security U.S. military prison at Fort Leavenworth, Kansas, and placed on death row while awaiting automatic appeals that could take years.
 Hasan presented virtually no defense during the 12-day trial, and several victims' relatives mentioned his previously stated desire to be seen as a martyr for Islam.
"I know and feel that he is a coward, a traitor, and a murderer," Teena Nemelka, mother of 19-year-old Pfc. Aaron Nemelka, said in a statement that was read to reporters.
Gale Hunt, the mother of 22-year-old Spc. J.D. Hunt, railed at Hasan's claims – which were not aired during the trial – that he was defending his Islamic religion against American troops.
"Anyone who uses their religion to commit acts of terror serves no God except their own hatred and self-interest," she said. "Nidal Hasan is a coward and an unrepentant murderer."
Many family members attended the trial in a courtroom just a few miles from the Army medical readiness center where Hasan opened fire with a semiautomatic pistol on Nov. 5, 2009, killing the 13 and wounding more than 30 others.
"He is not now and will never be a martyr. He is a criminal. He is a cold-blooded murderer," Army prosecutor Col. Michael Mulligan said in closing arguments.
"Death. He was trained as a doctor to save lives, but on 5 November, he only dealt death. He dealt no compassion, he dealt no understanding, he dealt no exceptions. He only dealt death," Mulligan said. Hasan, who was paralyzed when a responding officer shot him, represented himself but did not offer a closing statement.
A number of family members said they were anxious for the spotlight to be turned from Hasan to those who were killed or wounded that day — and those who risked their lives to save them.
"We are thankful for the just verdict that has finally been rendered. However, we are dissatisfied with the media attention to Hasan and his extremist views," said Melissa Czemerda, the daughter of Lt. Col. Juanita Warman, 55.
Michael Cahill's daughter Kerry called on Americans to recognize the heroes in the U.S. military and repair the "multiple failings" that allowed Hasan's extremism to go undetected before the rampage.
As for Hasan, she said, there is only one thing that should happen before he's put to death. "The best thing for that man is to be forgotten," she said.
The Associated Press contributed to this report.
Related: