A crane collapsed onto an apartment building and parking garage in Dallas on Sunday, killing at least one person and injuring six, authorities said.
Authorities have identified the woman who died as Kiersten Smith, 29.
Jason Evans, a spokesman for the Dallas Fire-Rescue Department, said five of the wounded were in serious and critical condition. A sixth person was hospitalized and released, he said.
Severe storms were moving through the area at the time, but officials could not yet confirm that the heavy winds were responsible for the collapse.
Download the NBC News app for breaking news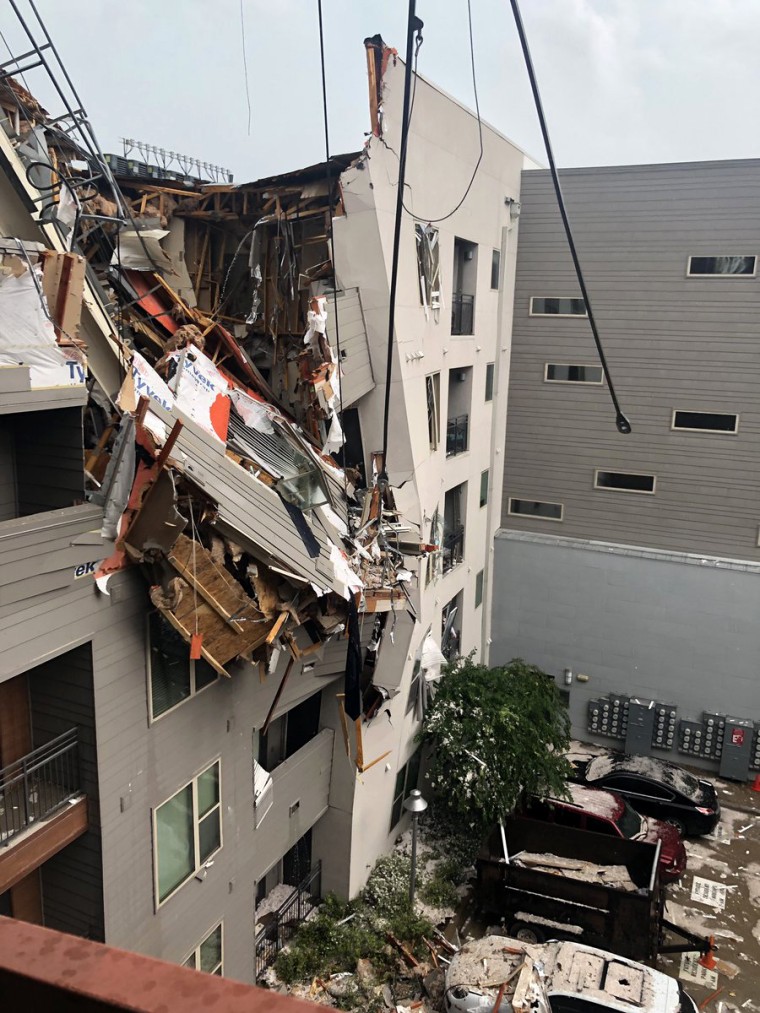 The crane tore through four floors of the apartment building in Dallas' downtown city center district, Dallas Police Department spokesman DeMarquis Black said. It wasn't clear how many floors in the garage collapsed.
Evans said the crane was located next door to the building that was crushed, but he wasn't sure if the equipment was being used Sunday.
Residents from the building were gathering at a cultural center across the street from the apartment complex. It wasn't clear if anyone was missing, Evans added, though authorities were searching the area with dogs.
Bigge Crane & Rigging Co., which operated the fallen crane, released a statement expressing its condolences to Smith's family.
"Our thoughts and prayers are with those directly impacted by this incident, their families and loved ones, and with those who suffered property damage," the company said. "We are mobilizing personnel to the site to find out more and, of course, to fully cooperate with investigating authorities."
Dramatic images from the scene appeared to show cars teetering on the edge of collapsed floors in the garage.
Other vehicles appeared buried beneath the rubble and cars that had toppled onto them.
A resident at the apartment building, Ryan Lowe, 34, said the collapse sounded like a "large bang."
"Most insane thing I've ever experienced," he wrote on Twitter. "Massive crane blew over into my complex. Missed my unit by 2 doors."