Detroit police are considering criminal charges in the case of a former funeral home where the decomposing bodies of 10 fetuses and a baby were found above a ceiling, officials said.
"There's a criminal investigation that has been launched," Officer Dan Donakowski, Detroit Police Department spokesman, told NBC News on Tuesday about the bodies found at the former Cantrell Funeral Home. "From there, all information will be sent to the Wayne County prosecutor's office."
The investigation was formally filed on Monday but the spokesman said there is no set deadline for when it would end.
The baby's bodies were first found last week at the Cantrell Funeral Home when officials at the Michigan Department of Licensing and Regulatory Affairs received an anonymous letter tipping them off as to where the bodies were.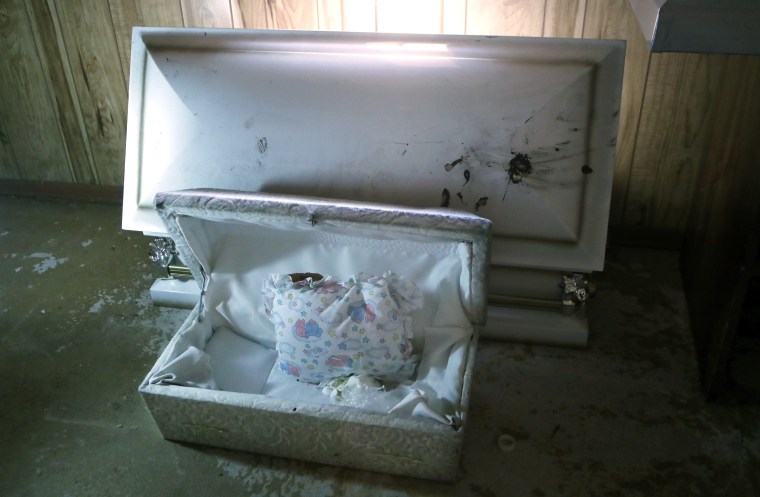 "In my 41-and-a-half years, I have never heard of such a case as deeply troubling," Detroit Chief of Police James Craig told reporters at a Monday news conference.
The fetuses were found together in a cardboard-like box while the full-term infant was in a coffin, Craig said.
The department is looking into felony charges related to the final disposition of dead bodies, according to Craig.
The police chief said they have yet to confirm how the funeral home came into possession of the bodies and has reached out to the state attorney general and county prosecutor to discuss the case.
Police have said they would identify the found bodies with the help of the medical examiner's office, and plan to notify family members accordingly.
Before discovery of the bodies, the Cantrell Funeral Home had already been subject of an investigation by the state licensing agency due to multiple occupational code violations, including an "unsanitary embalming rooms" and "improper storage of embalmed bodies," according to a statement issued by the agency. The department's finds are what had forced the funeral home to shut down in April.
Raymond Cantrell, the former owner of the funeral home, told NBC News affiliate WDIV in Detroit Friday that he is willing to speak to police and claims he did not order employees to hide the bodies.
"On behalf of my family I'm really sorry that it happened and totally appalled. The fact it occurred. I'm just thanking God it wasn't something I had any involvement in," he told the local affiliate.
On Monday, Craig told reporters the department has yet to reach out to Cantrell.