On a cool Saturday in late March, Los Angeles police responded to a party in the predominantly African American Hyde Park neighborhood.
Profanity-laced video from the scene shows officers in riot gear forming a skirmish line and using their side-handle batons to push back angry revelers, mostly women who had been celebrating the birthday of a baby who had just turned 1.
No arrests were reported, but the heavy-handed tactics prompted some to question why black people got the riot treatment while predominantly white demonstrators protesting stay-at-home orders were allowed to gather across the state without a similar reaction from law enforcement.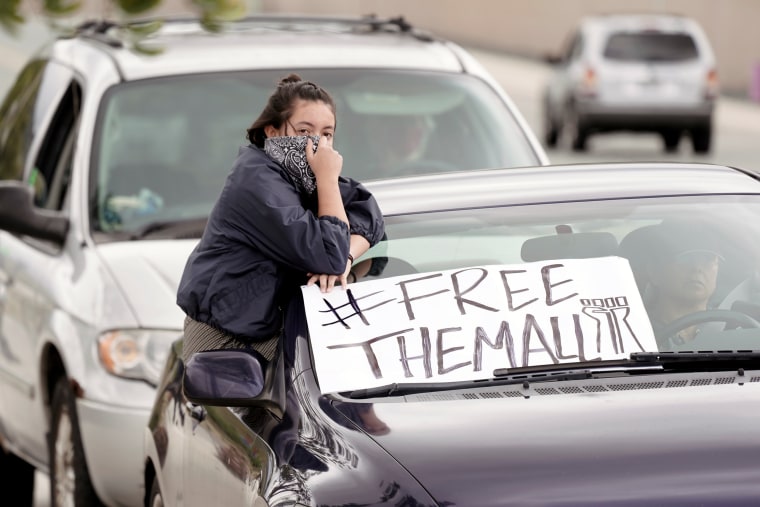 Authorities have responded by saying that some events, like the party and another celebration broken up in South Los Angeles on April 17, were not matters of social distancing but of "disturbance" reports from neighbors.
"The Los Angeles Police Department is consistent in the way we enforce the Mayor's 'Safer at Home' Directive," LAPD spokesman Josh Rubenstein said by email. The South L.A. parties "were 'disturbance' calls for service and not random enforcement of the 'Safer at Home' directive."
Authorities in San Diego and Los Angeles have enforced stay-at-home orders by issuing a few citations to protest organizers, after the agencies were criticized for allegedly unequal enforcement.
Alex Alonso, professor of Chicano and Latino studies at California State University Long Beach, happened to be in the area March 28 when the birthday party was dispersed.
"They went in gangbusters in riot gear, with billy clubs and stun guns," he said. "They need to enforce these rules in the same manner."
In San Diego County, sheriff's officials were criticized for issuing citations April 11 to protesters in their cars who were trying to bring attention to conditions for immigrants held at the Otay Mesa Detention Facility, where several detainees have COVID-19.
Demonstrators stopped outside the center and honked horns. The San Diego County Sheriff's Department responded by citing them for violating stay-at-home orders, for "unlawful use of horn" and "no proof of insurance," according to a statement.
But when stay-at-home demonstrators hit the beach April 19 in Encinitas, an area patrolled by the same sheriff's department, no on-the-spot citations or arrests materialized. The same weekend, dozens of stay-at-home demonstrators, some without masks, gathered in downtown San Diego, and no citations or arrests were reported.
"While no citations were issued at the protests, that does not mean prosecution will not be sought, especially to the organizers of these events," the county sheriff's department and the San Diego Police Department said in a joint statement.
In Sacramento, stay-at-home demonstrators gathered outside the Capitol last Monday violated social distancing rules, as seen in photographs of the event. Again, there were no citations or arrests.
Gov. Gavin Newsom, who issued statewide stay-at-home orders March 19, was asked about it last Monday and said he believed protesters were supposed to be observing social distancing.
Two days later, the California Highway Patrol pulled the plug on demonstrations in its jurisdiction "until public health officials have determined it is safe to gather again," it said in a statement.
State Assemblywoman Lorena Gonzalez, D-San Diego, was critical of the uneven response, particularly in the case of the San Diego County Sheriff's Department.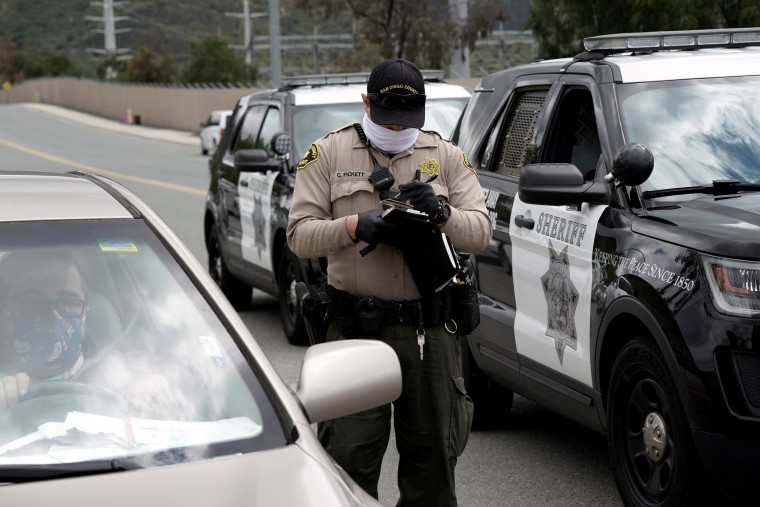 "During these unprecedented times, we think it's particularly important for law enforcement to be clear and consistent in how they plan to enforce social distancing, stay at home orders and acts of civil disobedience," she said by email. "Without this, it's natural for residents to question the motives behind disparate treatment."
Rev. Shane Harris, CEO of the San Diego-based People's Alliance for Justice, said he noted the disparity to the San Diego Police Department, which subsequently announced the organizer of April 18's downtown protest would be cited for violating county social distancing orders.
"People in Otay Mesa were cited for gathering in their cars," he said, while downtown demonstrators walked in close proximity to each other. "That to me is what you call biased enforcement."
Gloria J. Browne-Marshall, constitutional law professor at John Jay College of Criminal Justice, says the "double standard' is nationwide. She said she believes a police unit parked outside a basketball court in her New York City neighborhood is a clear signal to young people of color.
"Majority white protesters are protesting with impunity," she said. "We can't protest. What signal is that for the kid stuck in his apartment who wants to play basketball by himself and there's a police car by the court?"
Melina Abdullah, a professor of Pan-African Studies at California State University Los Angeles and co-founder of Los Angeles' Black Lives Matter chapter, says African Americans in South Los Angeles have been stopped by police for failing to wear to wear masks and for allegedly violating social distancing rules at markets.
"It's almost about who you are," she said.
The criticism comes at a time when African Americans are being disproportionately harmed by COVID-19. Jody David Armour, a law professor at the University of Southern California, said the coronavirus era is particularly harsh on blacks and Latinos.
U.S. minorities face coronavirus itself, law enforcement, job losses as the economy falters, and the prospect of further spread of the virus as white protesters violate social distancing guidelines, he said.
Yet, he argued, "they're the ones showing the most civic responsibility" by not protesting.
But Jorja Leap, a social welfare professor at the University of California Los Angeles, who has been critical of law enforcement in the past, said the LAPD has shown restraint.
"The community itself is enforcing stay-at-home," she said. "The LAPD, thankfully, they have been working with communities, especially communities of color."
Phillip Atiba Goff, co-founder and CEO of Center for Policing Equity, said it's a debate worth having, even amid a pandemic.
"Do these types of stay-at-home orders exacerbate the disparity we see with civil rights violations?" he said. "We don't know yet. But if we're not concerned yet, we're not paying attention."