TIJUANA, Mexico — Authorities kept demonstrators blocks away from President Donald Trump's first official visit to California Tuesday to see prototypes for a wall along the U.S.-Mexico border. That didn't stop his critics from crossing into Mexico to shout their opposition from within the president's earshot.
About 50 protesters on the Mexican side held up signs, climbed on rooftops and shouted slogans as Trump viewed eight prototypes for his proposed wall along the southern border.
While pro-Trump demonstrators gathered in San Diego, the theme in the dirt-road colonia Las Torres was entirely pro-immigrant.
As Trump toured the prototypes around 12:30 p.m PT (3:30 p.m. ET), protesters on the Tijuana side chanted, "No queremos muros" — we don't want walls.
The San Diego-based nonprofit Border Angels, which distributes water and aid to migrants in the desert, sent a handful of demonstrators to protest Trump's visit.
"Less people are coming here, but more people are dying," Border Angels founder, Enrique Morones, said.
Morones' group argues that Trump's border wall would certainly lead to increased deaths as people fleeing violence in Central America and poverty in parts of Mexico would resort to more extreme measures to get north.
"These walls, if they are built, will push people toward more extreme measures," said Border Angels volunteer Manuel Galaviz, 34, who carried small wooden crosses in the name of dead border crossers. He said, for example, suffocating tunnels might prevail if Trump's wall is built.
"It will be more dangerous," Galaviz said.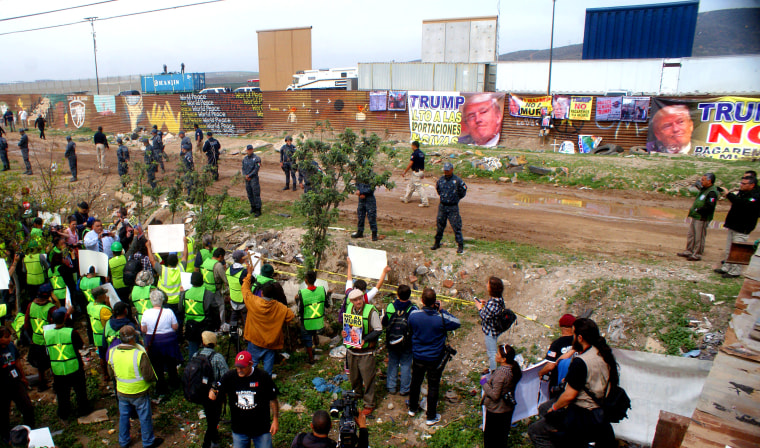 A few members of the group Deported Veterans demonstrated on the Mexican side, too. The organization represents U.S. combat veterans who have been deported, often as a result of arrest records, prosecutions or jail time. Founder Hector Barajas said that, in reaction to Trump's hard-line immigration policies, the group is working on expanding to Juarez, Mexico, and to the Dominican Republic. The message he said he'd like Trump to hear is, "We need to bring our veterans home," Barajas said Tuesday.
"We are against the separation of families," he said. "And we are against building a wall."
"Less people are coming here, but more people are dying."
Forty-four-year-old Juan Carlos Sanchez was one of more than a dozen protesters in neon green vests representing the groups Angeles Sin Fronteras (Angels Without Borders) and Alianza Migrantes Tijuana (Tijuana Migrant Alliance). They held signs that stated, "No Al Muro" — no to the wall.
A former U.S. resident who was deported 11 years ago, Sanchez said he plans to stay in Tijuana as long as Trump is in charge. "I decided not to go back," he says. "I don't think it's safe for immigrants in the U.S."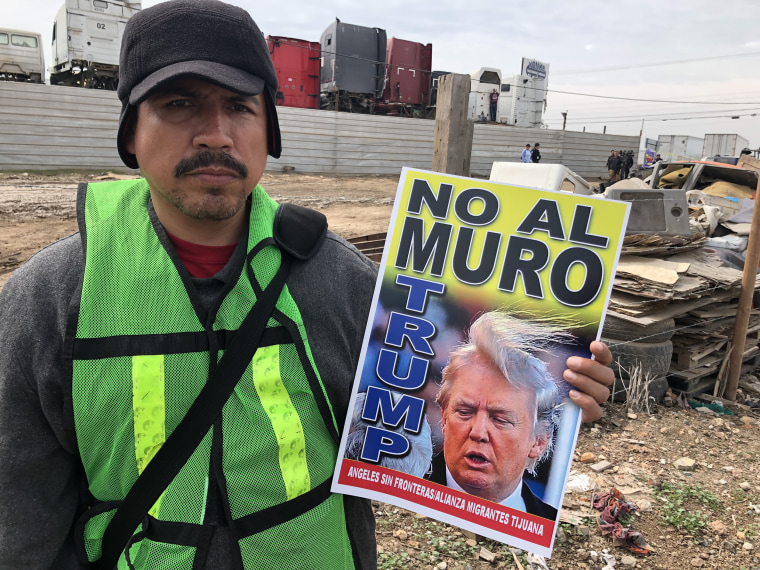 Sanchez lamented what he described as a lost sense of bi-national friendship that prevailed before the 2016 presidential election. A good portion of this city of 1.6 million was built on cross-border commerce, and the results are everywhere, from the city's giant Costco to the massive, high-tech television and auto-part factories that line the border.
The road east of Tijuana takes visitors by a gleaming new Ford/Lincoln dealership, and, in the nightlife area known as Zona Norte, there's an outpost of the American Deja Vu gentlemen's clubs.
Putting a wall between the United States and so much of its products, Sanchez says, just isn't good business. "If you want to be neighbors," he says, "we're supposed to love one another."