The owner of the Texas ranch where Supreme Court Justice Antonin Scalia died called the local sheriff to report the death — but specifically didn't say whose body it was, the lawman said Tuesday.
All the owner told Presidio County Sheriff Danny Dominguez in a Saturday afternoon 911 call was that the person's name was "big and it's overwhelming," Dominguez told the Associated Press.
Dominguez told the AP that he drove 30 minutes to Cibolo Creek Ranch, near Marfa, and then learned firsthand it was Scalia.
Those comments were the latest shadowy details to emerge about Scalia's death. Critics have questioned whether it was handled in a way that befit the passing of a Supreme Court justice who had seemed to be in good health.
The ranch's owner, John Poindexter, told NBC News on Sunday that Scalia had been among three dozen guests invited to stay the weekend. The judge had been "his usual personable self" at dinner Friday, and left for bed around 9 p.m.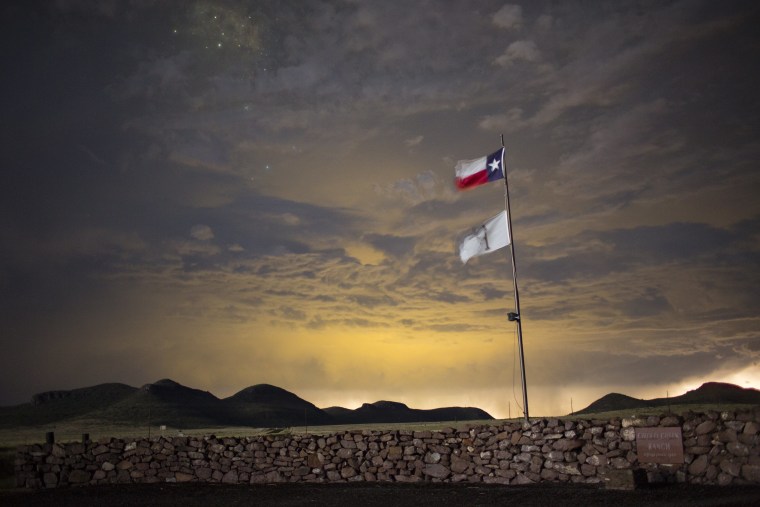 When Scalia failed to show up for breakfast and a short excursion Saturday, Poindexter said, he entered the room with a friend of the judge's and found the 79-year-old judge in bed, cold, with no pulse.
"He was very peaceful in his, in the bed," Poindexter said. "He had obviously passed away with no difficulty at all in the middle of the night."
The ranch owner provided more detail to The San Antonio Express-News, saying he found the judge with "a pillow over his head" and his bed clothes "unwrinkled."
Poindexter told NBC News that he called a local hospital and determined that there was nothing he could do to revive Scalia. He then tracked down someone from the U.S. Marshals Service.
Someone else suggested calling a parish priest, who arrived and apparently delivered last rites, Poindexter said.
Presidio County Judge Cinderela Guevara told the AP this week that she performed an inquest over the phone, which is permitted under state law, because she was the only justice of the peace available in the area and was 65 miles away.
She certified his death at 1:52 p.m. Saturday, concluding that he died of natural causes.
Guevara told the AP she made the determination after consulting with Scalia's personal physician and with Dominguez and a U.S. marshal, who said there were no signs of foul play. The physician told her Scalia had a history of heart trouble, high blood pressure and had been considered too weak to undergo surgery on an injured shoulder, Guevara said.
She also said she heard Scalia had mentioned to some people at the ranch that he was not feeling well.
Scalia's body will lie in repose on Friday in the Supreme Court building's Great Hall in Washington D.C.