It was supposed to be the most joyous moment of her life — the birth of her first child.
But a new Michigan mom's happiness is laced with grief after her fiancé and her mother were killed in a car crash rushing to the hospital.
"What keeps me going is him," Crystal Matrau-Belt told NBC affiliate WOOD-TV, holding her newborn, Jeremiah.
Doctors at Bronson Methodist Hospital in Kalamazoo decided to deliver Jeremiah by an emergency C-section on Saturday because his mother had high blood pressure.
At the time, her fiancé, Emil Skokan, and her mother, Peggy Nichols, were home making last-minute preparations for the baby's arrival.
When they got word that Jeremiah was coming sooner than expected, they jumped in the car to get the the hospital in time.
Matrau-Belt said she remembers the last thing Skokan said to her: "He said he would be on his way up here and that he loved me and would be here shortly."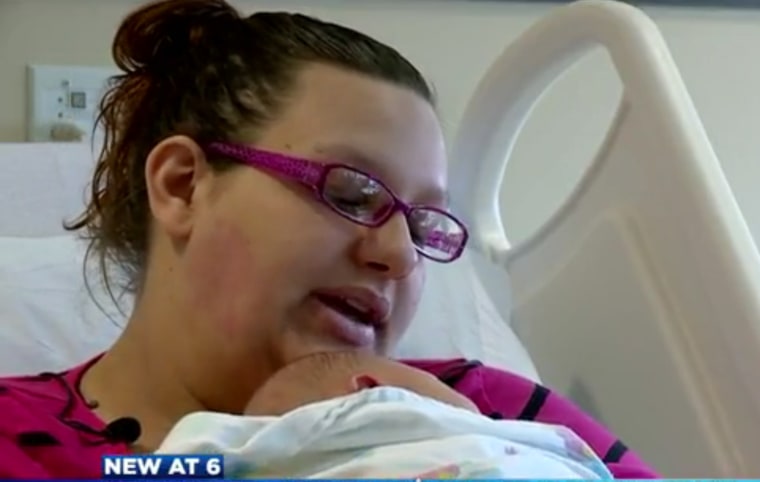 On the way, Skokan lost control of the car and hit a tree. Sheriff's officials told WOOD-TV that speed was a factor in the accident.
Matrau-Belt didn't find out what happened until she had already given birth.
"I just remember all their faces, and I knew something was wrong," she said. "I just didn't know how bad it was, and that's when I was told that they both died in a car accident on their way over here.
"I didn't want to believe it," she added.
As she prepared to go home from the hospital, Matrau-Belt said she kept thinking about how excited her own mom was for a new grandchild. And every time she looked at Jeremiah's face, she was reminded of her fiancé.
"He has my lips for sure, but he looks like his dad," she said. "I don't want to let him out of my sight."
The swing of emotions has been difficult — and she expects it will only get worse.
"It's a hard balance — being so happy and excited to be a mother and holding him, and grieving that his dad's not here, his grandma's not here, just having to battle back and forth grieving for the both of them and trying to be happy and excited for him," she said.
"I know that once I leave the hospital, that's when things will start to become real, and having to deal with everyday life is when it's really going to hit me."