Staffers at the U.S. embassy in Cuba who have been victims of suspected health attacks include both top officers and lower-level employees whose duties range from diplomacy and security to medical services and maintenance, according to a list of the personnel obtained by NBC News.
At least 21 Americans have suffered headaches, hearing loss, memory issues and other symptoms after the baffling sonic incidents — some of them family members of embassy staffers who are stationed in Havana, according to the State Department.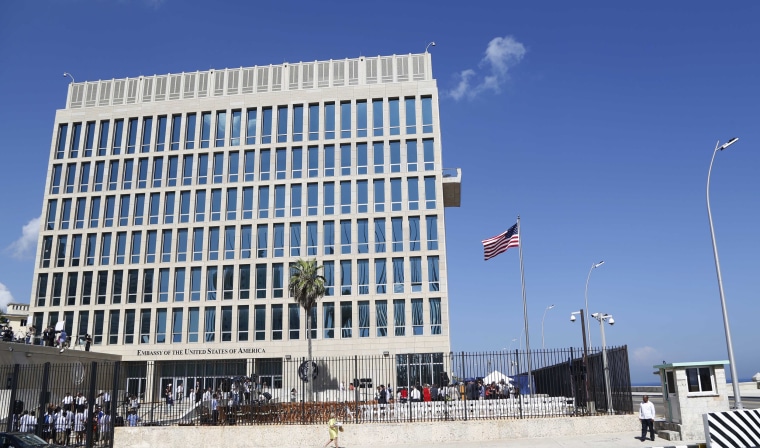 None have spoken publicly about the matter, but at least one employee has vented on social media about his frustration over Washington's response to the situation and the difficulty in getting proper treatment.
"We have injured people who still have no real information as to what to do medically and a web of half-truths and outright lies," the diplomat, who declined to speak with NBC News, wrote in late August.
"No one political party or administration is innocent in this. This has taught me that once faith is broken it's very difficult to believe again. I don't believe any more."
State Department officials have said they don't know who is behind the onslaught, but the response from Washington has gathered intensity in recent days.
Secretary of State Rex Tillerson said over the weekend that the possibility of temporarily closing the U.S. embassy out of concern for the diplomats' safety is "under evaluation." Five Republican senators sent a letter to Tillerson last week asking him to declare all Cuban diplomats in the U.S. persona non grata if President Raul Castro's government doesn't take "tangible action" to eliminate the threat.
The Cuban government denied again Tuesday that it had a hand in the incidents.
"Cuba has never perpetrated nor will it ever perpetrate actions of this nature, and has never permitted nor will it ever permit any third-party use of its territory for this purpose," it said in a statement.
The State Department has said the incidents began in the fall of 2016, with officials first learning of one in November. After more staffers reported problems in early 2017, a disturbing but mysterious pattern emerged.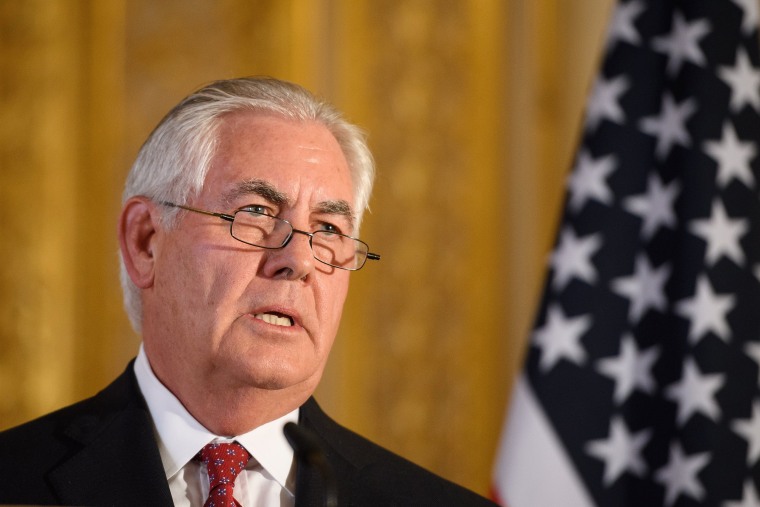 Few details have been released but the Associated Press, quoting officials, reported that some embassy employees reported they experienced bizarre, unexplained and physically uncomfortable noises or vibrations at their residences before they were afflicted.
John Caulfield, who was chief of the U.S. Interests Section in Havana from 2010 to 2014 and who is now retired, said he knows one of the affected staffers.
"This person's spouse noted that the person was turning up the volume of the TV and radio very high and it was irritating and the spouse said you need to get your hearing checked," Caulfield said. "They went to the doctor, who said 'You have permanent hearing loss, you need a hearing aid.'"
The American Foreign Service Association, the union for diplomatic staff, said it spoke with 10 employees who experienced "damage to their health."
"Diagnoses include mild traumatic brain injury and permanent hearing loss, with such additional symptoms as loss of balance, severe headaches, cognitive disruption, and brain swelling," AFSA said, calling on the U.S. to "do everything possible" to protect embassy workers.
Two of the embassy workers were living at the Hotel Capri at the time of the incidents; there were no complaints from anyone else staying at the downtown Havana hotel.
"This has taught me that once faith is broken it's very difficult to believe again. I don't believe any more."
Despite Cuban denials of any involvement, the U.S. expelled two Cuban diplomats in late May on the grounds that an agreement to keep embassy personnel safe had been breached.
It wasn't until three months later that officials in Washington revealed what had happened. At the time, they said 16 staffers had been affected and that the phenomenon had stopped in the spring. But earlier this month, they said another incident had been reported at the end of August and the number of employees and relatives was up to 21.
That prompted the diplomat who complained on social media to accuse the government in a new post of "rampant negligence."
"Make America great again one brain injury at a time," he wrote. "Let's keep in mind that this is happening in people's homes and this is a family post."
State Department spokeswoman Heather Nauert said at a briefing last week that affected staffers can leave Havana, return to the U.S. and take a posting elsewhere, though it's not clear how many have done so. Employees have been treated in Cuba and in Miami.
"They continue to undergo tests," said Nauert, who has repeatedly stressed that getting to the bottom of the mystery is a "huge priority" for the agency.
The medical sleuthing has not helped authorities pinpoint the nature of the disturbances. Tillerson called them "health attacks" while a Cuban government source said the U.S. complained about "acoustic" incidents.
Just as elusive: a motive.
Caulfield, who is not privy to details of the investigation, said when he first heard about the incidents he assumed they were eavesdropping attempts using a new technology that had gone wrong.
"They obsessively try to listen into us," he said of the Cubans, based on his own experience in Havana. "Twenty-four hours a day, in my house and my car, every which way they could track."
However, two State Department officials told NBC News that it was possible the point was to harm the targets.
Complicating the question of why the American diplomats were targeted is the fact that some Canadian embassy staff reported similar symptoms. A Royal Canadian Mounted Police team was dispatched to Havana to investigate, according to Cuban sources.