Cuba told the United Nations on Friday it had no hand in mysterious incidents that sickened American diplomats in Havana and that a top-level investigation has turned up "no evidence whatsoever" to show who is behind them or what caused them.
In a strongly worded speech to the General Assembly, Cuban Foreign Minister Bruno Eduardo Rodriguez Parrilla blasted President Trump in one breath and then urged cooperation in the next.
His remarks come days after Cuba and the U.S. held bilateral talks that included discussion of suspected attacks on American embassy staff.
According to the State Department, the U.S. expressed "deep concern" over the safety of the embassy community in Havana and stated "the urgent need to identify the cause of these incidents and to ensure they cease."
At least 21 Americans have suffered headaches, hearing loss, memory issues and other symptoms after what have been described as sonic incidents that began in the fall of 2016 and continued until late August.
The Associated Press, quoting officials, has reported that some embassy employees reported they experienced bizarre, unexplained and physically uncomfortable noises or vibrations at their residences before they were afflicted.
Cuba has repeatedly denied involvement in the incidents, and according to Cuba sources, took the unusual step of inviting the FBI to Havana to investigate.
"Cuba has never perpetrated nor will it ever perpetrate actions of this sort. Cuba has never allowed nor will it ever allow its territory to be used by third parties with that purpose," Parrilla said.
"The Cuban authorities, based on the preliminary results of the priority investigation that is being carried out with a high technical component, following instructions from the top level of our government, has taken into account the data contributed by the U.S. authorities and so far has found no evidence whatsoever that could confirm the causes or the origin of the health disorders referred to by U.S. diplomats and their relatives.
"The investigation to clarify this issue continues, and in order to be able to arrive to a conclusion, it will be crucial to count on the cooperation of the U.S. authorities. It would be unfortunate if a matter of this nature is politicized."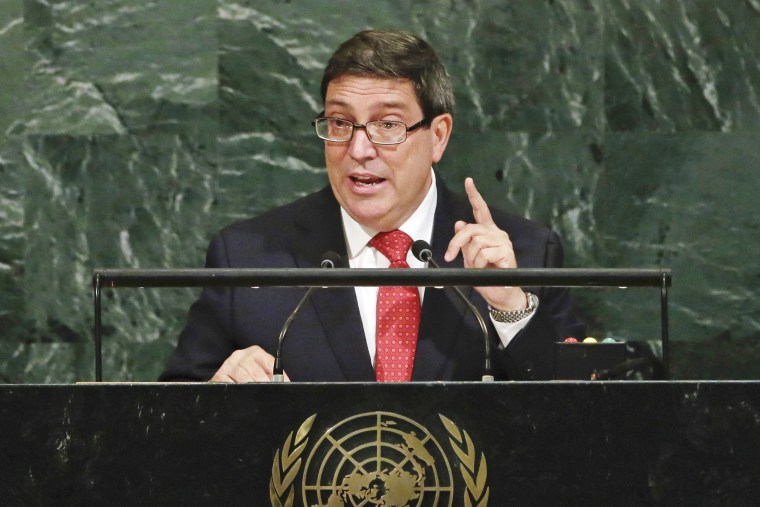 Much of Parrilla's speech took aim at Trump, who earlier in the week criticized Cuba's "corrupt and destabilizing regime" in his own speech to the General Assembly.
"We would like to express our strongest condemnation of the disrespectful, offensive and interventionist statement against Cuba and the Cuban government, made three days ago at this rostrum by President Donald Trump," he said.
"We remind him that the United States, where flagrant human rights violations are committed, which raise deep concern among the international community, has no moral authority to judge my country. We reaffirm that Cuba will never accept any preconditions or impositions, nor will it ever renounce any of its principles."
Trump, in a departure from the bridge-building pushed by President Obama's administration, has vowed not to lift sanctions on Cuba until it enacts reforms.
On Nov. 1, Cuba will ask members of the U.N. to join in condemning the half-century-old U.S. embargo on Cuba through a draft resolution presented annually to the General Assembly.
Last year under the Obama administration, the U.S. made history by abstaining from voting on the resolution, a break from 50 years of no votes.
In late May, the State Department expelled two Cuban diplomats on the grounds that the so-called "health attacks" on U.S. personnel in Havana beached an agreement to embassy staff safe.