Cultural conservative activist and icon Phyllis Schlafly died Monday at her home in St. Louis, according to a spokesman for the Eagle Forum political group she founded.
She was 92.
Schlafly rose to prominence and influence among conservative Republicans beginning in the early 1960s through her focus on promoting conservative family values, namely her opposition to feminism and abortion rights.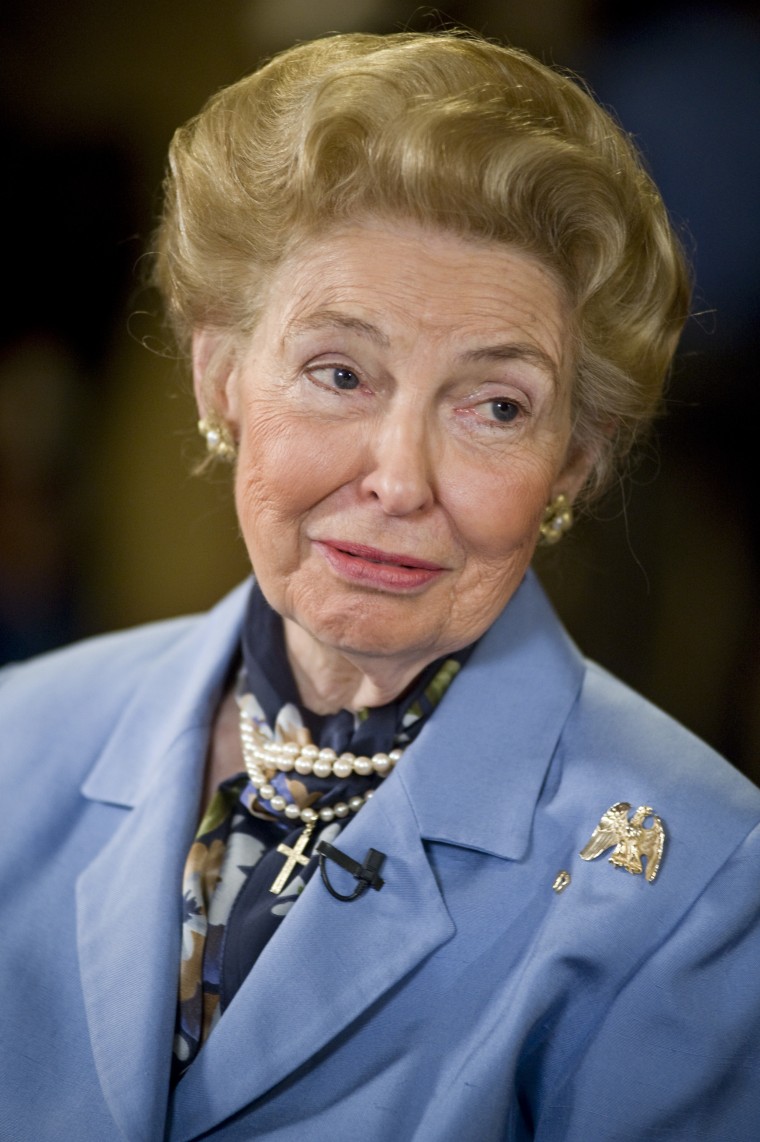 Schlafly first gained widespread notoriety through her book, "A Choice, Not an Echo," a call to arms for conservatives and an argument for the 1964 Republican candidacy of Barry Goldwater.
As momentum for the Equal Rights Amendment grew in the 1970s, Schlafly became its most outspoken critic — and was vilified by its supporters.
She had a pie smashed into her face and pig's blood thrown on her, and feminist Betty Friedan once told Schlafly: "I'd like to burn you at the stake." She was chastised in a 1970s "Doonesbury" comic strip — a framed copy of which hung on her office wall.
"What I am defending is the real rights of women," Schlafly said at the time. "A woman should have the right to be in the home as a wife and mother."
Thirty-five states ratified the amendment, three short of the necessary 38. Schlafly said amendment supporters couldn't prove it was needed.
Schlafly's defeat of the ERA hinged in large part on her ability to appeal to religious voters, proving to Republican strategists that there was a new constituency they could win elections with, said Donald Critchlow, Arizona State University politics professor and author of "Phyllis Schlafly and Grassroots Conservatism."
Her appeal to Evangelicals in the South "was critical to a conservative ascendancy that lasted until Obama's election in 2008," Critchlow said.
Schlafly caused a rift in her own political organization with her endorsement of Donald Trump in March during the Republican primary. Schlafly backed Trump at a rally in Missouri before that state's primary after he promised her to support the "most conservative platform we've ever had," according to Eagle Forum President Ed Martin.
"We have been stuck with the losers chosen by the Republican establishment for so long, and it's time for a change," Schlafly said in a statement at the time. "Now we have a guy who is going to lead us to victory!"
Trump praised Schlafly as "a conservative icon who led millions to action, reshaped the conservative movement, and fearlessly battled globalism and the 'kingmakers' on behalf of America's workers and families."
"I was able to speak with her by phone only a few weeks ago, and she sounded as resilient as ever," Trump said in a statement. "Our deepest prayers go out to her family and all her loved ones."
Schlafly endorsed Trump this year in March by saying, "This year, we have the candidate who really will give us a choice, not an echo."
Over her lifetime she authored 27 books and thousands of articles, according to the Eagle Forum.
Funeral arrangements were still pending, the group said.