Crowds marched again in Charlotte overnight but the city remained mostly calm early Friday after authorities declared a curfew following two nights of violence.
Demonstrators massed on the city's streets to protest the fatal police shooting of Keith Lamont Scott and demand the release of video that could resolve questions over his killing.
Charlotte-Mecklenburg police Capt. Mike Campagna said officers didn't plan to enforce the midnight-until-6 a.m. curfew if protests remained peaceful.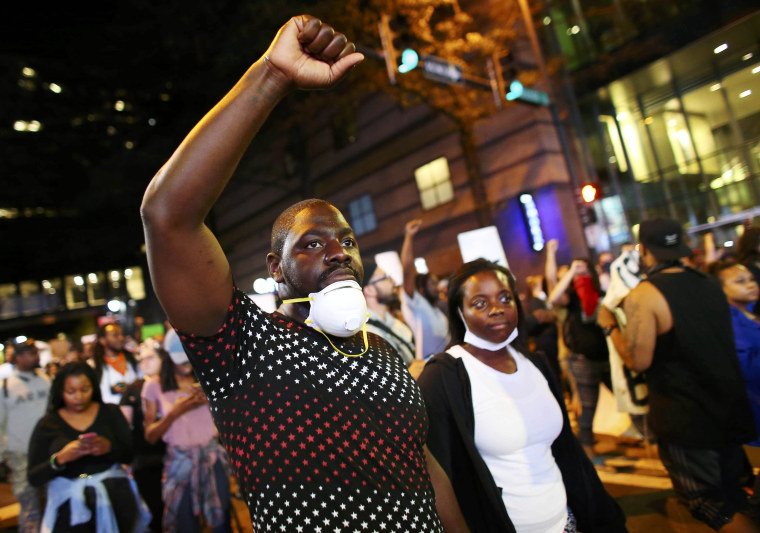 Two officers were treated after being sprayed with a "chemical agent," police said just after midnight. An EMS official described the incident as minor, and said both officers were checked by medical staff and returned to duty.
Marches continued into the early hours of Friday morning.
While earlier in the evening tear gas was used and police in riot gear pushed a crowd from a highway, demonstrators elsewhere marched with their hands in the air as National Guard troops looked on.
The overnight curfew included exceptions for people traveling to work or on other business, the city said.
Related: Family Sees Video, Says Keith Scott Was Walking Backward When He Was Shot
"We had a lot of requests from the business community," Mayor Jennifer Roberts told NBC affiliate WCNC. "They believe nothing good happens after midnight."
There was no repeat of Wednesday's disorder when more than 40 people were arrested and a man was shot in what officials called a "civilian-on-civilian" incident. Four officers and nine civilians also were injured.
The man who was shot Wednesday, identified as Justin Carr, 26, had been on life support and died Thursday, police said.
After Wednesday's chaos, North Carolina Gov. Pat McCrory declared a state of emergency and the National Guard and state troopers were deployed to help local police in case of more unrest.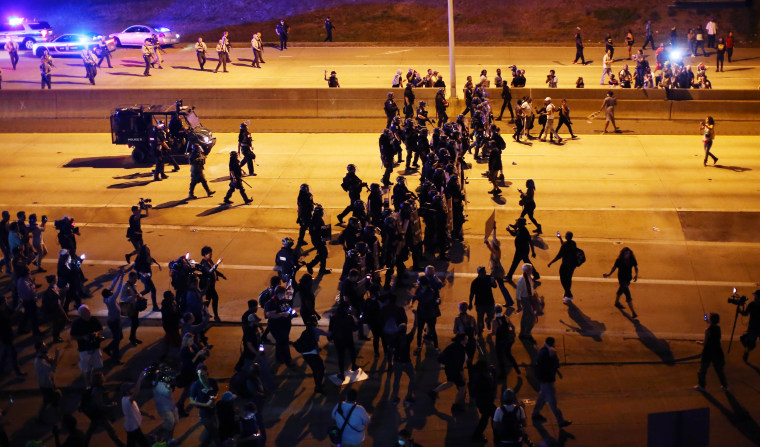 Scott, 43, was fatally shot by police Tuesday as officers were searching for another person. Police have said Scott was armed with a handgun and refused multiple commands to drop the weapon before he was shot.
Relatives of Scott — who was married with seven children — have said not only that he was not armed, but also that he was disabled.
Related: Man Shot in Charlotte Protest Dies
Police Chief Kerr Putney said Thursday that body camera video doesn't show "absolute definitive, visual evidence" that Scott pointed a weapon at officers but that a weapon was recovered from the scene.
Members of Scott's family, who were shown videos from the deadly encounter Thursday, and a lawyer representing the family said in a statement "it is impossible to discern from the videos what, if anything, Mr. Scott is holding in his hands."
"Mr. Scott's hands were by his side and he was slowly walking backwards," according to the family's attorney Justin Bamberg.
The video has not been released, despite calls from some protesters and Scott's family.
Roberts, Charlotte's mayor, also watched the body camera video and described it as "ambiguous" in an interview on MSNBC.
The curfew will be in effect until the state of emergency is lifted, according to the order.