Curfews have been instituted around the country on Saturday as mass demonstrations broke out nationwide and cities braced for another night of protests.
Minneapolis
A curfew went back in effect in Minneapolis on Saturday at 8 p.m. after the city braced for another night of unrest.
"By being out tonight & breaking the 8pm curfew, you are helping the people using crowds as cover to prey on Minneapolis & destroy community," Mayor Jacob Frey wrote on twitter. The city was also under curfew on Friday night.
Frey said the governor has "fully mobilized" the Minnesota National Guard to respond to demonstrations in the city on Saturday. Violating curfew is punishable by up to a $1000 fine and 90 days in jail, the mayor's emergency regulation said.
Chicago
Mayor Lori Lightfoot announced on Saturday that Chicago would go under a curfew at 9 p.m. until 6 a.m. "until further notice."
On Saturday, thousands marched through the Windy City's downtown after more than 100 protesters were arrested Friday night.
Los Angeles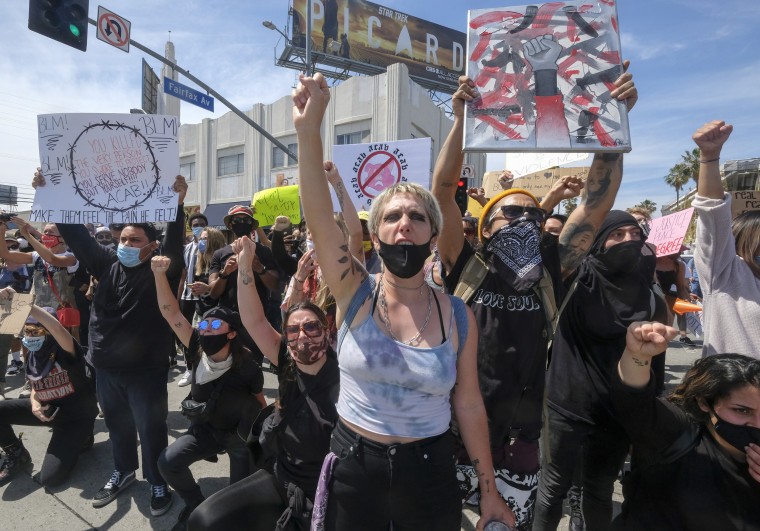 Mayor Eric Garcetti said originally set a curfew starting at 8 p.m. for Downtown Los Angeles lasting until 5:30 a.m, and later expanded it to include the whole city.
"We will always protect free speech and Angelenos' right to live without fear of violence or vandalism," Garcetti wrote on Twitter, saying the curfew is meant to "increase safety for demonstrators, law enforcement and all citizens of Los Angeles."
Protests in LA were already underway on Saturday as buses were overtaken and multiple police cars were set on fire in the city's 4th day of protests.
Beverly Hills also issued a dusk to dawn curfew amid protests and vandalism.
Atlanta
Atlanta went under a curfew Saturday evening, Mayor Keisha Lance Bottoms announced in an executive order.
The decree applies to the entire city and began at 9 p.m. and will last until sunrise. The city said the curfew is a result of the "recent acts of violence" during protests.
On Friday, Atlanta saw mass demonstrations where protesters set a police car on fire, struck officers with bottles, and vandalized the headquarters of CNN.
Denver
After Denver was rocked by two days of protests, Mayor Michael Hancock announced he is enacting a curfew on Saturday "to help protect people and property."
The curfew began at 8 p.m. on Saturday and will last until 5 a.m. Sunday, Hancock said in a press release. There will also be a curfew in place on Sunday evening.
The mayor said 34 people have been arrested in the past two nights of protest, and called the "destruction" in the city "reckless, inexcusable, and unacceptable."
Philadelphia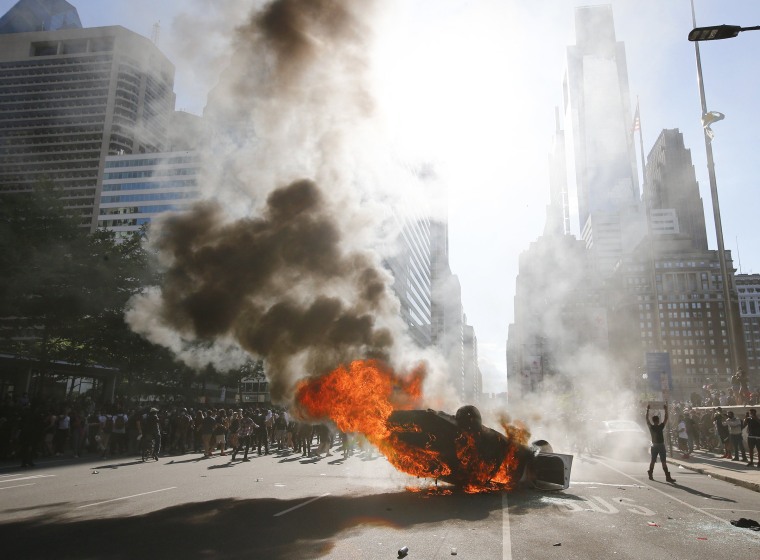 Mayor Jim Kenney announced he was placing Philadelphia under a curfew on Saturday.
The city's curfew started at 8 p.m. and will last until 6 a.m. on Sunday.
On Saturday, thousands of people marched in Philadelphia in a protest that led to many fires. One Starbucks became engulfed in flames, in addition to some police cars.
Pittsburgh
Pittsburgh went under curfew at 8:30 p.m. on Saturday.
The news comes after the city declared the protest an "unlawful assembly" and police reported "rioting and looting" throughout downtown, telling residents to avoid the area.
Seattle
Seattle joined the growing list of cities under curfew Saturday, with its curfew beginning at 5 p.m.
Mayor Jenny Durkan said "crowds need to disburse from downtown immediately."
"While many individuals gathered peaceful, some individuals have started fires and are destroying buildings," the mayor wrote on Twitter. "There are multiple fires downtown and it is an extremely dangerous situation."
Cleveland and Columbus
Both Ohio cities announced curfews as the governor has ordered the Ohio National Guard to respond to the growing unrest.
In Cleveland, the curfew began at 8 p.m. and will last until 8 a.m. Sunday morning. The curfew will also be in place Sunday evening into Monday morning.
The Columbus curfew began at 10 p.m. Saturday and goes until 6 a.m. Sunday.
"In this time of deep anger, sadness, and frustration, we stand with those who are expressing their First Amendment rights, but we will not stand for those who wish to inflict pain and cause destruction," Gov. Mike DeWine wrote on Twitter Saturday.
Portland
Portland went back under curfew on Saturday night. Mayor Ted Wheeler declared a state of emergency early Saturday morning, immediately putting the city into a curfew until 6 a.m. The curfew resumed on Saturday at 8:00 p.m. and will lift on Sunday at 6:00 a.m.
Eugene, Oregon, south of Portland, also enacted a curfew on Saturday, beginning at 9 p.m. and lasting until 6 a.m. Sunday.
Rochester
Rochester, New York enacted a curfew on Saturday in the city between 9 p.m. and 7 a.m. Sunday morning. Mayor Lovely Warren said the order was put into effect "due to potential for widespread breach of peace."
The city saw a large demonstration, where police shot pepper balls at protesters, according to NBC Rochester affiliate.
Miami
Miami-Dade County Mayor Carlos Giménez announced a countywide curfew Saturday. The announcement comes after the city saw widespread demonstration, and dozens of protestors and police faced off outside a Miami police department.
Milwaukee
Wisconsin's biggest city will be under curfew on Saturday after the Mayor said demonstrations turned "unlawful and violent" on Friday.
The lockdown will last from 9 p.m. Saturday until 7 a.m. Sunday.
Salt Lake City
Salt Lake City, Utah is under curfew Saturday night until 6 a.m. Monday morning.
Mayor Erin Mendenhall said the curfew is due to protests that hit the city on Saturday, and people cannot be on the streets except for certain exceptions.
Utah also deployed the state's national guard to the city on Saturday.